Whoopi Goldberg tells Stephen Colbert the 'Nazis lied' and 'had issues with ethnicity, not with race' regarding Jews amid Holocaust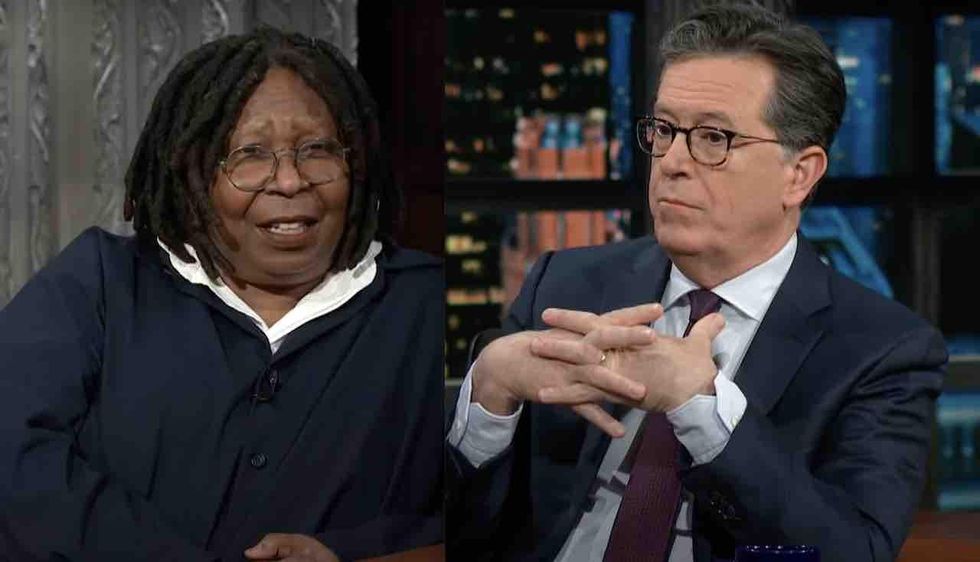 Whoopi Goldberg — on the heels of her controversial comments on "The View" Monday that the Holocaust wasn't "about race" and instead was about "man's inhumanity to man" — appeared on "The Late Show with Stephen Colbert" Monday to offer further explanations about the firestorm she started.
It's important to note that while Goldberg apologized on social media for her comments just after 8 p.m. Monday — saying the Holocaust was about race after all, as well as man's inhumanity to man — her interview with Colbert presumably took place earlier, as "The Late Show" is taped Mondays from 5:30 to 7 p.m. and then airs at 11:35 p.m.
What are the details?
Colbert right away brought up Goldberg's comments from earlier in the day, and she was more than willing to explain herself.
"It upset a lot of people, which was never, ever, ever, ever my intention," Goldberg said, adding that "I feel, being black, when we talk about race, it's a very different thing to me. So I said that I felt that the Holocaust wasn't about race. And people got very, very, very angry and still are angry. I mean, I'm getting … mail from folks and very real anger. 'Cause people feel very differently. But I thought it was a salient discussion because as a black person I think of race as being something that I can see. So I see you, and I know what race you are."
After rehashing that she felt the Holocaust instead was about man's inhumanity to man, Goldberg recounted that Jewish people disagreed with her.
"They said, 'No, no, we are a race.' And I understand. I understand. I felt differently. I respect everything everyone is saying to me. … I don't wanna fake apologize. … I was … very upset that people … misunderstood what I was saying," she continued. "And so because of it, they're saying that I'm anti-Semitic, and that I'm denying the Holocaust, and all these other things which would … never occur to me … I thought we were having a discussion about race, which everyone I think is having."
Colbert — calling himself the "white guy in the conversation" and a non-Jew — added, "It seems to me that whiteness is a construct created by colonial powers during the beginning of the colonial imperialist era in order to exploit other people, and that they could apply it to all different kinds of people. That idea of race. And the American experience tends to be based on skin."
Goldberg agreed: "Yes, and so that is what race means to me."
'You couldn't tell who was Jewish'
"When you talk about being a racist, I was saying you can't call [the Holocaust] racism. This was evil. This wasn't based on the skin. You couldn't tell who was Jewish. [The Nazis] had to delve deeply to figure it out."
Colbert appeared to agree, adding that when the Nazis figured out who was Jewish, they made Jews wear yellow stars on their clothing to visually distinguish them from non-Jews.
"My point is, [the Nazis] had to do the work," Goldberg said before adding an anecdote: "If the Klan is coming down the street, and I'm standing with a Jewish friend … I'm gonna run, but if my friend decides not to run, they'll get passed by most times because you can't tell who's Jewish. … And so that's what I was trying to explain. And I understand that not everybody sees it that way, and … I did a lot of harm, I guess, to myself, and people … decided I was all these all these other things — I'm actually not. And I'm incredibly torn up by being told these things about myself. And you know, I get it. Folks are angry. I accept that. And I did it to myself. This was my thought process, and I will work hard not to think that way again."
'The Nazis lied … they had issues with ethnicity, not with race'
When Colbert asked Goldberg if she now understood that the Nazis indeed saw the Holocaust as a racial issue, she replied that "the Nazis lied … they had issues with ethnicity, not with race, because most of the Nazis were white people, and most of the people they were attacking were white people. So to me, I'm thinking, 'How can you say it's about race if you are fighting each other?'"
Goldberg added that one of her concerns is explaining it all to children in a way that makes sense: "I said this wasn't racial. This was about white on white. And everybody said, 'No, no, no, it was racial,' and so that's what this all came from. So once again: Don't write me any more, I know how you feel, OK? I already know. I get it. And I'm going to take your word for it and never bring it up again."

How Whoopi Became Today's Hot Topic On "The View"

youtu.be

window.REBELMOUSE_LOWEST_TASKS_QUEUE.push(function(){
//Facebook Pixel Code !function(f,b,e,v,n,t,s) {if(f.fbq)return;n=f.fbq=function(){n.callMethod? n.callMethod.apply(n,arguments):n.queue.push(arguments)}; if(!f._fbq)f._fbq=n;n.push=n;n.loaded=!0;n.version='2.0'; n.queue=[];t=b.createElement(e);t.async=!0; t.src=v;s=b.getElementsByTagName(e)[0]; s.parentNode.insertBefore(t,s)}(window, document,'script', 'https://connect.facebook.net/en_US/fbevents.js'); fbq('init', '1398069580413568'); fbq('track', 'PageView');
});
window.REBELMOUSE_LOWEST_TASKS_QUEUE.push(function(){
function menuClick() { console.log("clicked");
if (document.querySelector('.hambg-btn.js--active') != null) { document.getElementsByClassName('huge-menu')[0].style.display = 'none'; document.getElementsByClassName('hambg-btn')[0].classList.remove('js--active'); document.body.classList.remove("huge-menu-opened"); document.body.classList.remove("menu-opened"); } else{ document.getElementsByClassName('huge-menu')[0].style.display = 'block'; document.getElementsByClassName('hambg-btn')[0].classList.add('js--active'); document.body.classList.add("huge-menu-opened"); document.body.classList.remove("menu-opened"); } }
function addMenuClickListener() { var rebelMenu = document.getElementsByClassName('rebelbar__menu-toggle'); var menuClose = document.getElementsByClassName('hm__close'); var stickyMenu = document.getElementsByClassName('sticky-menu');
rebelMenu[0].addEventListener('click', menuClick);
if(menuClose[0] != undefined){ menuClose[0].addEventListener('click', menuClick);}
if(stickyMenu[0] != undefined){ stickyMenu[0].addEventListener('click', menuClick); } }
addMenuClickListener();
});
window.REBELMOUSE_LOWEST_TASKS_QUEUE.push(function(){
window.REBELMOUSE_STDLIB.loadExternalScript("https://assets.adobedtm.com/98de9919e92a38033805f9f035c43198533e4380/satelliteLib-38c7b1e4b1bb3e0378e82d10601662aebfb04eda.js", function() {
window.analyticsData = { events: {active: {view: {asset: {}}, device: {}}} }; window.analyticsData.events.active.device.appVersion = "1.1"; window.analyticsData.events.active.device.host = "premiere.off.us"; window.analyticsData.events.active.device.subHost = "theblaze.com"; window.analyticsData.events.active.pageName = "articles"; //window.analyticsData.events.active.view.asset.id = "articles|"+ __BOOTSTRAP__.post.basename; window.analyticsData.events.active.view.asset.name = document.title; //window.analyticsData.events.active.view.authorId = __BOOTSTRAP__.post.original_user_subsite.title; window.analyticsData.events.active.view.pubDate = "02/01/2022"; window.analyticsData.events.active.view.contentOriginType = "Premiere"; window.analyticsData.events.active.view.stationCallLetter = "TheBlaze"; window.analyticsData.events.active.view.stationFormat = "NEWSTALK"; window.analyticsData.events.active.view.stationMarket = "PREMIERE"; window.analyticsData.events.active.view.personalityId = "theBlaze"; window.analyticsData.events.active.view.tags = ["whoopi-goldberg", "stephen-colbert", "watch", "holocaust", "nazis", "race", "white-people", "jews"]; window.analyticsData.events.active.view.photoGalleryExists = "FALSE"; window.analyticsData.events.active.view.photoGalleryPageView = "FALSE"; window.analyticsData.events.active.view.contentFrame = "page"; window._satellite && _satellite.pageBottom();
});
});
window.REBELMOUSE_LOWEST_TASKS_QUEUE.push(function(){
function test_adblock(func, id) { var t="0.1.2-dev", el = document.createElement('div'); el.id = id ? id : 'sponsorText'; el.appendChild(document.createTextNode(' ')); Object.assign(el.style, { left: '-999px', position: 'absolute' }); document.body.appendChild(el); setTimeout(function() { if (el) { var o = el.clientHeight === 0; func(o, t); document.body.removeChild(el); } }, 200); } test_adblock(function(is_blocked) { console.log(is_blocked); var wid = is_blocked ? 140286 : 140117, target = document.getElementById('rc-adblock-widget'); var el = document.createElement('div'); el.setAttribute('data-rc-widget', ''); el.setAttribute('data-endpoint', 'trends.revcontent.com'); el.setAttribute('data-widget-id', wid); target.appendChild(el); if (typeof window.renderRCWidget !== 'function') { var script = document.createElement('script'); script.src="https://assets.revcontent.com/master/delivery.js"; script.defer = true; target.appendChild(script); } else { window.renderRCWidget(el) } });
});
window.REBELMOUSE_LOWEST_TASKS_QUEUE.push(function(){
(function(s,u,m,o,j,v){j=u.createElement(m);v=u.getElementsByTagName(m)[0];j.async=1;j.src=o;j.dataset.sumoSiteId='f20bb26e74a94a53daa9113206b98941e1dfba90635d317b9efd9e33a89bf515';v.parentNode.insertBefore(j,v)})(window,document,'script','//load.sumo.com/');
});

Dave Urbanski