Virginia Supreme Court dismisses lawsuit challenging school mask mandate opt-out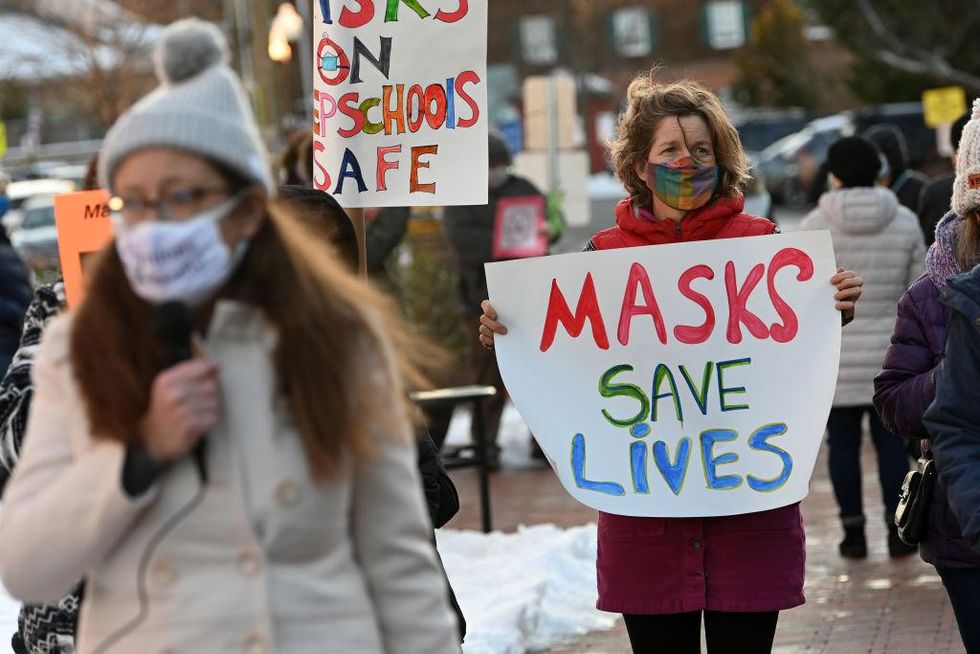 The Supreme Court of Virginia has tossed out a case challenging Republican Gov. Glenn Youngkin's executive order allowing parents to opt their children out of school mask mandates.
The court dismissed the lawsuit brought forth by a group of parents in Chesapeake without ruling on the legality of Youngkin's order. Those parents had asked the court to block the governor's executive order before it goes into effect on Jan. 24, arguing that state law requires each school board to implement guidance from the U.S. Centers for Disease Control and Prevention "to the maximum extent practicable,' WRIC-TV reports.
But the justices rejected the lawsuit on procedural grounds. The court said that the relief requested by petitioners, called a writ of mandamus, did not apply in this case.
"Absent an explicit command that Governor Youngkin take definite positive action in conformity with a mandatory and ministerial duty, mandamus cannot control or restrict his effort to influence school masking requirements, even if such effort is unlawful," the justices wrote.
In a statement, Virginia Attorney General Jason Miyares celebrated the ruling as a victory for parents.
"Today, the Supreme Court of Virginia rejected a challenge out of the City of Chesapeake to Governor Youngkin's Executive Order Number 2. The Governor and I are pleased with today's ruling. At the beginning of this pandemic, Governor Northam used his broad emergency powers to close places of worship, private businesses, and schools and impose a statewide mask mandate," Miyares said.
"Nearly two years later, we have better risk mitigation strategies and vaccines, and we know much more about the efficacy of requiring children to wear masks all day. We agree with the Court's decision and will continue to defend the Executive Order. This is a victory for Virginia families," he added.
The decision follows a lower court ruling in which a judge in the Arlington Circuit Court granted seven school districts a temporary restraining order blocking the executive order. In that case, the judge said that school boards have the authority to decide what steps are necessary and practicable to keep students and faculty safe during the COVID-19 pandemic, and that the governor cannot override their decisions.
Kevin Martingayle, an attorney representing the Chesapeake parents, said in a statement that the Supreme Court's opinion was merely a procedural defeat and that the fight against Youngkin's order is "far from over."
Youngkin enacted the executive order on his first day in office, keeping a campaign promise he had made to give parents and their children a choice about wearing masks. Some school districts abandoned mask mandates after he issued the order, while others have resisted and challenged the governor in court.
window.REBELMOUSE_LOWEST_TASKS_QUEUE.push(function(){
//Facebook Pixel Code !function(f,b,e,v,n,t,s) {if(f.fbq)return;n=f.fbq=function(){n.callMethod? n.callMethod.apply(n,arguments):n.queue.push(arguments)}; if(!f._fbq)f._fbq=n;n.push=n;n.loaded=!0;n.version='2.0'; n.queue=[];t=b.createElement(e);t.async=!0; t.src=v;s=b.getElementsByTagName(e)[0]; s.parentNode.insertBefore(t,s)}(window, document,'script', 'https://connect.facebook.net/en_US/fbevents.js'); fbq('init', '1398069580413568'); fbq('track', 'PageView');
});
window.REBELMOUSE_LOWEST_TASKS_QUEUE.push(function(){
function menuClick() { console.log("clicked");
if (document.querySelector('.hambg-btn.js--active') != null) { document.getElementsByClassName('huge-menu')[0].style.display = 'none'; document.getElementsByClassName('hambg-btn')[0].classList.remove('js--active'); document.body.classList.remove("huge-menu-opened"); document.body.classList.remove("menu-opened"); } else{ document.getElementsByClassName('huge-menu')[0].style.display = 'block'; document.getElementsByClassName('hambg-btn')[0].classList.add('js--active'); document.body.classList.add("huge-menu-opened"); document.body.classList.remove("menu-opened"); } }
function addMenuClickListener() { var rebelMenu = document.getElementsByClassName('rebelbar__menu-toggle'); var menuClose = document.getElementsByClassName('hm__close'); var stickyMenu = document.getElementsByClassName('sticky-menu');
rebelMenu[0].addEventListener('click', menuClick);
if(menuClose[0] != undefined){ menuClose[0].addEventListener('click', menuClick);}
if(stickyMenu[0] != undefined){ stickyMenu[0].addEventListener('click', menuClick); } }
addMenuClickListener();
});
window.REBELMOUSE_LOWEST_TASKS_QUEUE.push(function(){
window.REBELMOUSE_STDLIB.loadExternalScript("https://assets.adobedtm.com/98de9919e92a38033805f9f035c43198533e4380/satelliteLib-38c7b1e4b1bb3e0378e82d10601662aebfb04eda.js", function() {
window.analyticsData = { events: {active: {view: {asset: {}}, device: {}}} }; window.analyticsData.events.active.device.appVersion = "1.1"; window.analyticsData.events.active.device.host = "premiere.off.us"; window.analyticsData.events.active.device.subHost = "theblaze.com"; window.analyticsData.events.active.pageName = "articles"; //window.analyticsData.events.active.view.asset.id = "articles|"+ __BOOTSTRAP__.post.basename; window.analyticsData.events.active.view.asset.name = document.title; //window.analyticsData.events.active.view.authorId = __BOOTSTRAP__.post.original_user_subsite.title; window.analyticsData.events.active.view.pubDate = "02/07/2022"; window.analyticsData.events.active.view.contentOriginType = "Premiere"; window.analyticsData.events.active.view.stationCallLetter = "TheBlaze"; window.analyticsData.events.active.view.stationFormat = "NEWSTALK"; window.analyticsData.events.active.view.stationMarket = "PREMIERE"; window.analyticsData.events.active.view.personalityId = "theBlaze"; window.analyticsData.events.active.view.tags = ["school-mask-mandates", "virginia", "glenn-youngkin", "covid-19", "mask-requirements", "coronavirus"]; window.analyticsData.events.active.view.photoGalleryExists = "FALSE"; window.analyticsData.events.active.view.photoGalleryPageView = "FALSE"; window.analyticsData.events.active.view.contentFrame = "page"; window._satellite && _satellite.pageBottom();
});
});
window.REBELMOUSE_LOWEST_TASKS_QUEUE.push(function(){
function test_adblock(func, id) { var t="0.1.2-dev", el = document.createElement('div'); el.id = id ? id : 'sponsorText'; el.appendChild(document.createTextNode(' ')); Object.assign(el.style, { left: '-999px', position: 'absolute' }); document.body.appendChild(el); setTimeout(function() { if (el) { var o = el.clientHeight === 0; func(o, t); document.body.removeChild(el); } }, 200); } test_adblock(function(is_blocked) { console.log(is_blocked); var wid = is_blocked ? 140286 : 140117, target = document.getElementById('rc-adblock-widget'); var el = document.createElement('div'); el.setAttribute('data-rc-widget', ''); el.setAttribute('data-endpoint', 'trends.revcontent.com'); el.setAttribute('data-widget-id', wid); target.appendChild(el); if (typeof window.renderRCWidget !== 'function') { var script = document.createElement('script'); script.src="https://assets.revcontent.com/master/delivery.js"; script.defer = true; target.appendChild(script); } else { window.renderRCWidget(el) } });
});
window.REBELMOUSE_LOWEST_TASKS_QUEUE.push(function(){
(function(s,u,m,o,j,v){j=u.createElement(m);v=u.getElementsByTagName(m)[0];j.async=1;j.src=o;j.dataset.sumoSiteId='f20bb26e74a94a53daa9113206b98941e1dfba90635d317b9efd9e33a89bf515';v.parentNode.insertBefore(j,v)})(window,document,'script','//load.sumo.com/');
});

Chris Pandolfo