Ukraine Russia war update: US aid, NATO send weapons, Zelenskyy demands more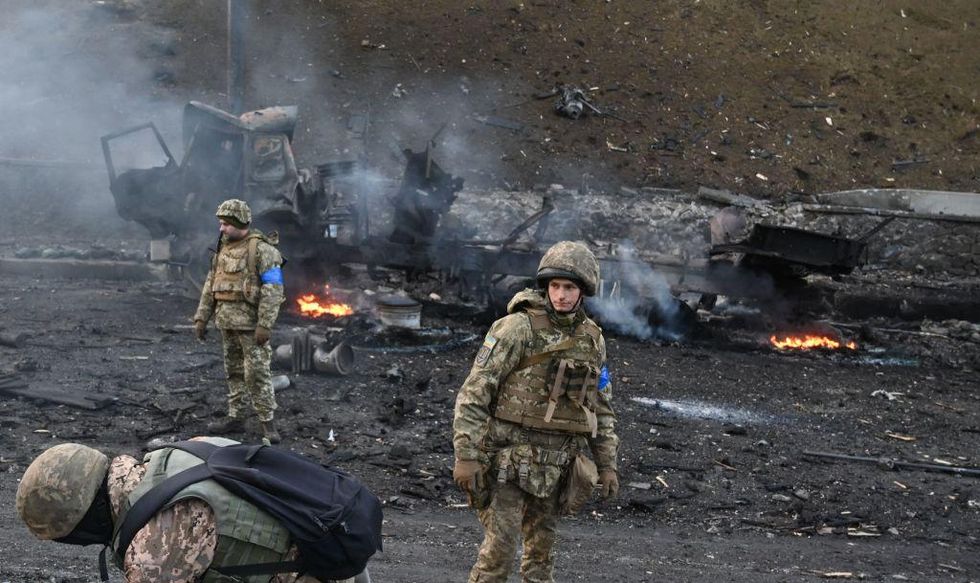 As Russian forces march closer to the capital city of Kyiv, the international community is sending military aid to Ukraine. However, Ukrainian President Volodymyr Zelenskyy is calling on nations to inflect financial punishments on Vladimir Putin for invading Ukraine.
US has sent over $1 billion to Ukraine in the past year
The United States is sending an "unprecedented third payment of $350 million" in military aid to Ukraine to help the country defend against Russia's advancing forces.
"I have authorized, pursuant to a delegation by the president, an unprecedented third presidential drawdown of up to $350 million for immediate support to Ukraine's defense," U.S. Secretary of State Antony Blinken said on Saturday. "This brings the total security assistance the United States has committed to Ukraine over the past year to more than $1 billion."
"This package will include further lethal defensive assistance to help Ukraine address the armored, airborne, and other threats it is now facing," Blinken continued. "It is another clear signal that the United States stands with the people of Ukraine as they defend their sovereign, courageous, and proud nation."
Fox News reported, "The defense aid will include anti-armor, small arms and various munitions, and body armor and related equipment, Pentagon spokesman John Kirby said Saturday."
The $350 million will be allocated through the Foreign Assistance Act "in defense articles and services of the Department of Defense, and military education and training, and to make the determinations required under such section to direct such a drawdown," according to the White House.
NATO sending weapons to Ukraine
NATO Secretary-General Jens Stoltenberg revealed on Friday that the military alliance would be sending weapons to Ukraine – including air defenses.
Reuters reported, "He said some of the 30 allies announced the type of weapons that they would supply Ukraine, including air defenses, without giving details. 'Allies are very committed to continue to provide support,' he said."
Stoltenberg commented on Russia attempting to take out the Ukrainian government during a press conference, "We see rhetoric, the messages, which is strongly indicating that the aim is to remove the democratically-elected government in Kyiv."
NATO also activated its response force for the first time in its history. On Thursday, all 30 NATO members agreed to activate the multinational force of approximately 40,000 land, air, maritime, and special operations personnel.
Stoltenberg said activating the NATO Response Force (NRF) was necessary because "the Kremlin's objectives are not limited to Ukraine."
"We are deploying [the NRF] to … prevent any miscalculations, any misunderstandings that we are not ready to protect and defend all our allies," Stoltenberg declared. "This is something that all allies have agreed to do."
"We are now deploying the NATO response force for the first time in the context of collective defense," he added.
Ukrainian president urges nations to take more measures against Putin
Ukrainian President Volodymyr Zelenskyy pushed for Russia to be cut from the SWIFT international electronic bank payment system to punish Putin for the invasion of Ukraine.
The Society for Worldwide Interbank Financial Telecommunication (SWIFT) is a "cooperative of financial institutions formed in 1973 with headquarters … overseen by the National Bank of Belgium in partnership with other major central banks, including the U.S. Federal Reserve System, the Bank of England and the European Central Bank," according to CBS News.
"The anti-war coalition is working. Defensive weapons and equipment are arriving to Ukraine. We have almost unanimous support from the EU on cutting Russia from SWIFT," Zelenskyy said, according to Euronews. "I hope Germany and Hungary will find the courage to support this decision."
On Thursday, German Chancellor Olaf Scholz said Russia shouldn't be cut off from SWIFT just yet because it is "very important" to keep such measures "for a situation where it may be necessary."
Barron's noted, "Germany has been more cautious about excluding Russia from SWIFT. Russian gas makes up a higher share of energy supplies in Germany and other parts of Europe than in France, which backs the move."
Regarding Hungary kicking Russia out of SWIFT, Fortune pointed out, "Energy likely plays a part – Hungary signed a deal with Moscow just a few weeks ago that will allow it to buy Russian gas far below market prices."
President Joe Biden deferred to Europe on whether to boot Russia from SWIFT.
"The sanctions that we have proposed on all their banks is of equal consequence – maybe more consequence than SWIFT – number one," Biden said on Thursday. "Number two, it is always an option. But right now, that's not the position that the rest of Europe wishes to take."
Zelensky also called on "all civilized countries" to "impose an embargo on Russian oil products" and "ban Russian citizens from entering your territory," according to Fox News National security correspondent Jennifer Griffin.
window.REBELMOUSE_LOWEST_TASKS_QUEUE.push(function(){
//Facebook Pixel Code !function(f,b,e,v,n,t,s) {if(f.fbq)return;n=f.fbq=function(){n.callMethod? n.callMethod.apply(n,arguments):n.queue.push(arguments)}; if(!f._fbq)f._fbq=n;n.push=n;n.loaded=!0;n.version='2.0'; n.queue=[];t=b.createElement(e);t.async=!0; t.src=v;s=b.getElementsByTagName(e)[0]; s.parentNode.insertBefore(t,s)}(window, document,'script', 'https://connect.facebook.net/en_US/fbevents.js'); fbq('init', '1398069580413568'); fbq('track', 'PageView');
});
window.REBELMOUSE_LOWEST_TASKS_QUEUE.push(function(){
function menuClick() { console.log("clicked");
if (document.querySelector('.hambg-btn.js--active') != null) { document.getElementsByClassName('huge-menu')[0].style.display = 'none'; document.getElementsByClassName('hambg-btn')[0].classList.remove('js--active'); document.body.classList.remove("huge-menu-opened"); document.body.classList.remove("menu-opened"); } else{ document.getElementsByClassName('huge-menu')[0].style.display = 'block'; document.getElementsByClassName('hambg-btn')[0].classList.add('js--active'); document.body.classList.add("huge-menu-opened"); document.body.classList.remove("menu-opened"); } }
function addMenuClickListener() { var rebelMenu = document.getElementsByClassName('rebelbar__menu-toggle'); var menuClose = document.getElementsByClassName('hm__close'); var stickyMenu = document.getElementsByClassName('sticky-menu');
rebelMenu[0].addEventListener('click', menuClick);
if(menuClose[0] != undefined){ menuClose[0].addEventListener('click', menuClick);}
if(stickyMenu[0] != undefined){ stickyMenu[0].addEventListener('click', menuClick); } }
addMenuClickListener();
});
window.REBELMOUSE_LOWEST_TASKS_QUEUE.push(function(){
window.REBELMOUSE_STDLIB.loadExternalScript("https://assets.adobedtm.com/98de9919e92a38033805f9f035c43198533e4380/satelliteLib-38c7b1e4b1bb3e0378e82d10601662aebfb04eda.js", function() {
window.analyticsData = { events: {active: {view: {asset: {}}, device: {}}} }; window.analyticsData.events.active.device.appVersion = "1.1"; window.analyticsData.events.active.device.host = "premiere.off.us"; window.analyticsData.events.active.device.subHost = "theblaze.com"; window.analyticsData.events.active.pageName = "articles"; //window.analyticsData.events.active.view.asset.id = "articles|"+ __BOOTSTRAP__.post.basename; window.analyticsData.events.active.view.asset.name = document.title; //window.analyticsData.events.active.view.authorId = __BOOTSTRAP__.post.original_user_subsite.title; window.analyticsData.events.active.view.pubDate = "02/26/2022"; window.analyticsData.events.active.view.contentOriginType = "Premiere"; window.analyticsData.events.active.view.stationCallLetter = "TheBlaze"; window.analyticsData.events.active.view.stationFormat = "NEWSTALK"; window.analyticsData.events.active.view.stationMarket = "PREMIERE"; window.analyticsData.events.active.view.personalityId = "theBlaze"; window.analyticsData.events.active.view.tags = ["ukraine-war", "russia", "ukraine", "anthony-blinken", "volodymyr-zelenskyy", "ukraine-russia-war", "nato", "president-joe-biden"]; window.analyticsData.events.active.view.photoGalleryExists = "FALSE"; window.analyticsData.events.active.view.photoGalleryPageView = "FALSE"; window.analyticsData.events.active.view.contentFrame = "page"; window._satellite && _satellite.pageBottom();
});
});
window.REBELMOUSE_LOWEST_TASKS_QUEUE.push(function(){
function test_adblock(func, id) { var t="0.1.2-dev", el = document.createElement('div'); el.id = id ? id : 'sponsorText'; el.appendChild(document.createTextNode(' ')); Object.assign(el.style, { left: '-999px', position: 'absolute' }); document.body.appendChild(el); setTimeout(function() { if (el) { var o = el.clientHeight === 0; func(o, t); document.body.removeChild(el); } }, 200); } test_adblock(function(is_blocked) { console.log(is_blocked); var wid = is_blocked ? 140286 : 140117, target = document.getElementById('rc-adblock-widget'); var el = document.createElement('div'); el.setAttribute('data-rc-widget', ''); el.setAttribute('data-endpoint', 'trends.revcontent.com'); el.setAttribute('data-widget-id', wid); target.appendChild(el); if (typeof window.renderRCWidget !== 'function') { var script = document.createElement('script'); script.src="https://assets.revcontent.com/master/delivery.js"; script.defer = true; target.appendChild(script); } else { window.renderRCWidget(el) } });
});
window.REBELMOUSE_LOWEST_TASKS_QUEUE.push(function(){
(function(s,u,m,o,j,v){j=u.createElement(m);v=u.getElementsByTagName(m)[0];j.async=1;j.src=o;j.dataset.sumoSiteId='f20bb26e74a94a53daa9113206b98941e1dfba90635d317b9efd9e33a89bf515';v.parentNode.insertBefore(j,v)})(window,document,'script','//load.sumo.com/');
});

Paul Sacca