'The View' co-host gives SCOTUS Justice Sotomayor a pass for 'wildly incorrect' COVID claims: 'I just want to re-frame this'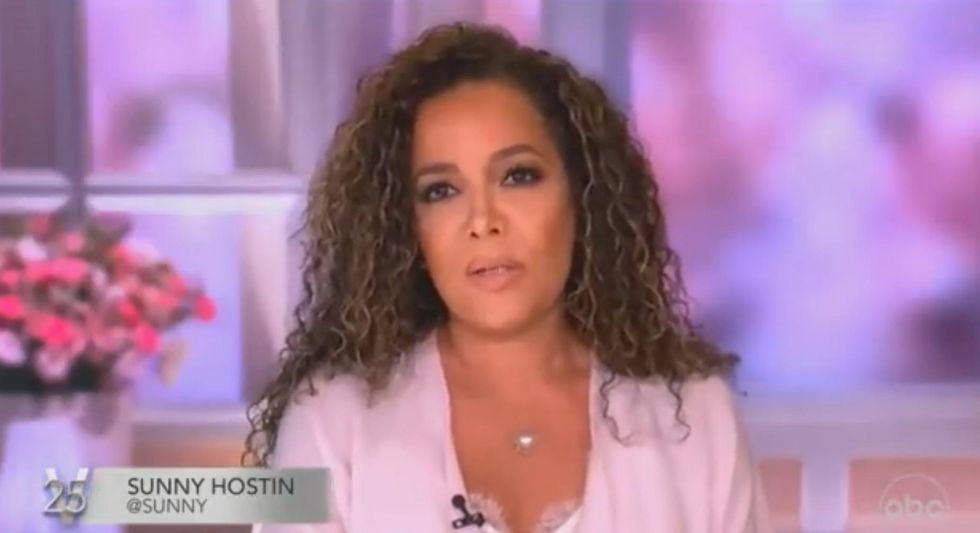 Sunny Hostin, co-host of "The View," excused in stunning fashion Supreme Court Justice Sonia Sotomayor's COVID-19 misinformation that she parroted from the bench last week.
What is the background?
While hearing oral arguments for and against President Joe Biden's employer COVID vaccine mandate, Sotomayor erroneously claimed that 100,000 children in the United States are hospitalized because of serious complications from COVID.
"We have hospitals that are almost at full capacity with people severely ill on ventilators. We have over 100,000 children, which we've never had before, in serious condition, and many on ventilators," she said.
The Washington Post fact-checked Sotomayor's claim and described it as "wildly incorrect." In fact, only several thousand children were hospitalized with COVID when Sotomayor made her claim (and the number hospitalized for COVID was likely even lower), and less than 100,000 children have been hospitalized for/with COVID during the entire pandemic.
What did Hostin say?
The liberal commentator dismissed the egregious nature of Sotomayor's claims by arguing the spirit of Sotomayor's sentiment was correct and therefore the claims were not really that far off base.
"Well, first I just want to re-frame this a little bit about Justice Sotomayor," Hostin began.
"You know, she may not be accurate for current hospitalizations in children; she's correct that we have more children in the hospital now more than ever before, and it certainly reflects the current cases in children," Hostin continued.
"Right now, we have 82,843 children sick with COVID; more than a 1,000 children have died from the virus. In addition, about 7.8 million children have caught COVID since the pandemic started, and so those are just the numbers, and so, while fewer than 83,000 kids have been hospitalized with the virus, we have kids sick with COVID more than we ever have before, and so that's a real thing and those are real numbers."
Anything else?
Liberals failed to extend the same charity and grace that Hostin extended Sotomayor to Supreme Court Justice Neil Gorsuch.
Gorsuch was blasted last Friday for allegedly claiming that "hundreds of thousands" of people die from the seasonal flu each year. The official Supreme Court transcript confirmed the remark. However, audio of Gorsuch clearly showed that he said "hundreds, thousands" — and the word "of" was not uttered.
Despite the fact that some of Gorsuch's liberal critics clung to the transcript to refuse the clarity of the audio, the Supreme Court has released an updated transcript from Friday's oral arguments reflecting the fact that Gorsuch did not say "hundreds of thousands."
window.REBELMOUSE_LOWEST_TASKS_QUEUE.push(function(){
//Facebook Pixel Code !function(f,b,e,v,n,t,s) {if(f.fbq)return;n=f.fbq=function(){n.callMethod? n.callMethod.apply(n,arguments):n.queue.push(arguments)}; if(!f._fbq)f._fbq=n;n.push=n;n.loaded=!0;n.version='2.0'; n.queue=[];t=b.createElement(e);t.async=!0; t.src=v;s=b.getElementsByTagName(e)[0]; s.parentNode.insertBefore(t,s)}(window, document,'script', 'https://connect.facebook.net/en_US/fbevents.js'); fbq('init', '1398069580413568'); fbq('track', 'PageView');
});
window.REBELMOUSE_LOWEST_TASKS_QUEUE.push(function(){
function menuClick() { console.log("clicked");
if (document.querySelector('.hambg-btn.js--active') != null) { document.getElementsByClassName('huge-menu')[0].style.display = 'none'; document.getElementsByClassName('hambg-btn')[0].classList.remove('js--active'); document.body.classList.remove("huge-menu-opened"); document.body.classList.remove("menu-opened"); } else{ document.getElementsByClassName('huge-menu')[0].style.display = 'block'; document.getElementsByClassName('hambg-btn')[0].classList.add('js--active'); document.body.classList.add("huge-menu-opened"); document.body.classList.remove("menu-opened"); } }
function addMenuClickListener() { var rebelMenu = document.getElementsByClassName('rebelbar__menu-toggle'); var menuClose = document.getElementsByClassName('hm__close'); var stickyMenu = document.getElementsByClassName('sticky-menu');
rebelMenu[0].addEventListener('click', menuClick);
if(menuClose[0] != undefined){ menuClose[0].addEventListener('click', menuClick);}
if(stickyMenu[0] != undefined){ stickyMenu[0].addEventListener('click', menuClick); } }
addMenuClickListener();
});
window.REBELMOUSE_LOWEST_TASKS_QUEUE.push(function(){
window.REBELMOUSE_STDLIB.loadExternalScript("https://assets.adobedtm.com/98de9919e92a38033805f9f035c43198533e4380/satelliteLib-38c7b1e4b1bb3e0378e82d10601662aebfb04eda.js", function() {
window.analyticsData = { events: {active: {view: {asset: {}}, device: {}}} }; window.analyticsData.events.active.device.appVersion = "1.1"; window.analyticsData.events.active.device.host = "premiere.off.us"; window.analyticsData.events.active.device.subHost = "theblaze.com"; window.analyticsData.events.active.pageName = "articles"; //window.analyticsData.events.active.view.asset.id = "articles|"+ __BOOTSTRAP__.post.basename; window.analyticsData.events.active.view.asset.name = document.title; //window.analyticsData.events.active.view.authorId = __BOOTSTRAP__.post.original_user_subsite.title; window.analyticsData.events.active.view.pubDate = "01/11/2022"; window.analyticsData.events.active.view.contentOriginType = "Premiere"; window.analyticsData.events.active.view.stationCallLetter = "TheBlaze"; window.analyticsData.events.active.view.stationFormat = "NEWSTALK"; window.analyticsData.events.active.view.stationMarket = "PREMIERE"; window.analyticsData.events.active.view.personalityId = "theBlaze"; window.analyticsData.events.active.view.tags = ["sunny-hostin", "the-view", "covid-19", "supreme-court", "misinformation", "sonia-sotomayor"]; window.analyticsData.events.active.view.photoGalleryExists = "FALSE"; window.analyticsData.events.active.view.photoGalleryPageView = "FALSE"; window.analyticsData.events.active.view.contentFrame = "page"; window._satellite && _satellite.pageBottom();
});
});
window.REBELMOUSE_LOWEST_TASKS_QUEUE.push(function(){
function test_adblock(func, id) { var t="0.1.2-dev", el = document.createElement('div'); el.id = id ? id : 'sponsorText'; el.appendChild(document.createTextNode(' ')); Object.assign(el.style, { left: '-999px', position: 'absolute' }); document.body.appendChild(el); setTimeout(function() { if (el) { var o = el.clientHeight === 0; func(o, t); document.body.removeChild(el); } }, 200); } test_adblock(function(is_blocked) { console.log(is_blocked); var wid = is_blocked ? 140286 : 140117, target = document.getElementById('rc-adblock-widget'); var el = document.createElement('div'); el.setAttribute('data-rc-widget', ''); el.setAttribute('data-endpoint', 'trends.revcontent.com'); el.setAttribute('data-widget-id', wid); target.appendChild(el); if (typeof window.renderRCWidget !== 'function') { var script = document.createElement('script'); script.src="https://assets.revcontent.com/master/delivery.js"; script.defer = true; target.appendChild(script); } else { window.renderRCWidget(el) } });
});
window.REBELMOUSE_LOWEST_TASKS_QUEUE.push(function(){
(function(s,u,m,o,j,v){j=u.createElement(m);v=u.getElementsByTagName(m)[0];j.async=1;j.src=o;j.dataset.sumoSiteId='f20bb26e74a94a53daa9113206b98941e1dfba90635d317b9efd9e33a89bf515';v.parentNode.insertBefore(j,v)})(window,document,'script','//load.sumo.com/');
});

Chris Enloe