Taylor Hawkins cause of death was mixture of 10 drugs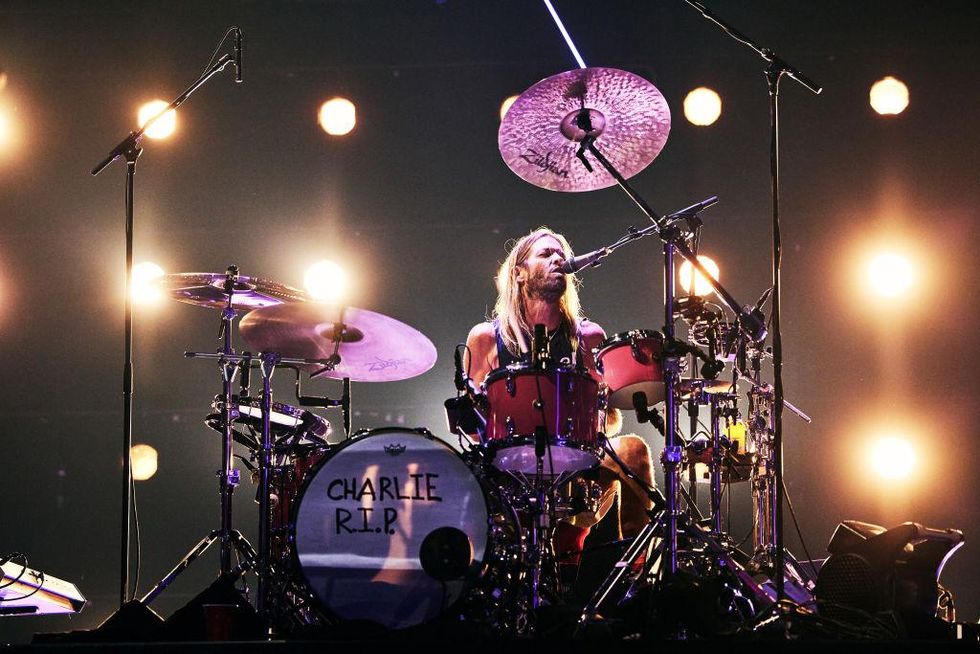 Foo Fighters drummer Taylor Hawkins had 10 different substances in his system when he died, Colombian authorities said on Saturday.
Preliminary toxicological tests on Hawkins' body found 10 psychoactive substances and medicines, according to Colombia's attorney general. The urine toxicological test performed by Colombian officials discovered marijuana, opioids, tricyclic antidepressants, and benzodiazepines, the statement from the Colombia Prosecutor's Office said.
Taylor Hawkins' exact cause of death was not announced by authorities.
The National Institute of Forensic Medicine continues to investigate the death of the immensely popular musician who died at the age of 50.
The Bogota municipal government said the city's emergency center had received a report of a patient with "chest pain" on Friday night and sent an ambulance. However, a private ambulance had already arrived at the Four Seasons Hotel Bogota Casa Medina located in the neighborhood of Chapinero in Bogotá.
A health care professional attempted to resuscitate Hawkins, "however, there was no response, and the patient was declared deceased," said Bogotá's District Department of Health.
"The District Department of Health mourns the death of this talented musician and drummer, widely recognized internationally for his work," Colombian health officials said in a statement. "Besides, the entity sends its message of condolences to the family, colleagues and followers."
The band issued a statement calling Hawkins' death "tragic and untimely loss."
"His musical spirit and infectious laughter will live on with all of us forever," the remaining members of Foo Fighters said. "Our hearts go out to his wife, children and family."
The Foo Fighters were scheduled to perform at the Festival Estéreo Picnic on Friday night in Bogotá, but the concert and the band's South American tour were canceled due to the sudden passing of Hawkins.
Tributes to Taylor Hawkins poured in from rock royalty – including Ozzy Osbourne, Ringo Starr, and Billy Idol.
Hawkins was the drummer for the Foo Fighters for 25 years, and before that, he was the drummer for Alanis Morissette.
In his 2021 book "The Storyteller," Foo Fighters frontman Dave Grohl described Hawkins as a "brother from another mother, my best friend, a man for whom I would take a bullet."
"Upon first meeting, our bond was immediate, and we grew closer with every day, every song, every note that we ever played together," Grohl wrote. "We are absolutely meant to be, and I am grateful that we found each other in this lifetime."
He was born Oliver Taylor Hawkins in Fort Worth, Texas, in 1972, but was raised in Laguna Beach, California.
Hawkins is survived by his wife Alison and their three children.
Hawkins overdosed on heroin in 2001 and was in a coma for two weeks.
"I was partying a lot. I wasn't a junkie per se, but I was partying," Hawkins said in a 2018 interview with the online radio station Beats 1. "There was a year where the partying just got a little too heavy. There's no happy ending with hard drugs."
Hawkins remembered the moment that he had the desire to get sober, "Thank God on some level this guy gave me the wrong line with the wrong thing one night and I woke up going, 'What the f*** happened?' That was a real changing point for me."
When asked about his sobriety, Hawkins replied, "I don't really discuss how I live my life in that regard. I have my system that works for me."
window.REBELMOUSE_LOWEST_TASKS_QUEUE.push(function(){
//Facebook Pixel Code !function(f,b,e,v,n,t,s) {if(f.fbq)return;n=f.fbq=function(){n.callMethod? n.callMethod.apply(n,arguments):n.queue.push(arguments)}; if(!f._fbq)f._fbq=n;n.push=n;n.loaded=!0;n.version='2.0'; n.queue=[];t=b.createElement(e);t.async=!0; t.src=v;s=b.getElementsByTagName(e)[0]; s.parentNode.insertBefore(t,s)}(window, document,'script', 'https://connect.facebook.net/en_US/fbevents.js'); fbq('init', '1398069580413568'); fbq('track', 'PageView');
});
window.REBELMOUSE_LOWEST_TASKS_QUEUE.push(function(){
function menuClick() { console.log("clicked");
if (document.querySelector('.hambg-btn.js--active') != null) { document.getElementsByClassName('huge-menu')[0].style.display = 'none'; document.getElementsByClassName('hambg-btn')[0].classList.remove('js--active'); document.body.classList.remove("huge-menu-opened"); document.body.classList.remove("menu-opened"); } else{ document.getElementsByClassName('huge-menu')[0].style.display = 'block'; document.getElementsByClassName('hambg-btn')[0].classList.add('js--active'); document.body.classList.add("huge-menu-opened"); document.body.classList.remove("menu-opened"); } }
function addMenuClickListener() { var rebelMenu = document.getElementsByClassName('rebelbar__menu-toggle'); var menuClose = document.getElementsByClassName('hm__close'); var stickyMenu = document.getElementsByClassName('sticky-menu');
rebelMenu[0].addEventListener('click', menuClick);
if(menuClose[0] != undefined){ menuClose[0].addEventListener('click', menuClick);}
if(stickyMenu[0] != undefined){ stickyMenu[0].addEventListener('click', menuClick); } }
addMenuClickListener();
});
window.REBELMOUSE_LOWEST_TASKS_QUEUE.push(function(){
window.REBELMOUSE_STDLIB.loadExternalScript("https://assets.adobedtm.com/98de9919e92a38033805f9f035c43198533e4380/satelliteLib-38c7b1e4b1bb3e0378e82d10601662aebfb04eda.js", function() {
window.analyticsData = { events: {active: {view: {asset: {}}, device: {}}} }; window.analyticsData.events.active.device.appVersion = "1.1"; window.analyticsData.events.active.device.host = "premiere.off.us"; window.analyticsData.events.active.device.subHost = "theblaze.com"; window.analyticsData.events.active.pageName = "articles"; //window.analyticsData.events.active.view.asset.id = "articles|"+ __BOOTSTRAP__.post.basename; window.analyticsData.events.active.view.asset.name = document.title; //window.analyticsData.events.active.view.authorId = __BOOTSTRAP__.post.original_user_subsite.title; window.analyticsData.events.active.view.pubDate = "03/27/2022"; window.analyticsData.events.active.view.contentOriginType = "Premiere"; window.analyticsData.events.active.view.stationCallLetter = "TheBlaze"; window.analyticsData.events.active.view.stationFormat = "NEWSTALK"; window.analyticsData.events.active.view.stationMarket = "PREMIERE"; window.analyticsData.events.active.view.personalityId = "theBlaze"; window.analyticsData.events.active.view.tags = ["taylor-hawkins-cause-of-death", "taylor-hawkins-death", "taylor-hawkins-drugs", "taylor-hawkins-sober", "taylor-hawkins", "foo-fighters"]; window.analyticsData.events.active.view.photoGalleryExists = "FALSE"; window.analyticsData.events.active.view.photoGalleryPageView = "FALSE"; window.analyticsData.events.active.view.contentFrame = "page"; window._satellite && _satellite.pageBottom();
});
});
window.REBELMOUSE_LOWEST_TASKS_QUEUE.push(function(){
function test_adblock(func, id) { var t="0.1.2-dev", el = document.createElement('div'); el.id = id ? id : 'sponsorText'; el.appendChild(document.createTextNode(' ')); Object.assign(el.style, { left: '-999px', position: 'absolute' }); document.body.appendChild(el); setTimeout(function() { if (el) { var o = el.clientHeight === 0; func(o, t); document.body.removeChild(el); } }, 200); } test_adblock(function(is_blocked) { console.log(is_blocked); var wid = is_blocked ? 140286 : 140117, target = document.getElementById('rc-adblock-widget'); var el = document.createElement('div'); el.setAttribute('data-rc-widget', ''); el.setAttribute('data-endpoint', 'trends.revcontent.com'); el.setAttribute('data-widget-id', wid); target.appendChild(el); if (typeof window.renderRCWidget !== 'function') { var script = document.createElement('script'); script.src="https://assets.revcontent.com/master/delivery.js"; script.defer = true; target.appendChild(script); } else { window.renderRCWidget(el) } });
});
window.REBELMOUSE_LOWEST_TASKS_QUEUE.push(function(){
(function(s,u,m,o,j,v){j=u.createElement(m);v=u.getElementsByTagName(m)[0];j.async=1;j.src=o;j.dataset.sumoSiteId='f20bb26e74a94a53daa9113206b98941e1dfba90635d317b9efd9e33a89bf515';v.parentNode.insertBefore(j,v)})(window,document,'script','//load.sumo.com/');
});

Paul Sacca