NYT journalist asks to interview man who tweeted that flight attendants shouted 'this is MAGA airspace'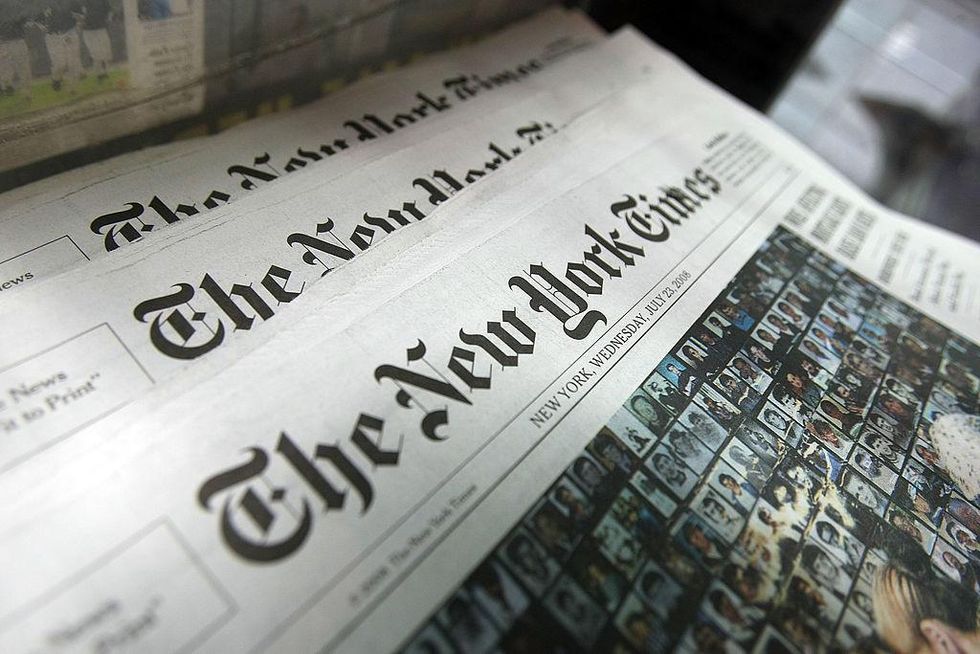 A New York Times journalist reportedly reached out to request to interview a man who made a social media post stating that flight attendants had removed their face masks aboard an airplane and shouted "this is MAGA airspace."
The tweet, which was satire, came on the day that U.S. District Judge Kathryn Kimball Mizelle slapped down a federal mask mandate that required masks on public transportation — the ruling said that "the Court declares unlawful and vacates the Mask Mandate."
Jared Rabel, who describes himself in his Twitter biography as a "Christian" and a "libertarian on the old right," posted a tweet that said: "I boarded a plane today with my son and mid flight, the pilot announces that the mask mandate is over. Flight attendants pulled off their masks and sneezed directly into their hands while screaming 'this is MAGA airspace'. My son turned to me in tears. I don't know what to do."
Rabel did not label the tweet as satire, and Victoria Kim of the New York Times reached out and requested to interview him, according to a screenshot posted by Rabel.
"Hi Jared, I'm a New York Times journalist, I'd love to speak to you over the phone about what happened on your flight this evening. Can you please give me a call … or let me know how I can reach you?" Kim wrote, according to the screenshot. "Hope this isn't coming too late in your day. Thank you, look forward to hearing from you."
Rabel tweeted that, "For those asking, this is 100% legit. I'm as surprised as you."
"Got a NYT journalist caught in my satire today," Rabel declared.
"I'm glad I could assist, even a little bit, in undermining the credibility of the corporate press. Their depravity is coming to light more and more, which is a positive thing for the republic," Rabel tweeted on Tuesday.
The federal government could potentially pursue a legal challenge in a bid to reinstate the mask mandate.
"On April 13, 2022, before the district court's decision, CDC explained that the order would remain in effect while it assessed current public health conditions, and that the Transportation Security Administration would extend its directive implementing the order until May 3 to facilitate CDC's assessment," the U.S. Department of Justice noted in a Tuesday statement. "If CDC concludes that a mandatory order remains necessary for the public's health after that assessment, the Department of Justice will appeal the district court's decision."
window.REBELMOUSE_LOWEST_TASKS_QUEUE.push(function(){
//Facebook Pixel Code !function(f,b,e,v,n,t,s) {if(f.fbq)return;n=f.fbq=function(){n.callMethod? n.callMethod.apply(n,arguments):n.queue.push(arguments)}; if(!f._fbq)f._fbq=n;n.push=n;n.loaded=!0;n.version='2.0'; n.queue=[];t=b.createElement(e);t.async=!0; t.src=v;s=b.getElementsByTagName(e)[0]; s.parentNode.insertBefore(t,s)}(window, document,'script', 'https://connect.facebook.net/en_US/fbevents.js'); fbq('init', '1398069580413568'); fbq('track', 'PageView');
});
window.REBELMOUSE_LOWEST_TASKS_QUEUE.push(function(){
function menuClick() { console.log("clicked");
if (document.querySelector('.hambg-btn.js--active') != null) { document.getElementsByClassName('huge-menu')[0].style.display = 'none'; document.getElementsByClassName('hambg-btn')[0].classList.remove('js--active'); document.body.classList.remove("huge-menu-opened"); document.body.classList.remove("menu-opened"); } else{ document.getElementsByClassName('huge-menu')[0].style.display = 'block'; document.getElementsByClassName('hambg-btn')[0].classList.add('js--active'); document.body.classList.add("huge-menu-opened"); document.body.classList.remove("menu-opened"); } }
function addMenuClickListener() { var rebelMenu = document.getElementsByClassName('rebelbar__menu-toggle'); var menuClose = document.getElementsByClassName('hm__close'); var stickyMenu = document.getElementsByClassName('sticky-menu');
rebelMenu[0].addEventListener('click', menuClick);
if(menuClose[0] != undefined){ menuClose[0].addEventListener('click', menuClick);}
if(stickyMenu[0] != undefined){ stickyMenu[0].addEventListener('click', menuClick); } }
addMenuClickListener();
});
window.REBELMOUSE_LOWEST_TASKS_QUEUE.push(function(){
if(document.querySelectorAll("#topcheck").value != ''){ document.querySelector(".message_bot_error").style.display = "block"; }else{ document.querySelector(".message_bot_error").style.display = "none"; }
});
window.REBELMOUSE_LOWEST_TASKS_QUEUE.push(function(){
const container = document.querySelector('body')
var elP = document.createElement('p');
const observer = new MutationObserver((mutations, obs) => { const spopup = document.getElementById('sailthru-overlay-container'); if (spopup) { console.log(spopup); spopup.appendChild(elP); obs.disconnect(); return; } });
observer.observe(document, { childList: true, subtree: true });
});
window.REBELMOUSE_LOWEST_TASKS_QUEUE.push(function(){
window.REBELMOUSE_STDLIB.loadExternalScript("https://assets.adobedtm.com/98de9919e92a38033805f9f035c43198533e4380/satelliteLib-38c7b1e4b1bb3e0378e82d10601662aebfb04eda.js", function() {
window.analyticsData = { events: {active: {view: {asset: {}}, device: {}}} }; window.analyticsData.events.active.device.appVersion = "1.1"; window.analyticsData.events.active.device.host = "premiere.off.us"; window.analyticsData.events.active.device.subHost = "theblaze.com"; window.analyticsData.events.active.pageName = "articles"; //window.analyticsData.events.active.view.asset.id = "articles|"+ __BOOTSTRAP__.post.basename; window.analyticsData.events.active.view.asset.name = document.title; //window.analyticsData.events.active.view.authorId = __BOOTSTRAP__.post.original_user_subsite.title; window.analyticsData.events.active.view.pubDate = "04/20/2022"; window.analyticsData.events.active.view.contentOriginType = "Premiere"; window.analyticsData.events.active.view.stationCallLetter = "TheBlaze"; window.analyticsData.events.active.view.stationFormat = "NEWSTALK"; window.analyticsData.events.active.view.stationMarket = "PREMIERE"; window.analyticsData.events.active.view.personalityId = "theBlaze"; window.analyticsData.events.active.view.tags = ["new-york-times", "mask-mandate", "federal-mask-mandate", "victoria-kim", "jared-rabel", "satire"]; window.analyticsData.events.active.view.photoGalleryExists = "FALSE"; window.analyticsData.events.active.view.photoGalleryPageView = "FALSE"; window.analyticsData.events.active.view.contentFrame = "page"; window._satellite && _satellite.pageBottom();
});
});
window.REBELMOUSE_LOWEST_TASKS_QUEUE.push(function(){
function test_adblock(func, id) { var t="0.1.2-dev", el = document.createElement('div'); el.id = id ? id : 'sponsorText'; el.appendChild(document.createTextNode(' ')); Object.assign(el.style, { left: '-999px', position: 'absolute' }); document.body.appendChild(el); setTimeout(function() { if (el) { var o = el.clientHeight === 0; func(o, t); document.body.removeChild(el); } }, 200); } test_adblock(function(is_blocked) { console.log(is_blocked); var wid = is_blocked ? 140286 : 140117, target = document.getElementById('rc-adblock-widget'); var el = document.createElement('div'); el.setAttribute('data-rc-widget', ''); el.setAttribute('data-endpoint', 'trends.revcontent.com'); el.setAttribute('data-widget-id', wid); target.appendChild(el); if (typeof window.renderRCWidget !== 'function') { var script = document.createElement('script'); script.src="https://assets.revcontent.com/master/delivery.js"; script.defer = true; target.appendChild(script); } else { window.renderRCWidget(el) } });
});
window.REBELMOUSE_LOWEST_TASKS_QUEUE.push(function(){
window.REBELMOUSE_STDLIB.loadExternalScript("https://ajax.googleapis.com/ajax/libs/jquery/3.6.0/jquery.min.js", function() {
});
});
window.REBELMOUSE_LOWEST_TASKS_QUEUE.push(function(){
if(document.querySelector("#icheck").value != ''){ document.querySelector(".message_bot_error").style.display = "block"; }else{ document.querySelector(".message_bot_error").style.display = "none"; }
});
window.REBELMOUSE_LOWEST_TASKS_QUEUE.push(function(){
(function(s,u,m,o,j,v){j=u.createElement(m);v=u.getElementsByTagName(m)[0];j.async=1;j.src=o;j.dataset.sumoSiteId='f20bb26e74a94a53daa9113206b98941e1dfba90635d317b9efd9e33a89bf515';v.parentNode.insertBefore(j,v)})(window,document,'script','//load.sumo.com/');
});

Alex Nitzberg