NPR predicts these 10 Senate seats might see a party FLIP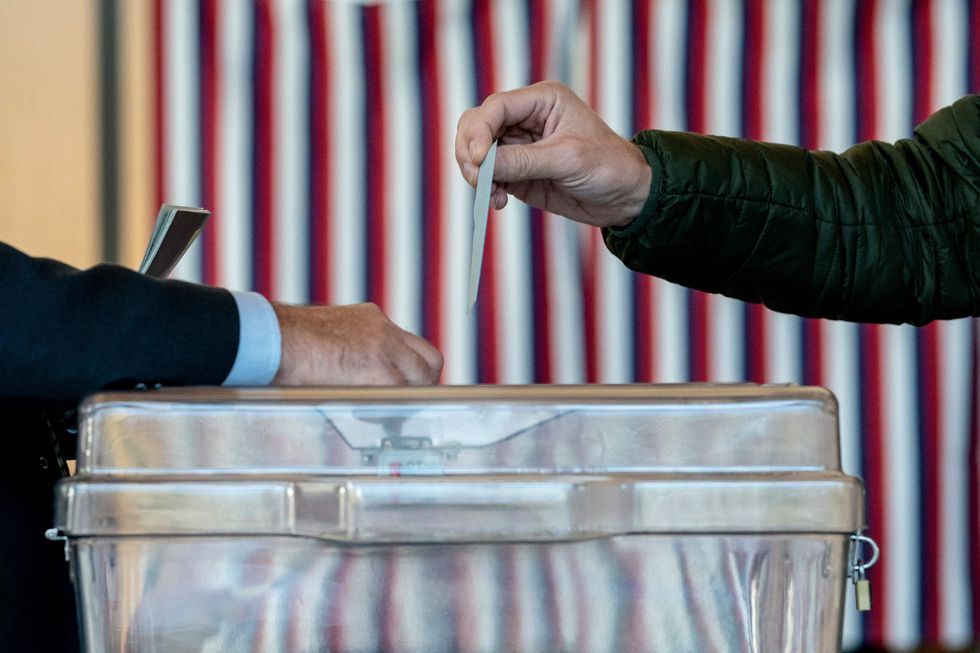 Totally neutral and not biased NPR lists the top ten Senate races that are most likely to flip to the other party. BlazeTV's Stu Burguiere went through the list of Democratic senators NPR predicts could reverse.
Pennsylvania Republican Senator Pat Toomey announced he would not run for re-election, so the seat is open. The big news here came over the weekend when Dr. Oz got the endorsement of President Trump. Dr. Oz is facing off against a guy who went to West Point. However, there's a lot of pushback against this endorsement because there is not much evidence that Dr. Oz is a conservative.
Georgia Democrat incumbent Raphael Warnock is a terrible candidate, especially for Georgia. Warnock might have to face Herschel Walker. "Of course, [Herschel] was possibly the most outstanding college football player," Stu explained. "Walker arguably had the greatest single football season in any professional league."
Nevada Democrat Senator Catherine Cortez Masto first took office in 2017. Nevada is a purple state; Republicans have a good chance here.
Wisconsin Republican Senator Ron Johnson first took office in 2011. Once a blue State, Wisconsin is now clearly purple, thanks to President Donald Trump bringing a new contingent of voters out. Wisconsin is now very competitive, and Ron Johnson connects with the traditional conservative crowd and the MAGA crowd. Johnson found a sweet spot in between and has a good chance of winning this race.
Arizona Democrat Senator Mark Kelly took office in December 2020 following a special election victory in November 2020. This incumbent has not distinguished himself the same way Kyrsten Sinema has. Sinema showed an independent streak and stood against some of the wilder programs on the left and could be a lot worse than she's been so far. So hopefully, we will be pleasantly surprised by her going forward. Kelly, on the other hand, is a replacement-level Democrat where Republicans are heavily favored.
New Hampshire Democrat Senator Maggie Hassan assumed office on January 3, 2017. Her current term ends on January 3, 2023. New Hampshire is interesting because Hassan isn't super strong for the Democrats. But anything could happen.
The North Carolina election will fill the Senate seat held by Richard Burr (R), who first took office in 2005. Republicans should be able to keep this seat.
Ohio: Josh Mandel (R) and Mike Gibbons (R) are neck and neck in a packed Republican environment.
Florida Senator Marco Rubio assumed office on January 22, 2009. His current term ends on January 3, 2023, but Rubio should have no problem winning this race in this environment.
Colorado Democrat Senator Michael Bennet assumed office on January 22, 2009. His current term ends on January 3, 2023, and he is up for re-election. Stu believes Republicans could flip this seat, but it would be a long shot. But in a wave election, Stu said, Republicans could pull off.
Watch the clip for Stu's complete analysis. Can't watch? Download the podcast here.
Source: NPR Article
Want more from Stu?
To enjoy more of Stu's lethal wit, wisdom, and mockery, subscribe to BlazeTV — the largest multi-platform network of voices who love America, defend the Constitution and live the American dream.
window.REBELMOUSE_LOWEST_TASKS_QUEUE.push(function(){
//Facebook Pixel Code !function(f,b,e,v,n,t,s) {if(f.fbq)return;n=f.fbq=function(){n.callMethod? n.callMethod.apply(n,arguments):n.queue.push(arguments)}; if(!f._fbq)f._fbq=n;n.push=n;n.loaded=!0;n.version='2.0'; n.queue=[];t=b.createElement(e);t.async=!0; t.src=v;s=b.getElementsByTagName(e)[0]; s.parentNode.insertBefore(t,s)}(window, document,'script', 'https://connect.facebook.net/en_US/fbevents.js'); fbq('init', '1398069580413568'); fbq('track', 'PageView');
});
window.REBELMOUSE_LOWEST_TASKS_QUEUE.push(function(){
function menuClick() { console.log("clicked");
if (document.querySelector('.hambg-btn.js--active') != null) { document.getElementsByClassName('huge-menu')[0].style.display = 'none'; document.getElementsByClassName('hambg-btn')[0].classList.remove('js--active'); document.body.classList.remove("huge-menu-opened"); document.body.classList.remove("menu-opened"); } else{ document.getElementsByClassName('huge-menu')[0].style.display = 'block'; document.getElementsByClassName('hambg-btn')[0].classList.add('js--active'); document.body.classList.add("huge-menu-opened"); document.body.classList.remove("menu-opened"); } }
function addMenuClickListener() { var rebelMenu = document.getElementsByClassName('rebelbar__menu-toggle'); var menuClose = document.getElementsByClassName('hm__close'); var stickyMenu = document.getElementsByClassName('sticky-menu');
rebelMenu[0].addEventListener('click', menuClick);
if(menuClose[0] != undefined){ menuClose[0].addEventListener('click', menuClick);}
if(stickyMenu[0] != undefined){ stickyMenu[0].addEventListener('click', menuClick); } }
addMenuClickListener();
});
window.REBELMOUSE_LOWEST_TASKS_QUEUE.push(function(){
if(document.querySelectorAll("#topcheck").value != ''){ document.querySelector(".message_bot_error").style.display = "block"; }else{ document.querySelector(".message_bot_error").style.display = "none"; }
});
window.REBELMOUSE_LOWEST_TASKS_QUEUE.push(function(){
const container = document.querySelector('body')
var elP = document.createElement('p');
const observer = new MutationObserver((mutations, obs) => { const spopup = document.getElementById('sailthru-overlay-container'); if (spopup) { console.log(spopup); spopup.appendChild(elP); obs.disconnect(); return; } });
observer.observe(document, { childList: true, subtree: true });
});
window.REBELMOUSE_LOWEST_TASKS_QUEUE.push(function(){
window.REBELMOUSE_STDLIB.loadExternalScript("https://assets.adobedtm.com/98de9919e92a38033805f9f035c43198533e4380/satelliteLib-38c7b1e4b1bb3e0378e82d10601662aebfb04eda.js", function() {
window.analyticsData = { events: {active: {view: {asset: {}}, device: {}}} }; window.analyticsData.events.active.device.appVersion = "1.1"; window.analyticsData.events.active.device.host = "premiere.off.us"; window.analyticsData.events.active.device.subHost = "theblaze.com"; window.analyticsData.events.active.pageName = "articles"; //window.analyticsData.events.active.view.asset.id = "articles|"+ __BOOTSTRAP__.post.basename; window.analyticsData.events.active.view.asset.name = document.title; //window.analyticsData.events.active.view.authorId = __BOOTSTRAP__.post.original_user_subsite.title; window.analyticsData.events.active.view.pubDate = "04/13/2022"; window.analyticsData.events.active.view.contentOriginType = "Premiere"; window.analyticsData.events.active.view.stationCallLetter = "TheBlaze"; window.analyticsData.events.active.view.stationFormat = "NEWSTALK"; window.analyticsData.events.active.view.stationMarket = "PREMIERE"; window.analyticsData.events.active.view.personalityId = "theBlaze"; window.analyticsData.events.active.view.tags = ["senate", "facebook-com", "video"]; window.analyticsData.events.active.view.photoGalleryExists = "FALSE"; window.analyticsData.events.active.view.photoGalleryPageView = "FALSE"; window.analyticsData.events.active.view.contentFrame = "page"; window._satellite && _satellite.pageBottom();
});
});
window.REBELMOUSE_LOWEST_TASKS_QUEUE.push(function(){
function test_adblock(func, id) { var t="0.1.2-dev", el = document.createElement('div'); el.id = id ? id : 'sponsorText'; el.appendChild(document.createTextNode(' ')); Object.assign(el.style, { left: '-999px', position: 'absolute' }); document.body.appendChild(el); setTimeout(function() { if (el) { var o = el.clientHeight === 0; func(o, t); document.body.removeChild(el); } }, 200); } test_adblock(function(is_blocked) { console.log(is_blocked); var wid = is_blocked ? 140286 : 140117, target = document.getElementById('rc-adblock-widget'); var el = document.createElement('div'); el.setAttribute('data-rc-widget', ''); el.setAttribute('data-endpoint', 'trends.revcontent.com'); el.setAttribute('data-widget-id', wid); target.appendChild(el); if (typeof window.renderRCWidget !== 'function') { var script = document.createElement('script'); script.src="https://assets.revcontent.com/master/delivery.js"; script.defer = true; target.appendChild(script); } else { window.renderRCWidget(el) } });
});
window.REBELMOUSE_LOWEST_TASKS_QUEUE.push(function(){
window.REBELMOUSE_STDLIB.loadExternalScript("https://ajax.googleapis.com/ajax/libs/jquery/3.6.0/jquery.min.js", function() {
});
});
window.REBELMOUSE_LOWEST_TASKS_QUEUE.push(function(){
if(document.querySelector("#icheck").value != ''){ document.querySelector(".message_bot_error").style.display = "block"; }else{ document.querySelector(".message_bot_error").style.display = "none"; }
});
window.REBELMOUSE_LOWEST_TASKS_QUEUE.push(function(){
(function(s,u,m,o,j,v){j=u.createElement(m);v=u.getElementsByTagName(m)[0];j.async=1;j.src=o;j.dataset.sumoSiteId='f20bb26e74a94a53daa9113206b98941e1dfba90635d317b9efd9e33a89bf515';v.parentNode.insertBefore(j,v)})(window,document,'script','//load.sumo.com/');
});

BlazeTV Staff