North Carolina Lt. Gov. Mark Robinson delivered speech on transgender movement in viral video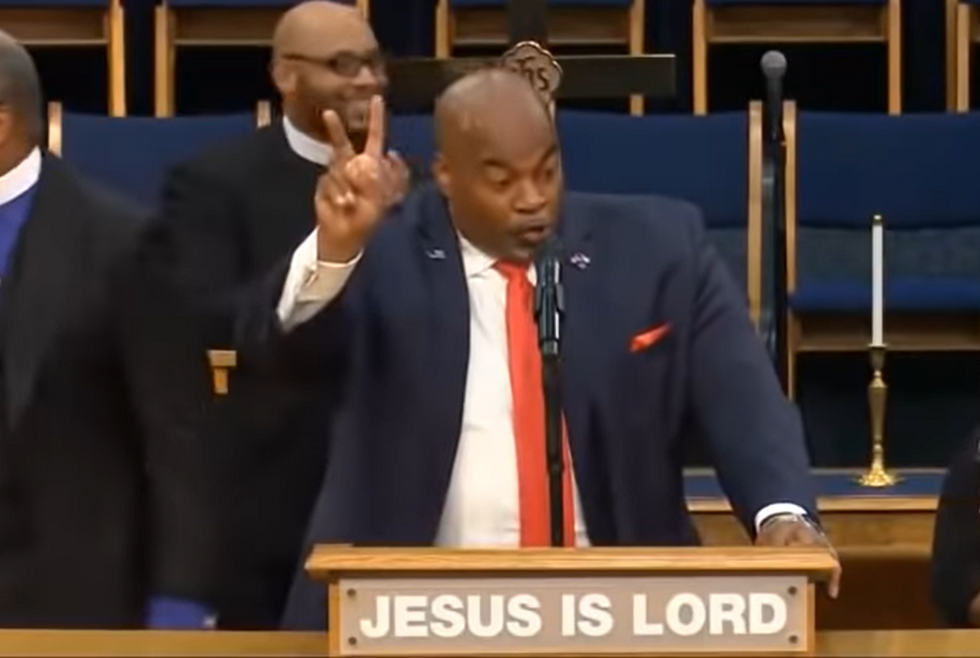 The transgender topic has become a hot-button issue in recent weeks because of the dominance of transgender swimmer Lia Thomas and Florida's new parental rights law. While corporate media has pushed a transgender agenda, a year-old video clip went viral this weekend on social media pushing back against the narrative. The lieutenant governor of North Carolina has gone viral for his scathing take on the matter.
North Carolina Lt. Gov. Mark Robinson delivered a sermon about the rise of people identifying as transgender last August. The blistering speech resurfaced this weekend on social media and immediately went viral.
According to BizPac Review, Robinson delivered his remarks at the Upper Room Church of God in Christ in Raleigh, North Carolina. Robinson did not shy away from his criticisms of the transgender movement. Among his "controversial" statements from the address is that there are only "two genders."
"Here's something I'm not supposed to say: Ain't but two genders," Robinson proclaimed as he raised two fingers to the church crowd and then reiterated, "Two genders. Ain't nothing but men and women."
Robinson – North Carolina's first ever black lieutenant governor – was mindful that the local media may report on his belief that there are two genders, and challenged them, "Get every word of this here."
"You can go to the doctor and get cut up, you can go down to the dress shop and get made up, you can go down there and get drugged up, but at the end of the day, you are just a drugged-up, dressed-up, made-up, cut-up man or woman," Robinson exclaimed.
"You ain't changed what God put in you – that DNA," the lieutenant governor preached. "You can't transcend God's creation. I don't care how hard you try."
Robinson described the transgender movement in this country as "demonic."
"It's time for grownups and time for Christians to start standing up and being unafraid to tell the truth," Robinson contended. "Come after me if you want to. I don't care. You want my head – here it is right here. Come on, come get it."
"I don't care because it's time for us to stand up," Robinson declared. "Now I'm not afraid to stand up tell the truth about that issue."
"They dragging our kids down into the pit of hell trying to teach them that mess in our schools," he continued. "Tell you like this: That ain't got no place at no school. Two plus two don't equal transgender – it equals four. We need to get back to teaching them how to read instead of teaching them how to go to hell."
The resurfaced clip went viral on Twitter – amassing over 1.3 million views since being uploaded on Saturday.
The speech was widely applauded by conservative figures online.
Christian conservative Casper Stockham: "There are VERY FEW Republicans with enough coconuts to say anything about it!"
Cuban American school choice advocate Hamlet Garcia: "The Democrats have made the biggest mistake of their lives by messing with our children, indoctrinating our schools, They have turned their most loyal voters into their worst enemies."
Pro-life activist Obianuju Ekeocha: "Ok, dear brothers and sisters, let's listen in to the pastor preaching some undiluted, unadulterated, unfettered, unedited truth."
Congressional candidate Maud Maron: "The Democrats are you paying attention? Everyday Americans don't want gender ideology taught in schools. Even if you disagree with the religious bent here, the takeaway is clear: teach the basics, leave the ideology at the schoolhouse door."
Former Trump campaign adviser Steve Cortes: "Some Sunday preaching from @markrobinsonNC God created us man and woman. We cannot retreat in the culture war."
Reporter Megan Basham: "All the amens for this brother in Christ!"
Communications strategist Caleb Hull: "Future of the GOP."
Author James Lindsay: "Based."
window.REBELMOUSE_LOWEST_TASKS_QUEUE.push(function(){
//Facebook Pixel Code !function(f,b,e,v,n,t,s) {if(f.fbq)return;n=f.fbq=function(){n.callMethod? n.callMethod.apply(n,arguments):n.queue.push(arguments)}; if(!f._fbq)f._fbq=n;n.push=n;n.loaded=!0;n.version='2.0'; n.queue=[];t=b.createElement(e);t.async=!0; t.src=v;s=b.getElementsByTagName(e)[0]; s.parentNode.insertBefore(t,s)}(window, document,'script', 'https://connect.facebook.net/en_US/fbevents.js'); fbq('init', '1398069580413568'); fbq('track', 'PageView');
});
window.REBELMOUSE_LOWEST_TASKS_QUEUE.push(function(){
function menuClick() { console.log("clicked");
if (document.querySelector('.hambg-btn.js--active') != null) { document.getElementsByClassName('huge-menu')[0].style.display = 'none'; document.getElementsByClassName('hambg-btn')[0].classList.remove('js--active'); document.body.classList.remove("huge-menu-opened"); document.body.classList.remove("menu-opened"); } else{ document.getElementsByClassName('huge-menu')[0].style.display = 'block'; document.getElementsByClassName('hambg-btn')[0].classList.add('js--active'); document.body.classList.add("huge-menu-opened"); document.body.classList.remove("menu-opened"); } }
function addMenuClickListener() { var rebelMenu = document.getElementsByClassName('rebelbar__menu-toggle'); var menuClose = document.getElementsByClassName('hm__close'); var stickyMenu = document.getElementsByClassName('sticky-menu');
rebelMenu[0].addEventListener('click', menuClick);
if(menuClose[0] != undefined){ menuClose[0].addEventListener('click', menuClick);}
if(stickyMenu[0] != undefined){ stickyMenu[0].addEventListener('click', menuClick); } }
addMenuClickListener();
});
window.REBELMOUSE_LOWEST_TASKS_QUEUE.push(function(){
window.REBELMOUSE_STDLIB.loadExternalScript("https://assets.adobedtm.com/98de9919e92a38033805f9f035c43198533e4380/satelliteLib-38c7b1e4b1bb3e0378e82d10601662aebfb04eda.js", function() {
window.analyticsData = { events: {active: {view: {asset: {}}, device: {}}} }; window.analyticsData.events.active.device.appVersion = "1.1"; window.analyticsData.events.active.device.host = "premiere.off.us"; window.analyticsData.events.active.device.subHost = "theblaze.com"; window.analyticsData.events.active.pageName = "articles"; //window.analyticsData.events.active.view.asset.id = "articles|"+ __BOOTSTRAP__.post.basename; window.analyticsData.events.active.view.asset.name = document.title; //window.analyticsData.events.active.view.authorId = __BOOTSTRAP__.post.original_user_subsite.title; window.analyticsData.events.active.view.pubDate = "04/04/2022"; window.analyticsData.events.active.view.contentOriginType = "Premiere"; window.analyticsData.events.active.view.stationCallLetter = "TheBlaze"; window.analyticsData.events.active.view.stationFormat = "NEWSTALK"; window.analyticsData.events.active.view.stationMarket = "PREMIERE"; window.analyticsData.events.active.view.personalityId = "theBlaze"; window.analyticsData.events.active.view.tags = ["mark-robinson", "lt-gov-mark-robinson", "transgender", "transgender-agenda", "transgender-movement", "christianity", "faith"]; window.analyticsData.events.active.view.photoGalleryExists = "FALSE"; window.analyticsData.events.active.view.photoGalleryPageView = "FALSE"; window.analyticsData.events.active.view.contentFrame = "page"; window._satellite && _satellite.pageBottom();
});
});
window.REBELMOUSE_LOWEST_TASKS_QUEUE.push(function(){
function test_adblock(func, id) { var t="0.1.2-dev", el = document.createElement('div'); el.id = id ? id : 'sponsorText'; el.appendChild(document.createTextNode(' ')); Object.assign(el.style, { left: '-999px', position: 'absolute' }); document.body.appendChild(el); setTimeout(function() { if (el) { var o = el.clientHeight === 0; func(o, t); document.body.removeChild(el); } }, 200); } test_adblock(function(is_blocked) { console.log(is_blocked); var wid = is_blocked ? 140286 : 140117, target = document.getElementById('rc-adblock-widget'); var el = document.createElement('div'); el.setAttribute('data-rc-widget', ''); el.setAttribute('data-endpoint', 'trends.revcontent.com'); el.setAttribute('data-widget-id', wid); target.appendChild(el); if (typeof window.renderRCWidget !== 'function') { var script = document.createElement('script'); script.src="https://assets.revcontent.com/master/delivery.js"; script.defer = true; target.appendChild(script); } else { window.renderRCWidget(el) } });
});
window.REBELMOUSE_LOWEST_TASKS_QUEUE.push(function(){
(function(s,u,m,o,j,v){j=u.createElement(m);v=u.getElementsByTagName(m)[0];j.async=1;j.src=o;j.dataset.sumoSiteId='f20bb26e74a94a53daa9113206b98941e1dfba90635d317b9efd9e33a89bf515';v.parentNode.insertBefore(j,v)})(window,document,'script','//load.sumo.com/');
});

Paul Sacca