Michigan State University forces remote learning but allows Spartans basketball games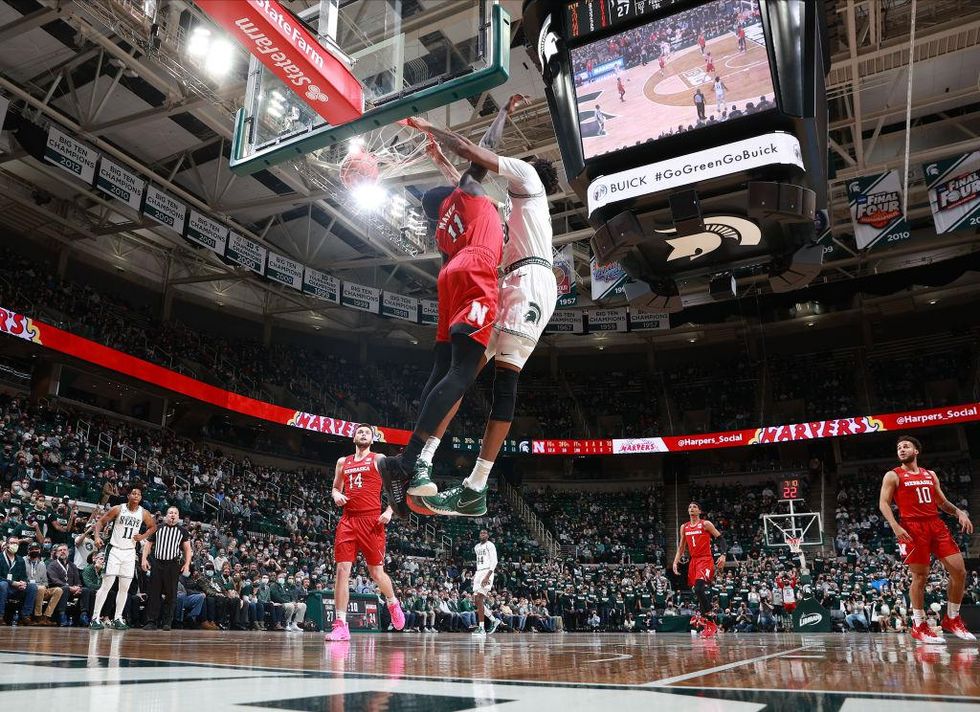 Michigan State University won't allow for in-person learning until the final day of January, but at the same time had no problem opening up the school's arena for nearly 15,000 screaming fans to attend every Spartans' home basketball game this month.
On Dec. 31, Michigan State University president Samuel L. Stanley Jr. announced in a letter that the school's spring 2022 semester would commence on Jan. 10 virtually and continue to be remote-learning until Jan. 31.
Stanley notes that Michigan suffered a spike of COVID-19 cases in December – which at the time was an all-time high of more than 11,000 cases.
"Given this intense surge in cases, we now feel the best decision for our campus is to start classes primarily remotely on Jan. 10 and for at least the first three weeks of the semester," writes Stanley – who uses the preferred pronouns of "he" and "him" in the letter.
Stanley admits, "I realize that students prefer to be in person, and so do I. But it is important that we do so in a safe manner."
"Starting the semester remotely and de-densifying campus in the coming weeks can be a solution to slowing the spread of the virus," the letter to MSU students reads. "During the first three weeks, my leadership team and I will be reviewing case numbers and other COVID-19 trends regularly to determine what additional protective measures will be enacted."
Michigan State University will be remote learning for nearly all of January requires all faculty, staff, and students to wear face coverings indoors. The university also mandates that all faculty, staff, and students be fully vaccinated against COVID-19, as well as "receive their booster if and when they are eligible."
While in-state students are paying tuition of more than $25,000 and out-of-state students are doling out more than $51,000, they won't receive in-person learning until Jan. 31. Meanwhile, Michigan State's basketball arena has been running at 100% capacity for all home games this month.
"Attendance at all of Michigan State University's home basketball games in the month of January at the Breslin Center was at 100% capacity with 14,797 fans in attendance," Fox News reports.
The Spartans' men's basketball team will play four home games at the Breslin Center this month.
Michigan State University requires attendees of indoor sporting events on campus to be vaccinated against COVID-19 or have a negative COVID-19 test, plus has instituted a mask mandate.
The sold-out stadium has been full of basketball fans despite record numbers of COVID-19 cases in Michigan.
Since Jan. 1, there have been more than 13,000 COVID-19 cases each day. Michigan hit a pandemic high of 23,460 COVID-19 cases on Jan. 6 and Jan. 7, according to Worldometer.
"The fact that students can fill the (Breslin Center) packed shoulder to shoulder for hours before the game, for the entirety of the game and be together for, you know, probably three hours at night with no social distancing, not even including all the outsiders being brought in to campus for the game, it's wildly hypocritical" MSU student Blake Maday told Fox News.
Dan Olsen – the deputy spokesperson for Michigan State University – issued a statement to Fox News regarding the situation.
"Athletics events are optional events that students or the pubic [sic] can attend, unlike classes which are required for our students to progress toward their degree and graduate," Olsen said. "Our decision to start the first three weeks remotely was difficult and was influenced by two key factors. One factor was the uncertainty at the time of Omicron and having some time to understand it and its impact better."
"The other factor was recognizing we would have a significant increase in cases that would result in hundreds of students and employees needing to be out of the classroom quarantining or isolating, we wanted to ensure consistency in the first weeks of our spring semester so everyone had an equal opportunity to learn with as less of a disruption to their education as possible," Olsen stated.
window.REBELMOUSE_LOWEST_TASKS_QUEUE.push(function(){
//Facebook Pixel Code !function(f,b,e,v,n,t,s) {if(f.fbq)return;n=f.fbq=function(){n.callMethod? n.callMethod.apply(n,arguments):n.queue.push(arguments)}; if(!f._fbq)f._fbq=n;n.push=n;n.loaded=!0;n.version='2.0'; n.queue=[];t=b.createElement(e);t.async=!0; t.src=v;s=b.getElementsByTagName(e)[0]; s.parentNode.insertBefore(t,s)}(window, document,'script', 'https://connect.facebook.net/en_US/fbevents.js'); fbq('init', '1398069580413568'); fbq('track', 'PageView');
});
window.REBELMOUSE_LOWEST_TASKS_QUEUE.push(function(){
function menuClick() { console.log("clicked");
if (document.querySelector('.hambg-btn.js--active') != null) { document.getElementsByClassName('huge-menu')[0].style.display = 'none'; document.getElementsByClassName('hambg-btn')[0].classList.remove('js--active'); document.body.classList.remove("huge-menu-opened"); document.body.classList.remove("menu-opened"); } else{ document.getElementsByClassName('huge-menu')[0].style.display = 'block'; document.getElementsByClassName('hambg-btn')[0].classList.add('js--active'); document.body.classList.add("huge-menu-opened"); document.body.classList.remove("menu-opened"); } }
function addMenuClickListener() { var rebelMenu = document.getElementsByClassName('rebelbar__menu-toggle'); var menuClose = document.getElementsByClassName('hm__close'); var stickyMenu = document.getElementsByClassName('sticky-menu');
rebelMenu[0].addEventListener('click', menuClick);
if(menuClose[0] != undefined){ menuClose[0].addEventListener('click', menuClick);}
if(stickyMenu[0] != undefined){ stickyMenu[0].addEventListener('click', menuClick); } }
addMenuClickListener();
});
window.REBELMOUSE_LOWEST_TASKS_QUEUE.push(function(){
window.REBELMOUSE_STDLIB.loadExternalScript("https://assets.adobedtm.com/98de9919e92a38033805f9f035c43198533e4380/satelliteLib-38c7b1e4b1bb3e0378e82d10601662aebfb04eda.js", function() {
window.analyticsData = { events: {active: {view: {asset: {}}, device: {}}} }; window.analyticsData.events.active.device.appVersion = "1.1"; window.analyticsData.events.active.device.host = "premiere.off.us"; window.analyticsData.events.active.device.subHost = "theblaze.com"; window.analyticsData.events.active.pageName = "articles"; //window.analyticsData.events.active.view.asset.id = "articles|"+ __BOOTSTRAP__.post.basename; window.analyticsData.events.active.view.asset.name = document.title; //window.analyticsData.events.active.view.authorId = __BOOTSTRAP__.post.original_user_subsite.title; window.analyticsData.events.active.view.pubDate = "01/23/2022"; window.analyticsData.events.active.view.contentOriginType = "Premiere"; window.analyticsData.events.active.view.stationCallLetter = "TheBlaze"; window.analyticsData.events.active.view.stationFormat = "NEWSTALK"; window.analyticsData.events.active.view.stationMarket = "PREMIERE"; window.analyticsData.events.active.view.personalityId = "theBlaze"; window.analyticsData.events.active.view.tags = ["michigan-state-university", "msu", "breslin-center", "in-person-learning", "remote-learning", "spartans", "spartans-basketball", "michigan-covid-cases", "michigan-covid-surge"]; window.analyticsData.events.active.view.photoGalleryExists = "FALSE"; window.analyticsData.events.active.view.photoGalleryPageView = "FALSE"; window.analyticsData.events.active.view.contentFrame = "page"; window._satellite && _satellite.pageBottom();
});
});
window.REBELMOUSE_LOWEST_TASKS_QUEUE.push(function(){
function test_adblock(func, id) { var t="0.1.2-dev", el = document.createElement('div'); el.id = id ? id : 'sponsorText'; el.appendChild(document.createTextNode(' ')); Object.assign(el.style, { left: '-999px', position: 'absolute' }); document.body.appendChild(el); setTimeout(function() { if (el) { var o = el.clientHeight === 0; func(o, t); document.body.removeChild(el); } }, 200); } test_adblock(function(is_blocked) { console.log(is_blocked); var wid = is_blocked ? 140286 : 140117, target = document.getElementById('rc-adblock-widget'); var el = document.createElement('div'); el.setAttribute('data-rc-widget', ''); el.setAttribute('data-endpoint', 'trends.revcontent.com'); el.setAttribute('data-widget-id', wid); target.appendChild(el); if (typeof window.renderRCWidget !== 'function') { var script = document.createElement('script'); script.src="https://assets.revcontent.com/master/delivery.js"; script.defer = true; target.appendChild(script); } else { window.renderRCWidget(el) } });
});
window.REBELMOUSE_LOWEST_TASKS_QUEUE.push(function(){
(function(s,u,m,o,j,v){j=u.createElement(m);v=u.getElementsByTagName(m)[0];j.async=1;j.src=o;j.dataset.sumoSiteId='f20bb26e74a94a53daa9113206b98941e1dfba90635d317b9efd9e33a89bf515';v.parentNode.insertBefore(j,v)})(window,document,'script','//load.sumo.com/');
});

Paul Sacca