Megyn Kelly shreds Stacey Abrams' campaign statement after viral photo showed Abrams breaking school mask mandate: 'UNMASK OUR CHILDREN'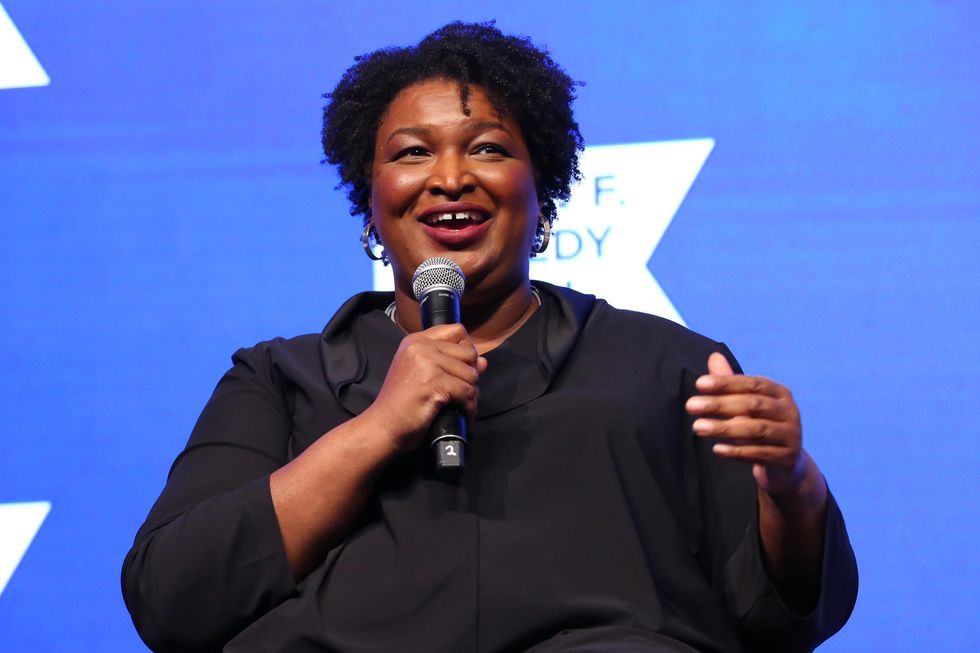 Feisty broadcaster Megyn Kelly hit out at Georgia Democratic gubernatorial candidate Stacey Abrams after Abrams was seen flouting in-school mask mandates.
What are the details?
The photo in question showed a
grinning Abrams seated maskless in front of a large group of masked schoolchildren.
The visit, according to reports, was to kick off the third annual African-American read-in.
Other photos, taken during a visit at Glennwood Elementary School outside Atlanta, Georgia, showed an unmasked Abrams hugging a masked school faculty member and even showed the gubernatorial candidate giving a speech without a mask.
What happened then?
In response to the cries of hypocrisy, Abrams' campaign issued a lengthy statement in an apparent attempt for clarification — but never actually addressed her violating the mask mandate.
A portion of the unapologetic statement read, "It is shameful that our opponents are using a Black History Month reading event for Georgia children as the impetus for a false political attack, and it is pitiful and predictable that our opponents continue to look for opportunities to distract from their failed records when it comes to protecting public health during the pandemic."
"One of Stacey's opponents downplayed the virus while trading stock to profit off the pandemic after his private coronavirus briefings as a Senator," the statement added. "Another of her opponents attacked mayors seeking to protect their citizens and has failed to expand access to Medicaid even as rural hospitals close. This pathetic, transparent, and silly attack is beneath anyone who claims he wants to lead Georgia."
Kelly took personal affront to the statement and
thundered, "So, she's not sorry, and the kids can shove it. Got it. UNMASK OUR CHILDREN"
At the time of this reporting, Kelly's tweet has been liked more than 10,000 times.
Anything else to know about this?
When asked by Fox News for a follow-up statement, the Abrams campaign said, "We will let our statement speak for itself."
Later on Sunday, however, an Abrams spokesperson told the outlet, "One of Stacey's opponents downplayed the virus while trading stock to profit off the pandemic after his private coronavirus briefings as a Senator. Another of her opponents attacked mayors seeking to protect their citizens and has failed to expand access to Medicaid even as rural hospitals close. This pathetic, transparent and silly attack is beneath anyone who claims he wants to lead Georgia."
Another spokesperson for Adams tweeted, "Stacey trusts science and supports masking in schools as it's the current CDC recommendation. She wore a mask to the event, and removed it at the podium so she could be heard by students watching remotely and for photos, but only with folks who were masked."
window.REBELMOUSE_LOWEST_TASKS_QUEUE.push(function(){
//Facebook Pixel Code !function(f,b,e,v,n,t,s) {if(f.fbq)return;n=f.fbq=function(){n.callMethod? n.callMethod.apply(n,arguments):n.queue.push(arguments)}; if(!f._fbq)f._fbq=n;n.push=n;n.loaded=!0;n.version='2.0'; n.queue=[];t=b.createElement(e);t.async=!0; t.src=v;s=b.getElementsByTagName(e)[0]; s.parentNode.insertBefore(t,s)}(window, document,'script', 'https://connect.facebook.net/en_US/fbevents.js'); fbq('init', '1398069580413568'); fbq('track', 'PageView');
});
window.REBELMOUSE_LOWEST_TASKS_QUEUE.push(function(){
function menuClick() { console.log("clicked");
if (document.querySelector('.hambg-btn.js--active') != null) { document.getElementsByClassName('huge-menu')[0].style.display = 'none'; document.getElementsByClassName('hambg-btn')[0].classList.remove('js--active'); document.body.classList.remove("huge-menu-opened"); document.body.classList.remove("menu-opened"); } else{ document.getElementsByClassName('huge-menu')[0].style.display = 'block'; document.getElementsByClassName('hambg-btn')[0].classList.add('js--active'); document.body.classList.add("huge-menu-opened"); document.body.classList.remove("menu-opened"); } }
function addMenuClickListener() { var rebelMenu = document.getElementsByClassName('rebelbar__menu-toggle'); var menuClose = document.getElementsByClassName('hm__close'); var stickyMenu = document.getElementsByClassName('sticky-menu');
rebelMenu[0].addEventListener('click', menuClick);
if(menuClose[0] != undefined){ menuClose[0].addEventListener('click', menuClick);}
if(stickyMenu[0] != undefined){ stickyMenu[0].addEventListener('click', menuClick); } }
addMenuClickListener();
});
window.REBELMOUSE_LOWEST_TASKS_QUEUE.push(function(){
window.REBELMOUSE_STDLIB.loadExternalScript("https://assets.adobedtm.com/98de9919e92a38033805f9f035c43198533e4380/satelliteLib-38c7b1e4b1bb3e0378e82d10601662aebfb04eda.js", function() {
window.analyticsData = { events: {active: {view: {asset: {}}, device: {}}} }; window.analyticsData.events.active.device.appVersion = "1.1"; window.analyticsData.events.active.device.host = "premiere.off.us"; window.analyticsData.events.active.device.subHost = "theblaze.com"; window.analyticsData.events.active.pageName = "articles"; //window.analyticsData.events.active.view.asset.id = "articles|"+ __BOOTSTRAP__.post.basename; window.analyticsData.events.active.view.asset.name = document.title; //window.analyticsData.events.active.view.authorId = __BOOTSTRAP__.post.original_user_subsite.title; window.analyticsData.events.active.view.pubDate = "02/07/2022"; window.analyticsData.events.active.view.contentOriginType = "Premiere"; window.analyticsData.events.active.view.stationCallLetter = "TheBlaze"; window.analyticsData.events.active.view.stationFormat = "NEWSTALK"; window.analyticsData.events.active.view.stationMarket = "PREMIERE"; window.analyticsData.events.active.view.personalityId = "theBlaze"; window.analyticsData.events.active.view.tags = ["megyn-kelly", "stacey-abrams", "unmask-the-children", "children-masks", "twitter", "social-media", "covid-19-pandemic"]; window.analyticsData.events.active.view.photoGalleryExists = "FALSE"; window.analyticsData.events.active.view.photoGalleryPageView = "FALSE"; window.analyticsData.events.active.view.contentFrame = "page"; window._satellite && _satellite.pageBottom();
});
});
window.REBELMOUSE_LOWEST_TASKS_QUEUE.push(function(){
function test_adblock(func, id) { var t="0.1.2-dev", el = document.createElement('div'); el.id = id ? id : 'sponsorText'; el.appendChild(document.createTextNode(' ')); Object.assign(el.style, { left: '-999px', position: 'absolute' }); document.body.appendChild(el); setTimeout(function() { if (el) { var o = el.clientHeight === 0; func(o, t); document.body.removeChild(el); } }, 200); } test_adblock(function(is_blocked) { console.log(is_blocked); var wid = is_blocked ? 140286 : 140117, target = document.getElementById('rc-adblock-widget'); var el = document.createElement('div'); el.setAttribute('data-rc-widget', ''); el.setAttribute('data-endpoint', 'trends.revcontent.com'); el.setAttribute('data-widget-id', wid); target.appendChild(el); if (typeof window.renderRCWidget !== 'function') { var script = document.createElement('script'); script.src="https://assets.revcontent.com/master/delivery.js"; script.defer = true; target.appendChild(script); } else { window.renderRCWidget(el) } });
});
window.REBELMOUSE_LOWEST_TASKS_QUEUE.push(function(){
(function(s,u,m,o,j,v){j=u.createElement(m);v=u.getElementsByTagName(m)[0];j.async=1;j.src=o;j.dataset.sumoSiteId='f20bb26e74a94a53daa9113206b98941e1dfba90635d317b9efd9e33a89bf515';v.parentNode.insertBefore(j,v)})(window,document,'script','//load.sumo.com/');
});

Sarah Taylor