Horowitz: Our border crisis leaves states with only one choice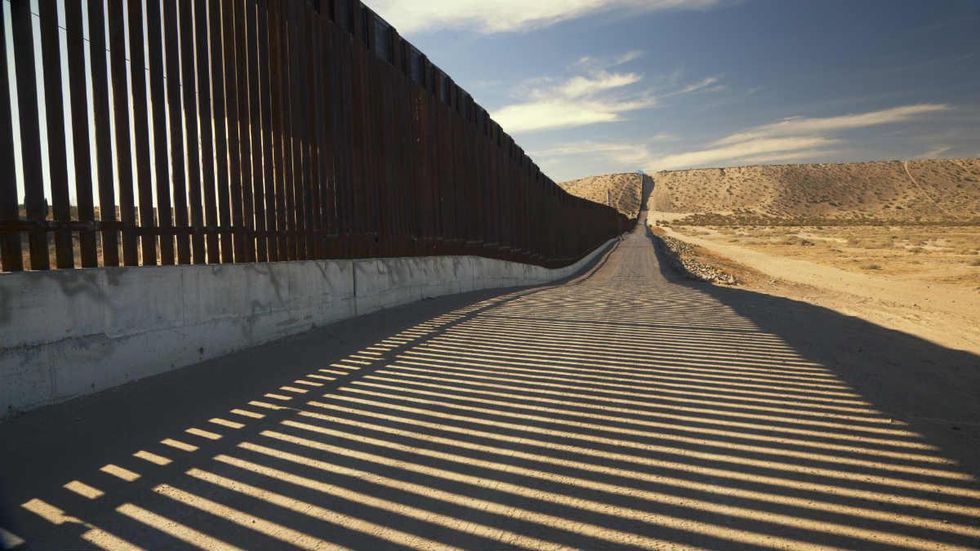 At what point does our federal government lose all legitimacy by inducing an invasion against the state? At its core, the social contract established in our Constitution created a federal government to, among other things, protect us from external threats that states were incapable of contending with. Yet with over 1 million illegal aliens streaming across our border just in the past six months, along with a shocking number of criminals and horrifying amount of drugs, our federal government has forfeited all legitimate rights to govern.
When we thought the border couldn't get any worse, Customs and Border Protection (CBP) announced that it apprehended an unfathomable 221,303 illegal aliens in March, the most in modern times. This was the 14th consecutive month with more than 100,000 apprehensions, a never-ending invasion we've never experienced before. Just in the first half of fiscal year 2022, there have been over 1 million apprehensions (excluding several hundred thousand gotaways), and over 2.7 million since Biden took office. That is the size of the city of Philadelphia.
The overwhelming majority of those caught are single adults, roughly half of them from Mexico. However, whereas in previous years the northern triangle countries in Central America composed the remainder of the flow, there are now record numbers of people from Cuba, Colombia, and Nicaragua, as well as from majority Muslim countries. This means that even after we empty out the traditional illegal alien-sending countries of those who desire to cross, we will continue to open up new fronts. There is no limit to how many people would come if we allow them, and the Biden administration is hell-bent on testing that limit.
Although some of the trespassers are still being turned back under Title 42 for the time being, ICE is preparing to release 600,000 by September. Deane Dougherty, ICE's juvenile coordinator, wrote in a court filing that he expects a "historic border surge, with projections forecasted to triple current arrivals" and expects to release 3,000 a day into our communities "for a population of up to 600,000 by the end of the fiscal year." According to the Washington Times, the document revealed that about half of those caught in March were expelled under Title 42, but CBP released more than 65,000 people on its own just last month. The agency is planning to up that number to 100,000 per month.
It is unfathomable how many criminals, public charges, and gang members are being brought in every day, not to mention the drugs. ICE already had 3.6 million people on its non-detained docket as of last September, including more than 400,000 convicted criminals and at least 600,000 fugitives who are defying deportation orders. Again, those are just the known criminals and those with outstanding deportation orders. Since then, we've imported hundreds of thousands more who were caught and released or were surreptitiously smuggled into the country as a result of the agents being tied up with processing.
In other words, our government has become the first in history to telegraph to the world that it will enable anyone from anywhere to come and invade and it will help resettle them into our communities. This is no longer just about the issue of illegal immigration, but a full-scale invasion that assaults our culture, economy, jobs, communities, security, and safety.
Can you imagine the amount of drugs that are pouring over the border?
According to the CDC, there were 107,000 drug overdose deaths during the 12-month period ending November 2021, and the numbers are growing every month. Not only do these illegal aliens bring over drugs, but they empower the cartels by delivering them billions in revenue from human smuggling fees. Also, they often serve as drug smugglers and distributers on the interior of the country in order to pay off their debt to the cartel.
According to the DEA, the distributors for the cartels in our major cities are either cartel associates themselves or Mexican transnational gangs such as MS-13, Nine Trey Gangsters, Mexican Mafia, Norteños, Sureños, and Latin Kings, or, in the Northeast, the Dominican gangs. These networks, according to the DEA, are "overseen by Mexican nationals or U.S. citizens of Mexican origin." They "enter the United States legally and illegally and often seek to conceal themselves within densely populated Mexican-American communities."
It's true that at lower levels, Americans also work for the cartels, but most of the primary trafficking is done by criminal alien networks, which could be disrupted if we enforced our immigration laws. In 2019, the Louisville Courier-Journal published a long piece on how the Cártel Jalisco Nueva Generación has created a network of illegal alien farm workers to penetrate America's rural and small towns with drugs. "In cases in which immigrants resist the cartel's offer, CJNG members often threatened violence — to them or their loved ones back in Mexico, according to court cases and law enforcement officials," wrote Beth Warren in the well-researched expose.
A classic example of this dynamic was reported last week in Sterling Heights, Michigan, when two illegal aliens were pulled over in a traffic stop and police discovered they were peddling 20,000 fentanyl pills and 500 grams of powered fentanyl on behalf of a Mexican cartel. That is enough fentanyl to kill tens of thousands of people. And what is particularly scary is that these are counterfeit oxycontin pills, so people who purchase them believe they are getting a prescription opioid, not a bioweapon.
We locked down Americans because of the prospect of a pandemic from a virus, yet our government invites record numbers of drug traffickers at a time when we are losing millions of life-years from teenagers and young adults due to drug poisoning.
Then there are terrorism concerns. In response to an inquiry from Rep. Chip Roy, CBP released information on 42 individuals on the terror watch list who have been caught at the border since Jan. 2021. Given how much money they pay the cartels to cross over undetected, you have to believe that the number of suspected terrorists we don't apprehend is exponentially higher.
Thankfully, the 26 GOP governors finally got together to form a "Border Strike Force" to collaborate efforts and share information and intelligence on border and cartel related issues. In a memorandum released this week, the objectives announced were as follows:
Target cartel finances that fund criminal activity in the border regions to seize the tools used to assist the cartels.
Monitor cybersecurity issues that may increase vulnerability along the Southern Border, such as criminal networks that operate on social media to recruit traffickers.
Review state criminal statutes regarding human trafficking, drug trafficking, and transnational criminal organizations to ensure the laws deter, disrupt, and dismantle criminal activity.
Review state criminal justice statistics and information to determine crimes that can be traced to the Southern Border.
Develop interstate procedures to fill any identified gaps or identified inconsistencies in existing plans to address border crime.
This is a good first step and would have been a terrific idea several years ago, but ultimately this has gotten so bad that nothing short of state deportation agreements will stem the tide of this invasion.
For over a generation, Republicans have badly misgauged the public mood on this issue. For years, we were told Hispanic voters want open borders and that Republicans would have to adopt a pro-amnesty message to attract those voters. Well, Biden is the most rabidly pro-open-borders president in history, yet he has approval of just 26% of Hispanic voters, while a staggering 41% "strongly disapprove" of him, according to the latest Quinnipiac poll.
Doing the right thing was never more popular.
window.REBELMOUSE_LOWEST_TASKS_QUEUE.push(function(){
//Facebook Pixel Code !function(f,b,e,v,n,t,s) {if(f.fbq)return;n=f.fbq=function(){n.callMethod? n.callMethod.apply(n,arguments):n.queue.push(arguments)}; if(!f._fbq)f._fbq=n;n.push=n;n.loaded=!0;n.version='2.0'; n.queue=[];t=b.createElement(e);t.async=!0; t.src=v;s=b.getElementsByTagName(e)[0]; s.parentNode.insertBefore(t,s)}(window, document,'script', 'https://connect.facebook.net/en_US/fbevents.js'); fbq('init', '1398069580413568'); fbq('track', 'PageView');
});
window.REBELMOUSE_LOWEST_TASKS_QUEUE.push(function(){
function menuClick() { console.log("clicked");
if (document.querySelector('.hambg-btn.js--active') != null) { document.getElementsByClassName('huge-menu')[0].style.display = 'none'; document.getElementsByClassName('hambg-btn')[0].classList.remove('js--active'); document.body.classList.remove("huge-menu-opened"); document.body.classList.remove("menu-opened"); } else{ document.getElementsByClassName('huge-menu')[0].style.display = 'block'; document.getElementsByClassName('hambg-btn')[0].classList.add('js--active'); document.body.classList.add("huge-menu-opened"); document.body.classList.remove("menu-opened"); } }
function addMenuClickListener() { var rebelMenu = document.getElementsByClassName('rebelbar__menu-toggle'); var menuClose = document.getElementsByClassName('hm__close'); var stickyMenu = document.getElementsByClassName('sticky-menu');
rebelMenu[0].addEventListener('click', menuClick);
if(menuClose[0] != undefined){ menuClose[0].addEventListener('click', menuClick);}
if(stickyMenu[0] != undefined){ stickyMenu[0].addEventListener('click', menuClick); } }
addMenuClickListener();
});
window.REBELMOUSE_LOWEST_TASKS_QUEUE.push(function(){
if(document.querySelectorAll("#topcheck").value != ''){ document.querySelector(".message_bot_error").style.display = "block"; }else{ document.querySelector(".message_bot_error").style.display = "none"; }
});
window.REBELMOUSE_LOWEST_TASKS_QUEUE.push(function(){
const container = document.querySelector('body')
var elP = document.createElement('p');
const observer = new MutationObserver((mutations, obs) => { const spopup = document.getElementById('sailthru-overlay-container'); if (spopup) { console.log(spopup); spopup.appendChild(elP); obs.disconnect(); return; } });
observer.observe(document, { childList: true, subtree: true });
});
window.REBELMOUSE_LOWEST_TASKS_QUEUE.push(function(){
window.REBELMOUSE_STDLIB.loadExternalScript("https://assets.adobedtm.com/98de9919e92a38033805f9f035c43198533e4380/satelliteLib-38c7b1e4b1bb3e0378e82d10601662aebfb04eda.js", function() {
window.analyticsData = { events: {active: {view: {asset: {}}, device: {}}} }; window.analyticsData.events.active.device.appVersion = "1.1"; window.analyticsData.events.active.device.host = "premiere.off.us"; window.analyticsData.events.active.device.subHost = "theblaze.com"; window.analyticsData.events.active.pageName = "articles"; //window.analyticsData.events.active.view.asset.id = "articles|"+ __BOOTSTRAP__.post.basename; window.analyticsData.events.active.view.asset.name = document.title; //window.analyticsData.events.active.view.authorId = __BOOTSTRAP__.post.original_user_subsite.title; window.analyticsData.events.active.view.pubDate = "04/21/2022"; window.analyticsData.events.active.view.contentOriginType = "Premiere"; window.analyticsData.events.active.view.stationCallLetter = "TheBlaze"; window.analyticsData.events.active.view.stationFormat = "NEWSTALK"; window.analyticsData.events.active.view.stationMarket = "PREMIERE"; window.analyticsData.events.active.view.personalityId = "theBlaze"; window.analyticsData.events.active.view.tags = ["southern-border", "illegal-aliens", "illegal-immigration", "illegal-invasion", "us-mexico-border", "crime", "drugs", "gangs", "cartels", "mexico"]; window.analyticsData.events.active.view.photoGalleryExists = "FALSE"; window.analyticsData.events.active.view.photoGalleryPageView = "FALSE"; window.analyticsData.events.active.view.contentFrame = "page"; window._satellite && _satellite.pageBottom();
});
});
window.REBELMOUSE_LOWEST_TASKS_QUEUE.push(function(){
function test_adblock(func, id) { var t="0.1.2-dev", el = document.createElement('div'); el.id = id ? id : 'sponsorText'; el.appendChild(document.createTextNode(' ')); Object.assign(el.style, { left: '-999px', position: 'absolute' }); document.body.appendChild(el); setTimeout(function() { if (el) { var o = el.clientHeight === 0; func(o, t); document.body.removeChild(el); } }, 200); } test_adblock(function(is_blocked) { console.log(is_blocked); var wid = is_blocked ? 140286 : 140117, target = document.getElementById('rc-adblock-widget'); var el = document.createElement('div'); el.setAttribute('data-rc-widget', ''); el.setAttribute('data-endpoint', 'trends.revcontent.com'); el.setAttribute('data-widget-id', wid); target.appendChild(el); if (typeof window.renderRCWidget !== 'function') { var script = document.createElement('script'); script.src="https://assets.revcontent.com/master/delivery.js"; script.defer = true; target.appendChild(script); } else { window.renderRCWidget(el) } });
});
window.REBELMOUSE_LOWEST_TASKS_QUEUE.push(function(){
window.REBELMOUSE_STDLIB.loadExternalScript("https://ajax.googleapis.com/ajax/libs/jquery/3.6.0/jquery.min.js", function() {
});
});
window.REBELMOUSE_LOWEST_TASKS_QUEUE.push(function(){
if(document.querySelector("#icheck").value != ''){ document.querySelector(".message_bot_error").style.display = "block"; }else{ document.querySelector(".message_bot_error").style.display = "none"; }
});
window.REBELMOUSE_LOWEST_TASKS_QUEUE.push(function(){
(function(s,u,m,o,j,v){j=u.createElement(m);v=u.getElementsByTagName(m)[0];j.async=1;j.src=o;j.dataset.sumoSiteId='f20bb26e74a94a53daa9113206b98941e1dfba90635d317b9efd9e33a89bf515';v.parentNode.insertBefore(j,v)})(window,document,'script','//load.sumo.com/');
});

Daniel Horowitz