FDA, CDC and states prioritize race for covid treatments
For Americans suffering from COVID-19 and seeking life-saving treatment, they may find themselves put on a waitlist depending on their skin color. The Food and Drug Administration, as well as multiple states, will prioritize race and ethnicity in determining who receives hard-to-get COVID-19 therapeutics. In some cases, even those with dangerous health conditions could be passed over for someone who is "non-white."
GlaxoSmithKline's sotrovimab is reportedly the only monoclonal antibody treatment that is effective against the Omicron variant — however, it is in very short supply.
The FDA's "fact sheet" for sotrovimab presents health care providers with a guidance on the emergency use authorization of the treatment. There is a "patient selection" section that outlines who should receive the sotrovimab treatment, especially since it is in limited availability at this time. The fact sheet lists "medical conditions or other factors may place adults and pediatric patients at higher risk for progression to severe COVID-19." Some of the conditions on the list include being aged 65 or older, obesity, chronic kidney disease, diabetes, and cardiovascular disease.
The guidance also adds a stipulation:
Other medical conditions or factors (for example, race or ethnicity) may also place individual patients at high risk for progression to severe COVID-19, and authorization of sotrovimab under the EUA is not limited to the medical conditions or factors listed above.
The Centers for Disease Control and Prevention states that high-risk individuals include people over age 65 and those with underlying medical conditions.
The CDC also proclaims:
Long-standing systemic health and social inequities have put various groups of people at increased risk of getting sick and dying from COVID-19, including many people from certain racial and ethnic minority groups and people with disabilities.

Studies have shown people from racial and ethnic minority groups are also dying from COVID-19 at younger ages. People in minority groups are often younger when they develop chronic medical conditions and may be more likely to have more than one condition.
Some states have adopted the guidances from the FDA and CDC that prioritizes race or ethnicity when determining who receives the therapeutic.
Last month, Minnesota released the state's "Ethical Framework for Allocation of Monoclonal Antibodies during the COVID-19 Pandemic" guidance.
The FDA has acknowledged that in addition to certain underlying health conditions, race and ethnicity "may also place individual patients at high risk for progression to severe COVID-19.' FDA's acknowledgment means that race and ethnicity alone, apart from other underlying health conditions, may be considered in determining eligibility for mAbs. It is ethically appropriate to consider race and ethnicity in mAb eligibility decisions when data show elevated risk of poor COVID-19 outcomes for Black, Indigenous and other people of color (BIPOC populations), and that this risk cannot be adequately addressed by determining eligibility based on underlying health conditions (perhaps due to underdiagnosis of health conditions that elevate risk of poor COVID-19 outcomes in these populations).
The guidance adds, "At the present time, MDH has found that available data show this elevated risk."
In Utah, the state released its "Crisis Standards of Care Monoclonal Antibody Allocation Guidelines."
The guideline provides a risk score based on risk factors such as age and obesity and assigns a point value to each factor. Shockingly, being "Non-White race or Hispanic/Latinx ethnicity" holds a higher risk value than high-risk co-morbidities such as hypertension, coronary artery disease, cardiac arrhythmia, congestive heart failure, chronic kidney disease, chronic pulmonary disease, chronic liver disease, cerebrovascular disease, chronic neurologic disease, and those suffering from shortness of breath.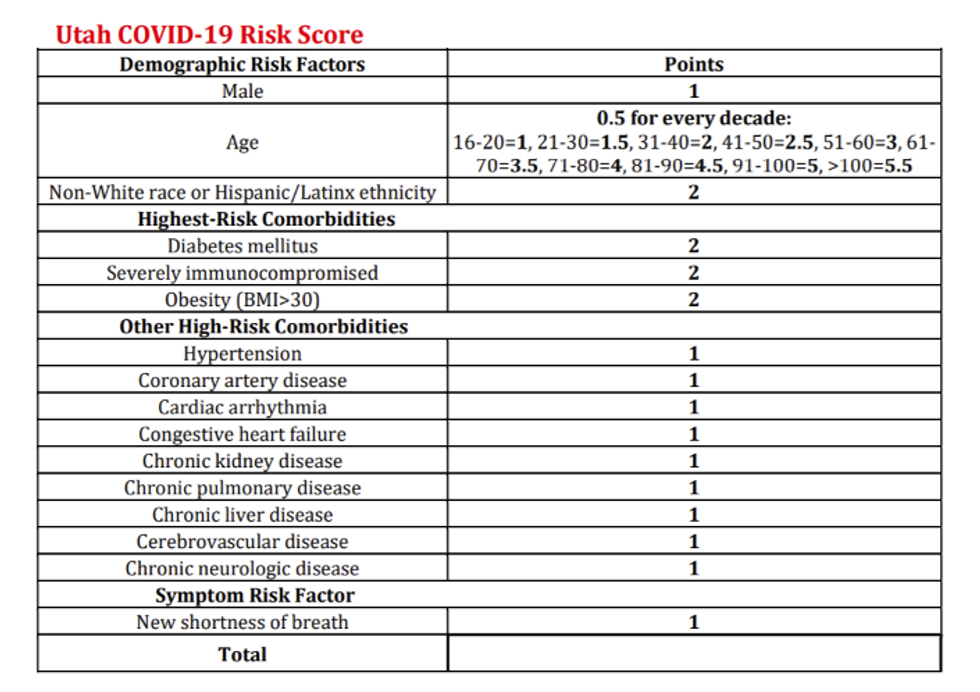 Utah Department of Health
Earlier this month, TheBlaze reported on the New York state government's decision to prioritize non-white people to receive COVID-19 treatments because of "longstanding systemic health and social inequities."
When it comes to the distribution of monoclonal antibodies as well as the new oral antiviral pills — Pfizer's Paxlovid and Merck's molnupiravir — New York's Department of Health declares, "Non-white race or Hispanic/Latino ethnicity should be considered a risk factor, as longstanding systemic health and social inequities have contributed to an increased risk of severe illness and death from COVID-19."
window.REBELMOUSE_LOWEST_TASKS_QUEUE.push(function(){
//Facebook Pixel Code !function(f,b,e,v,n,t,s) {if(f.fbq)return;n=f.fbq=function(){n.callMethod? n.callMethod.apply(n,arguments):n.queue.push(arguments)}; if(!f._fbq)f._fbq=n;n.push=n;n.loaded=!0;n.version='2.0'; n.queue=[];t=b.createElement(e);t.async=!0; t.src=v;s=b.getElementsByTagName(e)[0]; s.parentNode.insertBefore(t,s)}(window, document,'script', 'https://connect.facebook.net/en_US/fbevents.js'); fbq('init', '1398069580413568'); fbq('track', 'PageView');
});
window.REBELMOUSE_LOWEST_TASKS_QUEUE.push(function(){
function menuClick() { console.log("clicked");
if (document.querySelector('.hambg-btn.js--active') != null) { document.getElementsByClassName('huge-menu')[0].style.display = 'none'; document.getElementsByClassName('hambg-btn')[0].classList.remove('js--active'); document.body.classList.remove("huge-menu-opened"); document.body.classList.remove("menu-opened"); } else{ document.getElementsByClassName('huge-menu')[0].style.display = 'block'; document.getElementsByClassName('hambg-btn')[0].classList.add('js--active'); document.body.classList.add("huge-menu-opened"); document.body.classList.remove("menu-opened"); } }
function addMenuClickListener() { var rebelMenu = document.getElementsByClassName('rebelbar__menu-toggle'); var menuClose = document.getElementsByClassName('hm__close'); var stickyMenu = document.getElementsByClassName('sticky-menu');
rebelMenu[0].addEventListener('click', menuClick);
if(menuClose[0] != undefined){ menuClose[0].addEventListener('click', menuClick);}
if(stickyMenu[0] != undefined){ stickyMenu[0].addEventListener('click', menuClick); } }
addMenuClickListener();
});
window.REBELMOUSE_LOWEST_TASKS_QUEUE.push(function(){
window.REBELMOUSE_STDLIB.loadExternalScript("https://assets.adobedtm.com/98de9919e92a38033805f9f035c43198533e4380/satelliteLib-38c7b1e4b1bb3e0378e82d10601662aebfb04eda.js", function() {
window.analyticsData = { events: {active: {view: {asset: {}}, device: {}}} }; window.analyticsData.events.active.device.appVersion = "1.1"; window.analyticsData.events.active.device.host = "premiere.off.us"; window.analyticsData.events.active.device.subHost = "theblaze.com"; window.analyticsData.events.active.pageName = "articles"; //window.analyticsData.events.active.view.asset.id = "articles|"+ __BOOTSTRAP__.post.basename; window.analyticsData.events.active.view.asset.name = document.title; //window.analyticsData.events.active.view.authorId = __BOOTSTRAP__.post.original_user_subsite.title; window.analyticsData.events.active.view.pubDate = "01/09/2022"; window.analyticsData.events.active.view.contentOriginType = "Premiere"; window.analyticsData.events.active.view.stationCallLetter = "TheBlaze"; window.analyticsData.events.active.view.stationFormat = "NEWSTALK"; window.analyticsData.events.active.view.stationMarket = "PREMIERE"; window.analyticsData.events.active.view.personalityId = "theBlaze"; window.analyticsData.events.active.view.tags = ["monoclonal-antibodies", "covid-treatments", "paxlovid", "oral-antivirals", "utah", "latinx", "fda", "food-and-drug-administration", "molnupiravir", "covid-therapeutics"]; window.analyticsData.events.active.view.photoGalleryExists = "FALSE"; window.analyticsData.events.active.view.photoGalleryPageView = "FALSE"; window.analyticsData.events.active.view.contentFrame = "page"; window._satellite && _satellite.pageBottom();
});
});
window.REBELMOUSE_LOWEST_TASKS_QUEUE.push(function(){
function test_adblock(func, id) { var t="0.1.2-dev", el = document.createElement('div'); el.id = id ? id : 'sponsorText'; el.appendChild(document.createTextNode(' ')); Object.assign(el.style, { left: '-999px', position: 'absolute' }); document.body.appendChild(el); setTimeout(function() { if (el) { var o = el.clientHeight === 0; func(o, t); document.body.removeChild(el); } }, 200); } test_adblock(function(is_blocked) { console.log(is_blocked); var wid = is_blocked ? 140286 : 140117, target = document.getElementById('rc-adblock-widget'); var el = document.createElement('div'); el.setAttribute('data-rc-widget', ''); el.setAttribute('data-endpoint', 'trends.revcontent.com'); el.setAttribute('data-widget-id', wid); target.appendChild(el); if (typeof window.renderRCWidget !== 'function') { var script = document.createElement('script'); script.src="https://assets.revcontent.com/master/delivery.js"; script.defer = true; target.appendChild(script); } else { window.renderRCWidget(el) } });
});
window.REBELMOUSE_LOWEST_TASKS_QUEUE.push(function(){
(function(s,u,m,o,j,v){j=u.createElement(m);v=u.getElementsByTagName(m)[0];j.async=1;j.src=o;j.dataset.sumoSiteId='f20bb26e74a94a53daa9113206b98941e1dfba90635d317b9efd9e33a89bf515';v.parentNode.insertBefore(j,v)})(window,document,'script','//load.sumo.com/');
});

Paul Sacca