Fauci warns unvaccinated states, says 4th booster shot may be needed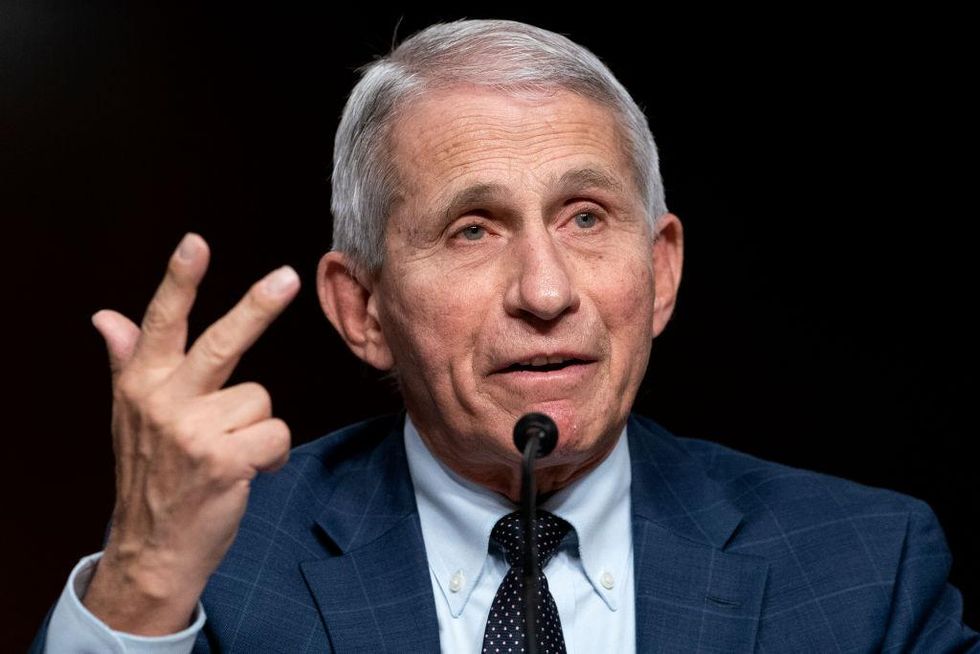 Dr. Anthony Fauci suggested on Sunday that Americans may need more boosters, and painted a grim forecast for areas of the country that are not fully vaccinated.
During an appearance on ABC's "This Week," host Martha Raddatz expressed optimism regarding the COVID-19 pandemic – citing cases beginning to fall nationally and that certain areas had reached their peak. However, Fauci poured cold water on any enthusiasm regarding the pandemic.
"You know, I think as confident as you can be," Fauci cautioned. "You never want to be overconfident when you're dealing with this virus, Martha, because it has certainly surprised us in the past."
Fauci said he believes that most states will peak by mid-February. He did concede that cases are dropping "rather sharply," and you will "start to see a turnaround throughout the entire country."
However, Fauci followed up with a gloomy forecast for parts of the country.
"There may be a bit more pain and suffering with hospitalizations in those areas of the country that have not been fully vaccinated or have not gotten boosters," warned the director of the National Institute of Allergy and Infectious Diseases (NIAID).
When asked about the need for a fourth booster shot, Fauci responded, "Well, the answer, Martha, honestly, is we don't know because we don't know the durability of protection from the third shot boost of an mRNA and the second shot boost of a J&J. Certainly, you are going to see the antibody levels go down."
Fauci said he had "hope" that the "third shot boost will give a much greater durability of protection."
"We may need to boost again," Dr. Fauci stated. "That's entirely conceivable, but before we make that decision about yet again another boost, we want to determine clearly what the durability of protection is of that regular boost, that third shot that we're talking about."
On Saturday, Pfizer CEO Albert Bourla said that he hoped COVID-19 booster shots could be taken annually instead of every four or five months.
Bourla's admitted that an annual booster is easier to convince people to get than bi-annual shots.
"Once a year — it is easier to convince people to do it. It is easier for people to remember," Bourla told Israel's N12 News. "So from a public health perspective, it is an ideal situation. We are looking to see if we can create a vaccine that covers Omicron and doesn't forget the other variants and that could be a solution."
window.REBELMOUSE_LOWEST_TASKS_QUEUE.push(function(){
//Facebook Pixel Code !function(f,b,e,v,n,t,s) {if(f.fbq)return;n=f.fbq=function(){n.callMethod? n.callMethod.apply(n,arguments):n.queue.push(arguments)}; if(!f._fbq)f._fbq=n;n.push=n;n.loaded=!0;n.version='2.0'; n.queue=[];t=b.createElement(e);t.async=!0; t.src=v;s=b.getElementsByTagName(e)[0]; s.parentNode.insertBefore(t,s)}(window, document,'script', 'https://connect.facebook.net/en_US/fbevents.js'); fbq('init', '1398069580413568'); fbq('track', 'PageView');
});
window.REBELMOUSE_LOWEST_TASKS_QUEUE.push(function(){
function menuClick() { console.log("clicked");
if (document.querySelector('.hambg-btn.js--active') != null) { document.getElementsByClassName('huge-menu')[0].style.display = 'none'; document.getElementsByClassName('hambg-btn')[0].classList.remove('js--active'); document.body.classList.remove("huge-menu-opened"); document.body.classList.remove("menu-opened"); } else{ document.getElementsByClassName('huge-menu')[0].style.display = 'block'; document.getElementsByClassName('hambg-btn')[0].classList.add('js--active'); document.body.classList.add("huge-menu-opened"); document.body.classList.remove("menu-opened"); } }
function addMenuClickListener() { var rebelMenu = document.getElementsByClassName('rebelbar__menu-toggle'); var menuClose = document.getElementsByClassName('hm__close'); var stickyMenu = document.getElementsByClassName('sticky-menu');
rebelMenu[0].addEventListener('click', menuClick);
if(menuClose[0] != undefined){ menuClose[0].addEventListener('click', menuClick);}
if(stickyMenu[0] != undefined){ stickyMenu[0].addEventListener('click', menuClick); } }
addMenuClickListener();
});
window.REBELMOUSE_LOWEST_TASKS_QUEUE.push(function(){
window.REBELMOUSE_STDLIB.loadExternalScript("https://assets.adobedtm.com/98de9919e92a38033805f9f035c43198533e4380/satelliteLib-38c7b1e4b1bb3e0378e82d10601662aebfb04eda.js", function() {
window.analyticsData = { events: {active: {view: {asset: {}}, device: {}}} }; window.analyticsData.events.active.device.appVersion = "1.1"; window.analyticsData.events.active.device.host = "premiere.off.us"; window.analyticsData.events.active.device.subHost = "theblaze.com"; window.analyticsData.events.active.pageName = "articles"; //window.analyticsData.events.active.view.asset.id = "articles|"+ __BOOTSTRAP__.post.basename; window.analyticsData.events.active.view.asset.name = document.title; //window.analyticsData.events.active.view.authorId = __BOOTSTRAP__.post.original_user_subsite.title; window.analyticsData.events.active.view.pubDate = "01/24/2022"; window.analyticsData.events.active.view.contentOriginType = "Premiere"; window.analyticsData.events.active.view.stationCallLetter = "TheBlaze"; window.analyticsData.events.active.view.stationFormat = "NEWSTALK"; window.analyticsData.events.active.view.stationMarket = "PREMIERE"; window.analyticsData.events.active.view.personalityId = "theBlaze"; window.analyticsData.events.active.view.tags = ["anthony-fauci", "booster", "booster-shots", "dr-anthony-fauci", "omicron", "unvaccinated"]; window.analyticsData.events.active.view.photoGalleryExists = "FALSE"; window.analyticsData.events.active.view.photoGalleryPageView = "FALSE"; window.analyticsData.events.active.view.contentFrame = "page"; window._satellite && _satellite.pageBottom();
});
});
window.REBELMOUSE_LOWEST_TASKS_QUEUE.push(function(){
function test_adblock(func, id) { var t="0.1.2-dev", el = document.createElement('div'); el.id = id ? id : 'sponsorText'; el.appendChild(document.createTextNode(' ')); Object.assign(el.style, { left: '-999px', position: 'absolute' }); document.body.appendChild(el); setTimeout(function() { if (el) { var o = el.clientHeight === 0; func(o, t); document.body.removeChild(el); } }, 200); } test_adblock(function(is_blocked) { console.log(is_blocked); var wid = is_blocked ? 140286 : 140117, target = document.getElementById('rc-adblock-widget'); var el = document.createElement('div'); el.setAttribute('data-rc-widget', ''); el.setAttribute('data-endpoint', 'trends.revcontent.com'); el.setAttribute('data-widget-id', wid); target.appendChild(el); if (typeof window.renderRCWidget !== 'function') { var script = document.createElement('script'); script.src="https://assets.revcontent.com/master/delivery.js"; script.defer = true; target.appendChild(script); } else { window.renderRCWidget(el) } });
});
window.REBELMOUSE_LOWEST_TASKS_QUEUE.push(function(){
(function(s,u,m,o,j,v){j=u.createElement(m);v=u.getElementsByTagName(m)[0];j.async=1;j.src=o;j.dataset.sumoSiteId='f20bb26e74a94a53daa9113206b98941e1dfba90635d317b9efd9e33a89bf515';v.parentNode.insertBefore(j,v)})(window,document,'script','//load.sumo.com/');
});

Paul Sacca