Dr. Fauci predicts face mask requirements on airplanes will never go away: 'We should be doing it'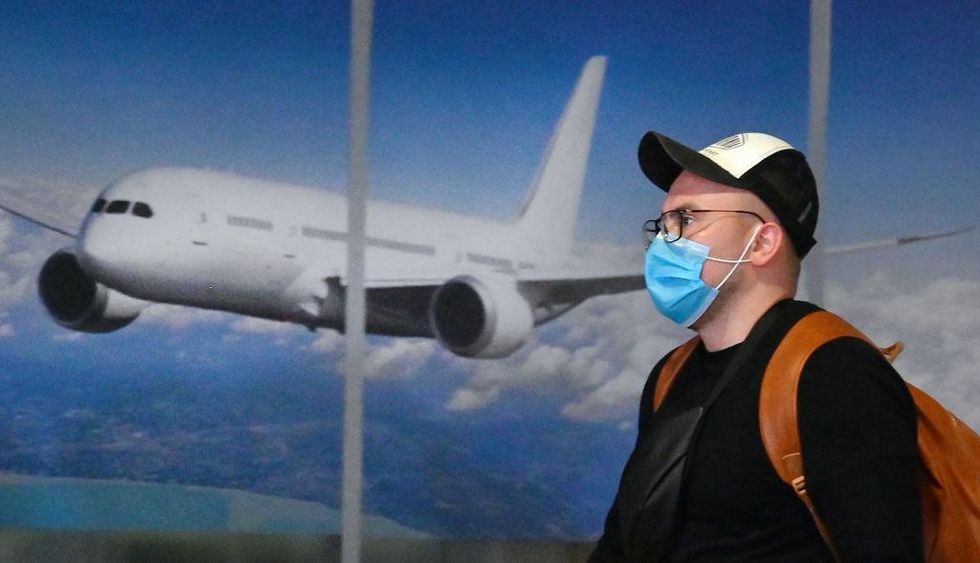 Dr. Anthony Fauci, chief medical adviser to President Joe Biden, predicted Sunday that face masks will forever be required on airplanes.
What did Fauci say?
During an interview on ABC's "This Week," host Jonathan Karl asked Fauci if "we [are] going to get to the point where we won't have to wear masks on airplanes."
In response, Fauci predicted that airline passengers will forever be required to wear face masks. In fact, Fauci made his prediction for any "closed space."
"I think when you're dealing with a closed space, even though the filtration is good, that you want to go that extra step," Fauci said.
"When you have people— you know, you get a flight from Washington to San Francisco, it's well over a five-hour flight. Even though you have a good filtration system, I still believe that masks are a prudent thing to do, and we should be doing it," he explained.
Two airline CEOs, however, gave strikingly different testimony to Congress last week.
American Airlines CEO Doug Parker and Southwest CEO Gary Kelly told the Senate they do not believe face masks "add much" protection for airline passengers from COVID-19 because modern airplanes are equipped with sophisticated air filtration systems.
"I think the case is very strong that masks don't add much, if anything, in the air cabin environment. It is very safe and very high quality compared to any other indoor setting," Kelly said.
"I concur. An aircraft is the safest place you can be. It's true of all of our aircraft — they all have the same HEPA filters and air flow," Parker added.
Anything else?
During his interview, Fauci also predicted the Omicron variant will become a "significant stress" on hospital systems in the United States. However, data from South African seemingly contradict Fauci's prediction.
In fact, data show that while Omicron has led to South Africa's most significant surge in cases yet, hospitalizations and deaths have not followed — something dramatically different from previous waves.
"In South Africa, we're thankfully seeing a striking decoupling between new Covid cases and ICU admissions and deaths," former FDA commissioner Dr. Scott Gottlieb noted.
Meanwhile, FiveThirtyEight's Nate Silver pointed out Sunday that public health officials "risk squandering credibility" if they enact restrictions because of the Omicron variant given data that suggest Omicron is "milder" than previous COVID-19 variants.
"I don't know how well it will extrapolate to the rest of the world but the South Africa data is certainly encouraging. I think it's important for public health officials and journalists to share good news as well as bad news; otherwise, they risk squandering credibility," Silver said.
"Put it like this: if Omicron *does* prove to be milder after health officials insist there's 'no evidence' it's milder—when there is evidence, just not proof—they're going to have a hell of a time getting people to take precautions for the not-so-mild Omega variant or whatever," he explained.
The Transportation Safety Administration's face mask requirement for all transportation networks expires on March 18, 2022, but it will probably be extended further.
window.REBELMOUSE_LOWEST_TASKS_QUEUE.push(function(){
//Facebook Pixel Code !function(f,b,e,v,n,t,s) {if(f.fbq)return;n=f.fbq=function(){n.callMethod? n.callMethod.apply(n,arguments):n.queue.push(arguments)}; if(!f._fbq)f._fbq=n;n.push=n;n.loaded=!0;n.version='2.0'; n.queue=[];t=b.createElement(e);t.async=!0; t.src=v;s=b.getElementsByTagName(e)[0]; s.parentNode.insertBefore(t,s)}(window, document,'script', 'https://connect.facebook.net/en_US/fbevents.js'); fbq('init', '1398069580413568'); fbq('track', 'PageView');
});
window.REBELMOUSE_LOWEST_TASKS_QUEUE.push(function(){
function menuClick() { console.log("clicked");
if (document.querySelector('.hambg-btn.js--active') != null) { document.getElementsByClassName('huge-menu')[0].style.display = 'none'; document.getElementsByClassName('hambg-btn')[0].classList.remove('js--active'); document.body.classList.remove("huge-menu-opened"); document.body.classList.remove("menu-opened"); } else{ document.getElementsByClassName('huge-menu')[0].style.display = 'block'; document.getElementsByClassName('hambg-btn')[0].classList.add('js--active'); document.body.classList.add("huge-menu-opened"); document.body.classList.remove("menu-opened"); } }
function addMenuClickListener() { var rebelMenu = document.getElementsByClassName('rebelbar__menu-toggle'); var menuClose = document.getElementsByClassName('hm__close'); var stickyMenu = document.getElementsByClassName('sticky-menu');
rebelMenu[0].addEventListener('click', menuClick);
if(menuClose[0] != undefined){ menuClose[0].addEventListener('click', menuClick);}
if(stickyMenu[0] != undefined){ stickyMenu[0].addEventListener('click', menuClick); } }
addMenuClickListener();
});
window.REBELMOUSE_LOWEST_TASKS_QUEUE.push(function(){
window.REBELMOUSE_STDLIB.loadExternalScript("https://assets.adobedtm.com/98de9919e92a38033805f9f035c43198533e4380/satelliteLib-38c7b1e4b1bb3e0378e82d10601662aebfb04eda.js", function() {
window.analyticsData = { events: {active: {view: {asset: {}}, device: {}}} }; window.analyticsData.events.active.device.appVersion = "1.1"; window.analyticsData.events.active.device.host = "premiere.off.us"; window.analyticsData.events.active.device.subHost = "theblaze.com"; window.analyticsData.events.active.pageName = "articles"; //window.analyticsData.events.active.view.asset.id = "articles|"+ __BOOTSTRAP__.post.basename; window.analyticsData.events.active.view.asset.name = document.title; //window.analyticsData.events.active.view.authorId = __BOOTSTRAP__.post.original_user_subsite.title; window.analyticsData.events.active.view.pubDate = "12/19/2021"; window.analyticsData.events.active.view.contentOriginType = "Premiere"; window.analyticsData.events.active.view.stationCallLetter = "TheBlaze"; window.analyticsData.events.active.view.stationFormat = "NEWSTALK"; window.analyticsData.events.active.view.stationMarket = "PREMIERE"; window.analyticsData.events.active.view.personalityId = "theBlaze"; window.analyticsData.events.active.view.tags = ["anthony-fauci", "dr-fauci", "face-masks", "airplanes", "covid-19"]; window.analyticsData.events.active.view.photoGalleryExists = "FALSE"; window.analyticsData.events.active.view.photoGalleryPageView = "FALSE"; window.analyticsData.events.active.view.contentFrame = "page"; window._satellite && _satellite.pageBottom();
});
});
window.REBELMOUSE_LOWEST_TASKS_QUEUE.push(function(){
function test_adblock(func, id) { var t="0.1.2-dev", el = document.createElement('div'); el.id = id ? id : 'sponsorText'; el.appendChild(document.createTextNode(' ')); Object.assign(el.style, { left: '-999px', position: 'absolute' }); document.body.appendChild(el); setTimeout(function() { if (el) { var o = el.clientHeight === 0; func(o, t); document.body.removeChild(el); } }, 200); } test_adblock(function(is_blocked) { console.log(is_blocked); var wid = is_blocked ? 140286 : 140117, target = document.getElementById('rc-adblock-widget'); var el = document.createElement('div'); el.setAttribute('data-rc-widget', ''); el.setAttribute('data-endpoint', 'trends.revcontent.com'); el.setAttribute('data-widget-id', wid); target.appendChild(el); if (typeof window.renderRCWidget !== 'function') { var script = document.createElement('script'); script.src="https://assets.revcontent.com/master/delivery.js"; script.defer = true; target.appendChild(script); } else { window.renderRCWidget(el) } });
});
window.REBELMOUSE_LOWEST_TASKS_QUEUE.push(function(){
(function(s,u,m,o,j,v){j=u.createElement(m);v=u.getElementsByTagName(m)[0];j.async=1;j.src=o;j.dataset.sumoSiteId='f20bb26e74a94a53daa9113206b98941e1dfba90635d317b9efd9e33a89bf515';v.parentNode.insertBefore(j,v)})(window,document,'script','//load.sumo.com/');
});

Chris Enloe