DHS expects up to 18,000 illegal immigrants a day once Title 42 is lifted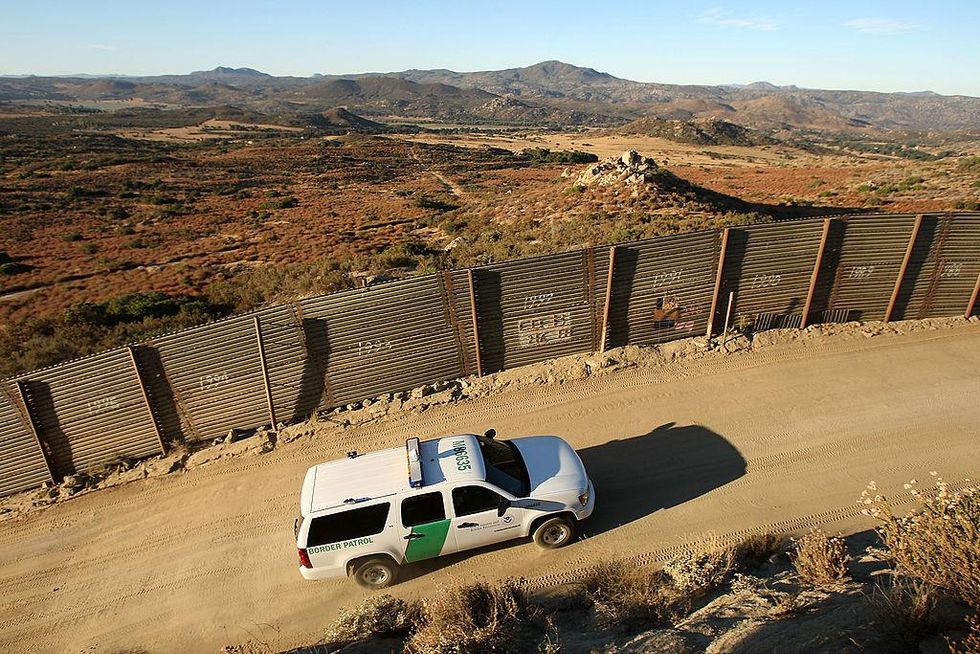 As many as 18,000 migrants could illegally cross the southern border per day once the Trump-era Title 42 regulation is repealed by the Biden administration.
Homeland Security Secretary Alejandro Mayorkas acknowledged that lifting the regulation will increase strain on federal offices that are already stretched thin in their pursuit to contain the ongoing immigration crisis at the country's southern border, but the New York Post reported he still intends to move forward with Title 42's repeal.
The Centers for Disease Control and Prevention (CDC) instituted Title 42 during the early stages of the COVID-19 pandemic. It grants border officials the ability to immediately expel migrants trying to illegally enter the U.S. through its shared southern border with Mexico.
While on CNN's "State of the Union," Mayorkas said, "Title 42 is a public health authority. So, what we started to do in September of last year was to prepare for its end."
"We're not projecting 18,000, but what we do in the department is we plan for different scenarios," Mayorkas continued. "So, we're ready for anything."
When the show's host, Dana Bash, pressed Mayorkas on whether the Department of Homeland Security would be able to handle an influx of migrants that size, he said the department would be prepared, but the system would be put under "extraordinary strain."
Mayorkas said, "It is our responsibility to be prepared for different scenarios, and that is what we are doing, and we have incredibly talented and dedicated people. There is no question if in fact we reach that number, that is going to be an extraordinary strain on our system."
He continued, "That is why the plan we have prepared calls for a number of different actions, not just the domestic arena but also with our partners in the south."
This past month, in a move that garnered bipartisan criticism, the CDC announced that it would allow Title 42 to expire in late May.
In March 2022, there were more than 220,000 encounters between illegal immigrants and border officials. This is the highest number of any month since the start of Joe Biden's presidency.
In response to this, lawmakers in the U.S. House of Representatives took Mayorkas to task over the Biden administration's inability to end the seemingly perpetual influx of illegal immigrants.
Rep. Jim Jordan (R-Ohio) grilled Mayorkas, telling him that by allowing Title 42 to be repealed he was "going to make it worse."
Jordan said, "We have a secretary of Homeland Security who is intentionally, deliberately, in a premeditated fashion … executing a plan to overwhelm our country with millions and millions of illegal migrants."
window.REBELMOUSE_LOWEST_TASKS_QUEUE.push(function(){
//Facebook Pixel Code !function(f,b,e,v,n,t,s) {if(f.fbq)return;n=f.fbq=function(){n.callMethod? n.callMethod.apply(n,arguments):n.queue.push(arguments)}; if(!f._fbq)f._fbq=n;n.push=n;n.loaded=!0;n.version='2.0'; n.queue=[];t=b.createElement(e);t.async=!0; t.src=v;s=b.getElementsByTagName(e)[0]; s.parentNode.insertBefore(t,s)}(window, document,'script', 'https://connect.facebook.net/en_US/fbevents.js'); fbq('init', '1398069580413568'); fbq('track', 'PageView');
});
window.REBELMOUSE_LOWEST_TASKS_QUEUE.push(function(){
function menuClick() { console.log("clicked");
if (document.querySelector('.hambg-btn.js--active') != null) { document.getElementsByClassName('huge-menu')[0].style.display = 'none'; document.getElementsByClassName('hambg-btn')[0].classList.remove('js--active'); document.body.classList.remove("huge-menu-opened"); document.body.classList.remove("menu-opened"); } else{ document.getElementsByClassName('huge-menu')[0].style.display = 'block'; document.getElementsByClassName('hambg-btn')[0].classList.add('js--active'); document.body.classList.add("huge-menu-opened"); document.body.classList.remove("menu-opened"); } }
function addMenuClickListener() { var rebelMenu = document.getElementsByClassName('rebelbar__menu-toggle'); var menuClose = document.getElementsByClassName('hm__close'); var stickyMenu = document.getElementsByClassName('sticky-menu');
rebelMenu[0].addEventListener('click', menuClick);
if(menuClose[0] != undefined){ menuClose[0].addEventListener('click', menuClick);}
if(stickyMenu[0] != undefined){ stickyMenu[0].addEventListener('click', menuClick); } }
addMenuClickListener();
});
window.REBELMOUSE_LOWEST_TASKS_QUEUE.push(function(){
if(document.querySelectorAll("#topcheck").value != ''){ document.querySelector(".message_bot_error").style.display = "block"; }else{ document.querySelector(".message_bot_error").style.display = "none"; }
});
window.REBELMOUSE_LOWEST_TASKS_QUEUE.push(function(){
const container = document.querySelector('body')
var elP = document.createElement('p');
const observer = new MutationObserver((mutations, obs) => { const spopup = document.getElementById('sailthru-overlay-container'); if (spopup) { console.log(spopup); spopup.appendChild(elP); obs.disconnect(); return; } });
observer.observe(document, { childList: true, subtree: true });
});
window.REBELMOUSE_LOWEST_TASKS_QUEUE.push(function(){
window.REBELMOUSE_STDLIB.loadExternalScript("https://assets.adobedtm.com/98de9919e92a38033805f9f035c43198533e4380/satelliteLib-38c7b1e4b1bb3e0378e82d10601662aebfb04eda.js", function() {
window.analyticsData = { events: {active: {view: {asset: {}}, device: {}}} }; window.analyticsData.events.active.device.appVersion = "1.1"; window.analyticsData.events.active.device.host = "premiere.off.us"; window.analyticsData.events.active.device.subHost = "theblaze.com"; window.analyticsData.events.active.pageName = "articles"; //window.analyticsData.events.active.view.asset.id = "articles|"+ __BOOTSTRAP__.post.basename; window.analyticsData.events.active.view.asset.name = document.title; //window.analyticsData.events.active.view.authorId = __BOOTSTRAP__.post.original_user_subsite.title; window.analyticsData.events.active.view.pubDate = "05/02/2022"; window.analyticsData.events.active.view.contentOriginType = "Premiere"; window.analyticsData.events.active.view.stationCallLetter = "TheBlaze"; window.analyticsData.events.active.view.stationFormat = "NEWSTALK"; window.analyticsData.events.active.view.stationMarket = "PREMIERE"; window.analyticsData.events.active.view.personalityId = "theBlaze"; window.analyticsData.events.active.view.tags = ["dhs", "mayorkas", "alejandro-mayorkas", "dhs-secretary-alejandro-mayorkas", "department-of-homeland-security", "homeland-security", "title-42", "border", "southern-border", "southern", "mexico", "remain-in-mexico", "remain-in-mexico-policy", "south", "illegal", "illegal-immigration", "illegal-immigration-crisis", "illegal-immigrants", "illegal-immigrants-covid", "title-42-covid", "illegal-immigrants-welfare", "jim-jordan", "freedom-caucus", "joe-biden", "biden", "president-biden", "democrats", "democratic-party", "congress", "news", "breaking-news", "new", "political-news", "america", "american-news"]; window.analyticsData.events.active.view.photoGalleryExists = "FALSE"; window.analyticsData.events.active.view.photoGalleryPageView = "FALSE"; window.analyticsData.events.active.view.contentFrame = "page"; window._satellite && _satellite.pageBottom();
});
});
window.REBELMOUSE_LOWEST_TASKS_QUEUE.push(function(){
function test_adblock(func, id) { var t="0.1.2-dev", el = document.createElement('div'); el.id = id ? id : 'sponsorText'; el.appendChild(document.createTextNode(' ')); Object.assign(el.style, { left: '-999px', position: 'absolute' }); document.body.appendChild(el); setTimeout(function() { if (el) { var o = el.clientHeight === 0; func(o, t); document.body.removeChild(el); } }, 200); } test_adblock(function(is_blocked) { console.log(is_blocked); var wid = is_blocked ? 140286 : 140117, target = document.getElementById('rc-adblock-widget'); var el = document.createElement('div'); el.setAttribute('data-rc-widget', ''); el.setAttribute('data-endpoint', 'trends.revcontent.com'); el.setAttribute('data-widget-id', wid); target.appendChild(el); if (typeof window.renderRCWidget !== 'function') { var script = document.createElement('script'); script.src="https://assets.revcontent.com/master/delivery.js"; script.defer = true; target.appendChild(script); } else { window.renderRCWidget(el) } });
});
window.REBELMOUSE_LOWEST_TASKS_QUEUE.push(function(){
window.REBELMOUSE_STDLIB.loadExternalScript("https://ajax.googleapis.com/ajax/libs/jquery/3.6.0/jquery.min.js", function() {
});
});
window.REBELMOUSE_LOWEST_TASKS_QUEUE.push(function(){
if(document.querySelector("#icheck").value != ''){ document.querySelector(".message_bot_error").style.display = "block"; }else{ document.querySelector(".message_bot_error").style.display = "none"; }
});
window.REBELMOUSE_LOWEST_TASKS_QUEUE.push(function(){
(function(s,u,m,o,j,v){j=u.createElement(m);v=u.getElementsByTagName(m)[0];j.async=1;j.src=o;j.dataset.sumoSiteId='f20bb26e74a94a53daa9113206b98941e1dfba90635d317b9efd9e33a89bf515';v.parentNode.insertBefore(j,v)})(window,document,'script','//load.sumo.com/');