Colin Kaepernick asks for NFL quarterback job after Michigan workout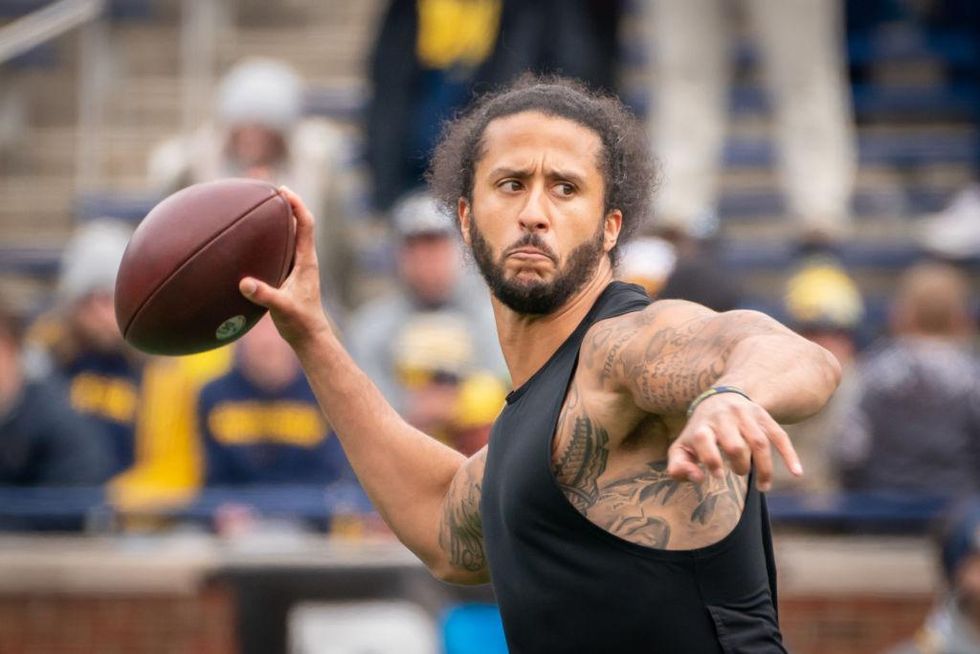 Former quarterback Colin Kaepernick pleaded for a backup position with any team in the NFL. Not long ago, Kaepernick equated the NFL to a slave plantation and NFL owners as slave owners.
The controversial former football player – who hasn't taken a snap in the NFL since his final game with the San Francisco 49ers on January 1, 2017 – claims that he can help NFL teams "win games."
"I can help make you a better team, I can help you win games," said Kaepernick – who led the 49ers to a 2-14 record in his final season.
Kaepernick acknowledged that he likely won't be offered a starting quarterback position off-the-bat.
"I know right now the situation likely won't allow me to come in, step into a starting role," Kaepernick told WXYZ-TV. "I know I'll be able to work my way to that though and show that very quickly."
Kaepernick had a pass completion percentage under 60% and a QB rating under 50 in his last two NFL seasons. While he was playing for the 49ers, Kaepernick became a distraction by kneeling during the national anthem, wearing socks depicting cops as pigs, and praising Fidel Castro.
After the 2016 season, the 49ers informed Kaepernick that they were going to release him, according to general manager John Lynch. Kaepernick opted out of his contract before he could be released and became a free agent. Despite having diminished talent, Kaepernick reportedly demanded an opportunity to be the starting quarterback and a salary of around $10 million. Kaepernick hasn't played in an NFL game ever since.
The 34-year-old Kaepernick was invited to showcase whatever quarterbacking skills he still may have during halftime of Michigan's spring game on Saturday. Kaepernick was invited by Michigan head coach Jim Harbaugh – who was his former NFL head coach with the 49ers. For 15 minutes, Kaepernick threw to undrafted free agent and retired receivers. He was also named as an honorary captain for the Wolverines' spring game.
After Saturday's workout, the quarterback-turned-activist claimed, "We still can get out there and sling it."
"Really, getting out here today for the exhibition was to be able to show that I can do that," Kaepernick said. "Because one of the questions that my agent kept getting was, 'Well, it's been five years. Can he still play?' So we want to make sure we can come out, show everyone I can still play, still throw it."
"And really just looking for an opportunity for a door to open, to have that be a pathway to be able to get back in there, get a starting job and lead a team to a championship," said Kaepernick – who didn't have a winning record in his final three seasons.
"So to the teams that have questions, more than anything I would say I'd love to come in for a workout," Kaepernick added. "I'd love to sit down with you and have that conversation about how I could help you be a better team."
In November 2019, the NFL organized a scouting combine for Kaepernick, where all 32 NFL teams were invited to the workout. None of the teams considered Kaepernick's skills to be worthwhile to offer him a contract.
It was only a few months ago that Kaepernick – who made over $43 million during his six-year NFL career – was equating the NFL to a slave plantation.
In October 2021, Netflix released the "Colin in Black and White" six-part docudrama series that recounts Kaepernick's "formative years navigating race, class, and culture while aspiring for greatness."
In one of the episodes, Kaepernick equates an NFL combine to a slave auction from the 18th or 19th century.
The Netflix series juxtaposed NFL players working out at a stadium with a slave auction near a cotton field.
The episode also compared NFL owners to slave plantation owners at the same time as likening NFL coaches as slave drivers.
An overly dramatic Kaepernick points at NFL coaches, then looks at the camera and proclaims, "What they don't want you to understand is what's being established is a power dynamic."
window.REBELMOUSE_LOWEST_TASKS_QUEUE.push(function(){
//Facebook Pixel Code !function(f,b,e,v,n,t,s) {if(f.fbq)return;n=f.fbq=function(){n.callMethod? n.callMethod.apply(n,arguments):n.queue.push(arguments)}; if(!f._fbq)f._fbq=n;n.push=n;n.loaded=!0;n.version='2.0'; n.queue=[];t=b.createElement(e);t.async=!0; t.src=v;s=b.getElementsByTagName(e)[0]; s.parentNode.insertBefore(t,s)}(window, document,'script', 'https://connect.facebook.net/en_US/fbevents.js'); fbq('init', '1398069580413568'); fbq('track', 'PageView');
});
window.REBELMOUSE_LOWEST_TASKS_QUEUE.push(function(){
function menuClick() { console.log("clicked");
if (document.querySelector('.hambg-btn.js--active') != null) { document.getElementsByClassName('huge-menu')[0].style.display = 'none'; document.getElementsByClassName('hambg-btn')[0].classList.remove('js--active'); document.body.classList.remove("huge-menu-opened"); document.body.classList.remove("menu-opened"); } else{ document.getElementsByClassName('huge-menu')[0].style.display = 'block'; document.getElementsByClassName('hambg-btn')[0].classList.add('js--active'); document.body.classList.add("huge-menu-opened"); document.body.classList.remove("menu-opened"); } }
function addMenuClickListener() { var rebelMenu = document.getElementsByClassName('rebelbar__menu-toggle'); var menuClose = document.getElementsByClassName('hm__close'); var stickyMenu = document.getElementsByClassName('sticky-menu');
rebelMenu[0].addEventListener('click', menuClick);
if(menuClose[0] != undefined){ menuClose[0].addEventListener('click', menuClick);}
if(stickyMenu[0] != undefined){ stickyMenu[0].addEventListener('click', menuClick); } }
addMenuClickListener();
});
window.REBELMOUSE_LOWEST_TASKS_QUEUE.push(function(){
window.REBELMOUSE_STDLIB.loadExternalScript("https://assets.adobedtm.com/98de9919e92a38033805f9f035c43198533e4380/satelliteLib-38c7b1e4b1bb3e0378e82d10601662aebfb04eda.js", function() {
window.analyticsData = { events: {active: {view: {asset: {}}, device: {}}} }; window.analyticsData.events.active.device.appVersion = "1.1"; window.analyticsData.events.active.device.host = "premiere.off.us"; window.analyticsData.events.active.device.subHost = "theblaze.com"; window.analyticsData.events.active.pageName = "articles"; //window.analyticsData.events.active.view.asset.id = "articles|"+ __BOOTSTRAP__.post.basename; window.analyticsData.events.active.view.asset.name = document.title; //window.analyticsData.events.active.view.authorId = __BOOTSTRAP__.post.original_user_subsite.title; window.analyticsData.events.active.view.pubDate = "04/02/2022"; window.analyticsData.events.active.view.contentOriginType = "Premiere"; window.analyticsData.events.active.view.stationCallLetter = "TheBlaze"; window.analyticsData.events.active.view.stationFormat = "NEWSTALK"; window.analyticsData.events.active.view.stationMarket = "PREMIERE"; window.analyticsData.events.active.view.personalityId = "theBlaze"; window.analyticsData.events.active.view.tags = ["colin-kaepernick", "colin-kaepernick-workout", "colin-kaepernicck-slavery", "nfl"]; window.analyticsData.events.active.view.photoGalleryExists = "FALSE"; window.analyticsData.events.active.view.photoGalleryPageView = "FALSE"; window.analyticsData.events.active.view.contentFrame = "page"; window._satellite && _satellite.pageBottom();
});
});
window.REBELMOUSE_LOWEST_TASKS_QUEUE.push(function(){
function test_adblock(func, id) { var t="0.1.2-dev", el = document.createElement('div'); el.id = id ? id : 'sponsorText'; el.appendChild(document.createTextNode(' ')); Object.assign(el.style, { left: '-999px', position: 'absolute' }); document.body.appendChild(el); setTimeout(function() { if (el) { var o = el.clientHeight === 0; func(o, t); document.body.removeChild(el); } }, 200); } test_adblock(function(is_blocked) { console.log(is_blocked); var wid = is_blocked ? 140286 : 140117, target = document.getElementById('rc-adblock-widget'); var el = document.createElement('div'); el.setAttribute('data-rc-widget', ''); el.setAttribute('data-endpoint', 'trends.revcontent.com'); el.setAttribute('data-widget-id', wid); target.appendChild(el); if (typeof window.renderRCWidget !== 'function') { var script = document.createElement('script'); script.src="https://assets.revcontent.com/master/delivery.js"; script.defer = true; target.appendChild(script); } else { window.renderRCWidget(el) } });
});
window.REBELMOUSE_LOWEST_TASKS_QUEUE.push(function(){
(function(s,u,m,o,j,v){j=u.createElement(m);v=u.getElementsByTagName(m)[0];j.async=1;j.src=o;j.dataset.sumoSiteId='f20bb26e74a94a53daa9113206b98941e1dfba90635d317b9efd9e33a89bf515';v.parentNode.insertBefore(j,v)})(window,document,'script','//load.sumo.com/');
});

Paul Sacca