CNN reporter admits President Biden is confused.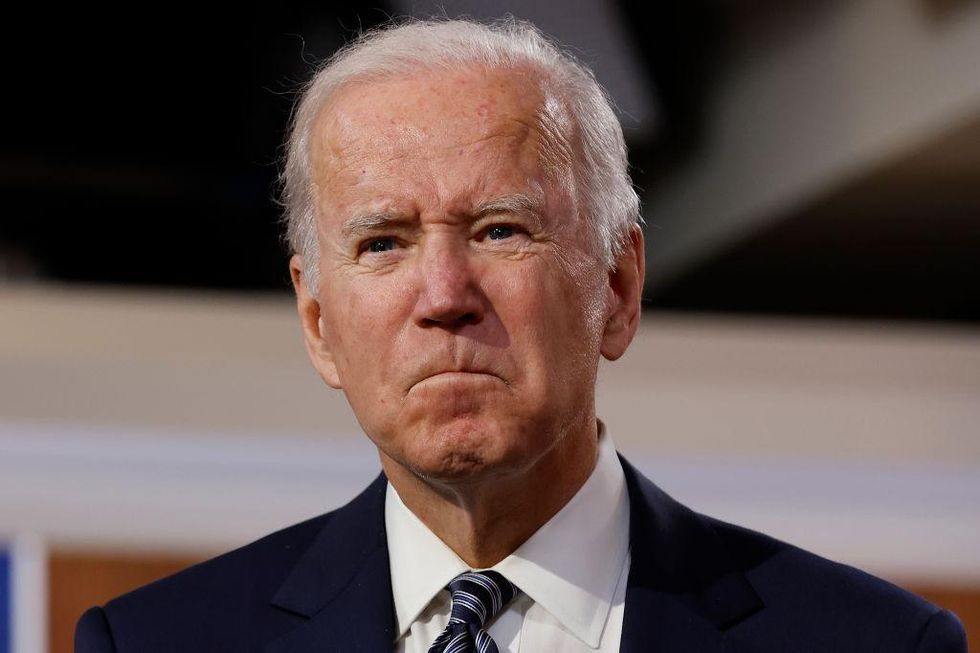 Even a CNN reporter is admitting that President Joe Biden "seems confused."
Biden gave an interview to ABC's "World News Tonight" anchor David Muir last week. During the interview, Muir asked the 79-year-old Biden, "If you look out across the country, you see it everywhere, these long lines, people waiting for hours outside in the cold, just to get tested, to be reassured before they spend time with their family. If you go to the pharmacy, we hear this over and over again, empty shelves, no test kits. Is that a failure?"
"I don't think it's a failure," Biden responded. "I think it's – you could argue that we should have known a year ago, six months ago, two months ago, a month ago."
"I wish I had thought about ordering a half-billion pills two months ago before COVID hit here," Biden said, mixing up the word "pills" when he meant "tests."
Biden is talking about the reported 10 million courses of Pfizer's COVID-19 antiviral oral drug Paxlovid that the U.S. government bought from the pharmaceutical giant for $5.29 billion. On Wednesday, the U.S. Food and Drug Administration (FDA) granted emergency use authorization for the new antiviral pill to treat people with symptomatic COVID-19.
CNN correspondent Jeff Zeleny highlighted the gaffe during an appearance on the "Situation Room" TV program.
"Repeatedly throughout this interview with David Muir, which was recorded this afternoon, President Biden seems confused and was confusing the half a billion tests that they've ordered with a half a billion pills," Zeleny stated. "And, of course, pills were in the news today with the Pfizer approval of the antiviral, so he corrected himself, but that was one thing that stuck out to me."
Zeleny also blasted the Biden administration for "not accepting any responsibility at all for this lack of testing."
"But then simply this administration, and the president leading the charge here, really not accepting any responsibility at all for this lack of testing," Zeleny told host Wolf Blitzer. "We've seen these images across the country, long lines, just the inability to get tests. And yes, omicron came on very quickly here, but it has been almost a month since Thanksgiving where they knew this was coming."
President Biden promised to distribute 500 million free at-home rapid tests to Americans next month, but as Zeleny notes, "There is no sense from this administration those will be sent out early in January as the president suggested in this interview."
President Biden has made a multitude of gaffes during his time in office, including at the G7 summit, confusing Iraq with Iran, mixing up Chris Wallace with Chuck Todd, confusing Donald Trump with Barack Obama, confusing Michigan Gov. Gretchen Whitmer with his own Energy Secretary Jennifer Granholm, mixing up the United Nations with the United States, mixing up Syria with Lebanon, and repeatedly saying Vice President Kamala Harris is the "president of the United States."
window.REBELMOUSE_LOWEST_TASKS_QUEUE.push(function(){
//Facebook Pixel Code !function(f,b,e,v,n,t,s) {if(f.fbq)return;n=f.fbq=function(){n.callMethod? n.callMethod.apply(n,arguments):n.queue.push(arguments)}; if(!f._fbq)f._fbq=n;n.push=n;n.loaded=!0;n.version='2.0'; n.queue=[];t=b.createElement(e);t.async=!0; t.src=v;s=b.getElementsByTagName(e)[0]; s.parentNode.insertBefore(t,s)}(window, document,'script', 'https://connect.facebook.net/en_US/fbevents.js'); fbq('init', '1398069580413568'); fbq('track', 'PageView');
});
window.REBELMOUSE_LOWEST_TASKS_QUEUE.push(function(){
function menuClick() { console.log("clicked");
if (document.querySelector('.hambg-btn.js--active') != null) { document.getElementsByClassName('huge-menu')[0].style.display = 'none'; document.getElementsByClassName('hambg-btn')[0].classList.remove('js--active'); document.body.classList.remove("huge-menu-opened"); document.body.classList.remove("menu-opened"); } else{ document.getElementsByClassName('huge-menu')[0].style.display = 'block'; document.getElementsByClassName('hambg-btn')[0].classList.add('js--active'); document.body.classList.add("huge-menu-opened"); document.body.classList.remove("menu-opened"); } }
function addMenuClickListener() { var rebelMenu = document.getElementsByClassName('rebelbar__menu-toggle'); var menuClose = document.getElementsByClassName('hm__close'); var stickyMenu = document.getElementsByClassName('sticky-menu');
rebelMenu[0].addEventListener('click', menuClick);
if(menuClose[0] != undefined){ menuClose[0].addEventListener('click', menuClick);}
if(stickyMenu[0] != undefined){ stickyMenu[0].addEventListener('click', menuClick); } }
addMenuClickListener();
});
window.REBELMOUSE_LOWEST_TASKS_QUEUE.push(function(){
window.REBELMOUSE_STDLIB.loadExternalScript("https://assets.adobedtm.com/98de9919e92a38033805f9f035c43198533e4380/satelliteLib-38c7b1e4b1bb3e0378e82d10601662aebfb04eda.js", function() {
window.analyticsData = { events: {active: {view: {asset: {}}, device: {}}} }; window.analyticsData.events.active.device.appVersion = "1.1"; window.analyticsData.events.active.device.host = "premiere.off.us"; window.analyticsData.events.active.device.subHost = "theblaze.com"; window.analyticsData.events.active.pageName = "articles"; //window.analyticsData.events.active.view.asset.id = "articles|"+ __BOOTSTRAP__.post.basename; window.analyticsData.events.active.view.asset.name = document.title; //window.analyticsData.events.active.view.authorId = __BOOTSTRAP__.post.original_user_subsite.title; window.analyticsData.events.active.view.pubDate = "12/27/2021"; window.analyticsData.events.active.view.contentOriginType = "Premiere"; window.analyticsData.events.active.view.stationCallLetter = "TheBlaze"; window.analyticsData.events.active.view.stationFormat = "NEWSTALK"; window.analyticsData.events.active.view.stationMarket = "PREMIERE"; window.analyticsData.events.active.view.personalityId = "theBlaze"; window.analyticsData.events.active.view.tags = ["president-joe-biden", "confused-joe-biden", "joe-biden-confused", "biden-gaffe", "joe-biden-gaffe", "covid-tests", "covid-testing"]; window.analyticsData.events.active.view.photoGalleryExists = "FALSE"; window.analyticsData.events.active.view.photoGalleryPageView = "FALSE"; window.analyticsData.events.active.view.contentFrame = "page"; window._satellite && _satellite.pageBottom();
});
});
window.REBELMOUSE_LOWEST_TASKS_QUEUE.push(function(){
function test_adblock(func, id) { var t="0.1.2-dev", el = document.createElement('div'); el.id = id ? id : 'sponsorText'; el.appendChild(document.createTextNode(' ')); Object.assign(el.style, { left: '-999px', position: 'absolute' }); document.body.appendChild(el); setTimeout(function() { if (el) { var o = el.clientHeight === 0; func(o, t); document.body.removeChild(el); } }, 200); } test_adblock(function(is_blocked) { console.log(is_blocked); var wid = is_blocked ? 140286 : 140117, target = document.getElementById('rc-adblock-widget'); var el = document.createElement('div'); el.setAttribute('data-rc-widget', ''); el.setAttribute('data-endpoint', 'trends.revcontent.com'); el.setAttribute('data-widget-id', wid); target.appendChild(el); if (typeof window.renderRCWidget !== 'function') { var script = document.createElement('script'); script.src="https://assets.revcontent.com/master/delivery.js"; script.defer = true; target.appendChild(script); } else { window.renderRCWidget(el) } });
});
window.REBELMOUSE_LOWEST_TASKS_QUEUE.push(function(){
(function(s,u,m,o,j,v){j=u.createElement(m);v=u.getElementsByTagName(m)[0];j.async=1;j.src=o;j.dataset.sumoSiteId='f20bb26e74a94a53daa9113206b98941e1dfba90635d317b9efd9e33a89bf515';v.parentNode.insertBefore(j,v)})(window,document,'script','//load.sumo.com/');
});

Paul Sacca