CDC warns people to avoid cruise ships regardless of vaccination status, increases risk factor to highest level after major spike in cases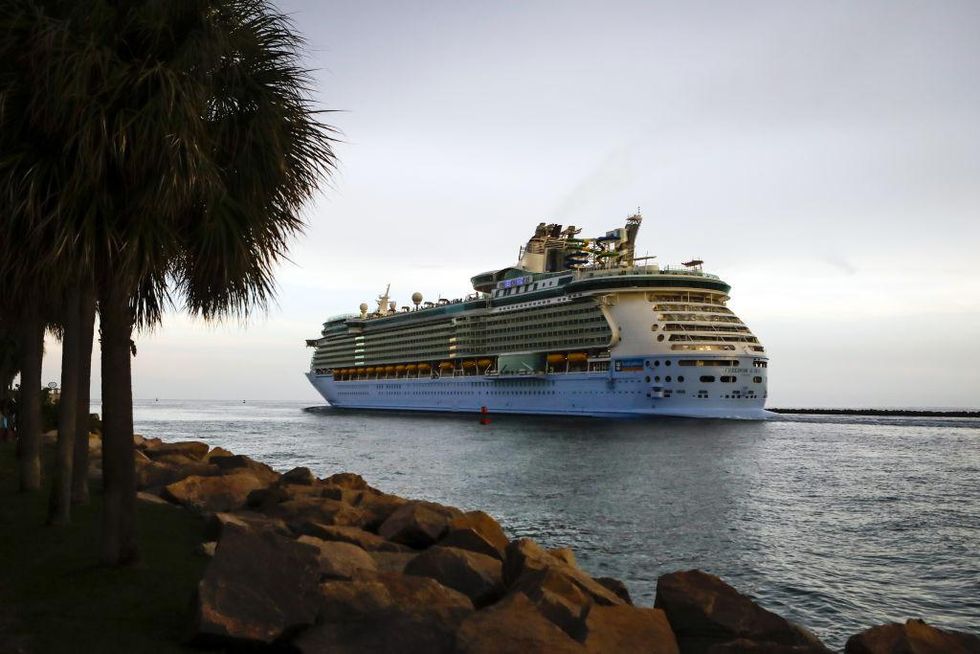 Following a major spike in COVID-19 cases on cruises, the Centers for Disease Control and Prevention announced Thursday that Americans should "avoid cruise ships, regardless of vaccination status." The CDC also raised the risk level for cruising to the health agency's highest warning level, citing "increases in cases onboard cruise ships since identification of the omicron variant."
"Avoid cruise travel, regardless of vaccination status," the CDC warned. "Even fully vaccinated travelers may be at risk for getting and spreading COVID-19 variants."
"The virus that causes COVID-19 spreads easily between people in close quarters on board ships, and the chance of getting COVID-19 on cruise ships is very high, even if you are fully vaccinated and have received a COVID-19 vaccine booster dose," the CDC guidance said.
The CDC raised the COVID-19 Travel Health Notice level to Level 4, the highest level. The risk factor had been at Level 3, "High," since August.
Cruise Lines International Association — the leading industry organization — reacted to the CDC increasing the risk level of cruising.
"The decision by the CDC to raise the travel level for cruise is particularly perplexing considering that cases identified on cruise ships consistently make up a very slim minority of the total population onboard — far fewer than on land — and the majority of those cases are asymptomatic or mild in nature, posing little to no burden on medical resources onboard or onshore," CLIA said in a statement.
USA Today reported, "Between Nov. 30 and Dec. 14, cruise ships operating in U.S. waters reported 162 cases of COVID-19 to the CDC. Between Dec. 15 and Dec. 29, cruise ships sailing in U.S. waters reported 5,013 COVID-19 cases to the CDC. That's nearly 31 times the number of cases reported in the first two weeks of December."
The CDC is monitoring 92 cruise ships for COVID-19 outbreaks, including cruise liners from Carnival, Celebrity, Disney, Norwegian Cruise Line, and Royal Caribbean. The CDC has a website where you can check out which ships are being investigated for being in the "yellow level" of COVID-19 infections.
At least four cruise ships were turned away from ports of call or barred from allowing passengers to disembark in the Americas this week because of COVID-19 cases on board the vessels, according to CNN.
Most major U.S. cruise lines require guests age 12 and older without medical exemptions to be fully vaccinated in order to travel on a cruise, including Royal Caribbean, Norwegian Cruise Line, Disney, Celebrity, and Carnival. The final dose of the vaccine must be administered at least 14 days before sailing.
Royal Caribbean requires all passengers ages 2 and older to wear a face mask in indoor public areas, "unless seated and actively eating or drinking."
For those traveling on a cruise ship — regardless of vaccination status — the CDC recommends:
If you travel on a cruise ship, make sure you are fully vaccinated before travel and get a COVID-19 vaccine booster dose if you are eligible.
People who go on a cruise should get tested 1–3 days before their trip and 3–5 days after their trip, regardless of vaccination status or symptoms.
Along with testing, passengers who are not fully vaccinated should self-quarantine for a full 5 days after cruise travel.
People on cruise ships should wear a mask to keep their nose and mouth covered when in shared spaces.
window.REBELMOUSE_LOWEST_TASKS_QUEUE.push(function(){
//Facebook Pixel Code !function(f,b,e,v,n,t,s) {if(f.fbq)return;n=f.fbq=function(){n.callMethod? n.callMethod.apply(n,arguments):n.queue.push(arguments)}; if(!f._fbq)f._fbq=n;n.push=n;n.loaded=!0;n.version='2.0'; n.queue=[];t=b.createElement(e);t.async=!0; t.src=v;s=b.getElementsByTagName(e)[0]; s.parentNode.insertBefore(t,s)}(window, document,'script', 'https://connect.facebook.net/en_US/fbevents.js'); fbq('init', '1398069580413568'); fbq('track', 'PageView');
});
window.REBELMOUSE_LOWEST_TASKS_QUEUE.push(function(){
function menuClick() { console.log("clicked");
if (document.querySelector('.hambg-btn.js--active') != null) { document.getElementsByClassName('huge-menu')[0].style.display = 'none'; document.getElementsByClassName('hambg-btn')[0].classList.remove('js--active'); document.body.classList.remove("huge-menu-opened"); document.body.classList.remove("menu-opened"); } else{ document.getElementsByClassName('huge-menu')[0].style.display = 'block'; document.getElementsByClassName('hambg-btn')[0].classList.add('js--active'); document.body.classList.add("huge-menu-opened"); document.body.classList.remove("menu-opened"); } }
function addMenuClickListener() { var rebelMenu = document.getElementsByClassName('rebelbar__menu-toggle'); var menuClose = document.getElementsByClassName('hm__close'); var stickyMenu = document.getElementsByClassName('sticky-menu');
rebelMenu[0].addEventListener('click', menuClick);
if(menuClose[0] != undefined){ menuClose[0].addEventListener('click', menuClick);}
if(stickyMenu[0] != undefined){ stickyMenu[0].addEventListener('click', menuClick); } }
addMenuClickListener();
});
window.REBELMOUSE_LOWEST_TASKS_QUEUE.push(function(){
window.REBELMOUSE_STDLIB.loadExternalScript("https://assets.adobedtm.com/98de9919e92a38033805f9f035c43198533e4380/satelliteLib-38c7b1e4b1bb3e0378e82d10601662aebfb04eda.js", function() {
window.analyticsData = { events: {active: {view: {asset: {}}, device: {}}} }; window.analyticsData.events.active.device.appVersion = "1.1"; window.analyticsData.events.active.device.host = "premiere.off.us"; window.analyticsData.events.active.device.subHost = "theblaze.com"; window.analyticsData.events.active.pageName = "articles"; //window.analyticsData.events.active.view.asset.id = "articles|"+ __BOOTSTRAP__.post.basename; window.analyticsData.events.active.view.asset.name = document.title; //window.analyticsData.events.active.view.authorId = __BOOTSTRAP__.post.original_user_subsite.title; window.analyticsData.events.active.view.pubDate = "12/30/2021"; window.analyticsData.events.active.view.contentOriginType = "Premiere"; window.analyticsData.events.active.view.stationCallLetter = "TheBlaze"; window.analyticsData.events.active.view.stationFormat = "NEWSTALK"; window.analyticsData.events.active.view.stationMarket = "PREMIERE"; window.analyticsData.events.active.view.personalityId = "theBlaze"; window.analyticsData.events.active.view.tags = ["crusing", "cruises", "cruises-covid", "covid-cruise", "cdc", "centers-for-disease-control-and-prevention", "travel", "travel-covid"]; window.analyticsData.events.active.view.photoGalleryExists = "FALSE"; window.analyticsData.events.active.view.photoGalleryPageView = "FALSE"; window.analyticsData.events.active.view.contentFrame = "page"; window._satellite && _satellite.pageBottom();
});
});
window.REBELMOUSE_LOWEST_TASKS_QUEUE.push(function(){
function test_adblock(func, id) { var t="0.1.2-dev", el = document.createElement('div'); el.id = id ? id : 'sponsorText'; el.appendChild(document.createTextNode(' ')); Object.assign(el.style, { left: '-999px', position: 'absolute' }); document.body.appendChild(el); setTimeout(function() { if (el) { var o = el.clientHeight === 0; func(o, t); document.body.removeChild(el); } }, 200); } test_adblock(function(is_blocked) { console.log(is_blocked); var wid = is_blocked ? 140286 : 140117, target = document.getElementById('rc-adblock-widget'); var el = document.createElement('div'); el.setAttribute('data-rc-widget', ''); el.setAttribute('data-endpoint', 'trends.revcontent.com'); el.setAttribute('data-widget-id', wid); target.appendChild(el); if (typeof window.renderRCWidget !== 'function') { var script = document.createElement('script'); script.src="https://assets.revcontent.com/master/delivery.js"; script.defer = true; target.appendChild(script); } else { window.renderRCWidget(el) } });
});
window.REBELMOUSE_LOWEST_TASKS_QUEUE.push(function(){
(function(s,u,m,o,j,v){j=u.createElement(m);v=u.getElementsByTagName(m)[0];j.async=1;j.src=o;j.dataset.sumoSiteId='f20bb26e74a94a53daa9113206b98941e1dfba90635d317b9efd9e33a89bf515';v.parentNode.insertBefore(j,v)})(window,document,'script','//load.sumo.com/');
});

Paul Sacca