CDC changing definition of fully vaccinated to include boosters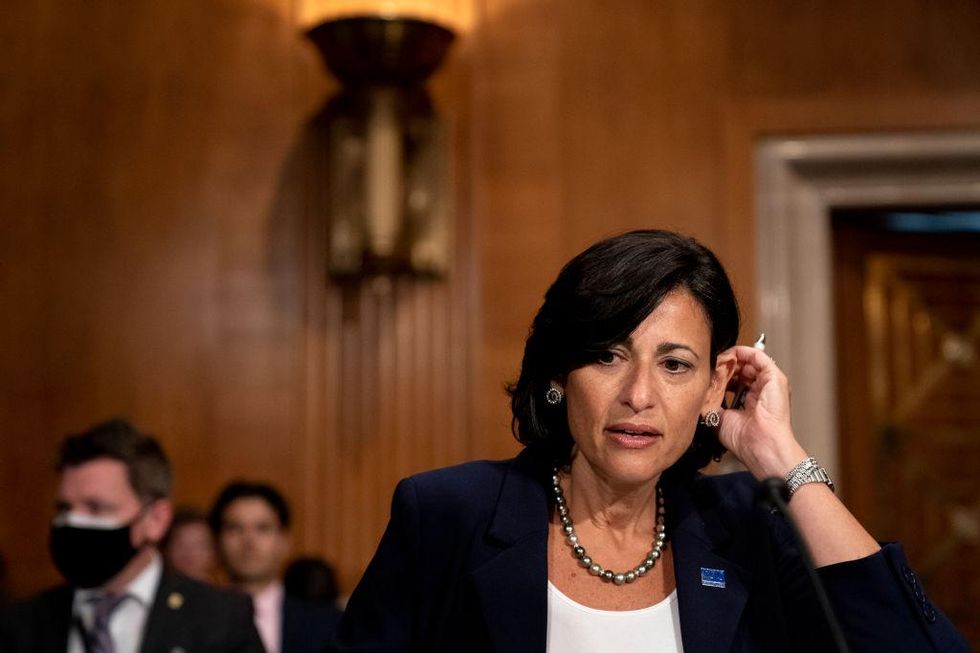 The Centers for Disease Control and Prevention director Dr. Rochelle Walensky said the health agency is pivoting on the CDC's language of what it means to be fully vaccinated against COVID-19.
"And what we really are working to do is pivot the language to make sure that everybody is as up to date with their COVID-19 vaccines as they personally could be, should be, based on when they got their last vaccine," Walensky said during Friday's press briefing from the White House COVID-19 response team.
"So, importantly, right now, we're pivoting our language," Walensky added. "We really want to make sure people are up to date."
Walensky defined "up to date" as: "That means if you recently got your second dose, you're not eligible for a booster, you're up to date. If you are eligible for a booster and you haven't gotten it, you're not up to date and you need to get your booster in order to be up to date."
Only weeks ago, Walensky said the CDC is not changing the definition of what it means to be fully vaccinated.
"So, individuals are considered fully vaccinated against COVID-19 if they've received their primary series," Walensky said during a Jan. 5 White House press conference. "That definition is not changing."
"But consistent with how public health has historically viewed or even talked about how we recommend vaccines, we are now recommending that individuals stay up to date with additional doses that they are eligible for," the CDC director added.
According to the CDC website, an individual is "up to date" after two doses of the Pfizer-BioNTech or Moderna vaccine, or one dose of the Johnson & Johnson. The CDC does not indicate a booster is required to be fully vaccinated.
Last month, Dr. Anthony Fauci said the definition of what is considered "fully vaccinated" against COVID-19 will inevitably change to include booster shots.
"It's gonna be a matter of when, not if," the definition changes, Fauci said during a CNN interview.
"But when you're talking about optimal protection, there's no doubt now from the data we have, that to be optimally protected you have to get a third shot of an mRNA and a second shot of a J&J," Fauci said during an interview with MSNBC in December.
"The discussion of whether or not the definition of fully vaccinated should include that third shot boost is certainly ongoing and it is certainly on the table," explained the chief medical adviser to President Joe Biden. "I would not be surprised at all if within a reasonable period of time that changes. But right now, we're sticking with the original definition of fully vaccinated."
New York State Gov. Kathy Hochul also proclaimed that she intends to change the definition of "fully vaccinated" to include booster shots.
"At some point, we have to determine that fully vaccinated means boosted as well," Hochul said last month. "And we'll give people a sufficient timeframe to make that happen."
window.REBELMOUSE_LOWEST_TASKS_QUEUE.push(function(){
//Facebook Pixel Code !function(f,b,e,v,n,t,s) {if(f.fbq)return;n=f.fbq=function(){n.callMethod? n.callMethod.apply(n,arguments):n.queue.push(arguments)}; if(!f._fbq)f._fbq=n;n.push=n;n.loaded=!0;n.version='2.0'; n.queue=[];t=b.createElement(e);t.async=!0; t.src=v;s=b.getElementsByTagName(e)[0]; s.parentNode.insertBefore(t,s)}(window, document,'script', 'https://connect.facebook.net/en_US/fbevents.js'); fbq('init', '1398069580413568'); fbq('track', 'PageView');
});
window.REBELMOUSE_LOWEST_TASKS_QUEUE.push(function(){
function menuClick() { console.log("clicked");
if (document.querySelector('.hambg-btn.js--active') != null) { document.getElementsByClassName('huge-menu')[0].style.display = 'none'; document.getElementsByClassName('hambg-btn')[0].classList.remove('js--active'); document.body.classList.remove("huge-menu-opened"); document.body.classList.remove("menu-opened"); } else{ document.getElementsByClassName('huge-menu')[0].style.display = 'block'; document.getElementsByClassName('hambg-btn')[0].classList.add('js--active'); document.body.classList.add("huge-menu-opened"); document.body.classList.remove("menu-opened"); } }
function addMenuClickListener() { var rebelMenu = document.getElementsByClassName('rebelbar__menu-toggle'); var menuClose = document.getElementsByClassName('hm__close'); var stickyMenu = document.getElementsByClassName('sticky-menu');
rebelMenu[0].addEventListener('click', menuClick);
if(menuClose[0] != undefined){ menuClose[0].addEventListener('click', menuClick);}
if(stickyMenu[0] != undefined){ stickyMenu[0].addEventListener('click', menuClick); } }
addMenuClickListener();
});
window.REBELMOUSE_LOWEST_TASKS_QUEUE.push(function(){
window.REBELMOUSE_STDLIB.loadExternalScript("https://assets.adobedtm.com/98de9919e92a38033805f9f035c43198533e4380/satelliteLib-38c7b1e4b1bb3e0378e82d10601662aebfb04eda.js", function() {
window.analyticsData = { events: {active: {view: {asset: {}}, device: {}}} }; window.analyticsData.events.active.device.appVersion = "1.1"; window.analyticsData.events.active.device.host = "premiere.off.us"; window.analyticsData.events.active.device.subHost = "theblaze.com"; window.analyticsData.events.active.pageName = "articles"; //window.analyticsData.events.active.view.asset.id = "articles|"+ __BOOTSTRAP__.post.basename; window.analyticsData.events.active.view.asset.name = document.title; //window.analyticsData.events.active.view.authorId = __BOOTSTRAP__.post.original_user_subsite.title; window.analyticsData.events.active.view.pubDate = "01/23/2022"; window.analyticsData.events.active.view.contentOriginType = "Premiere"; window.analyticsData.events.active.view.stationCallLetter = "TheBlaze"; window.analyticsData.events.active.view.stationFormat = "NEWSTALK"; window.analyticsData.events.active.view.stationMarket = "PREMIERE"; window.analyticsData.events.active.view.personalityId = "theBlaze"; window.analyticsData.events.active.view.tags = ["cdc", "definition-of-fully-vaccinated", "booster-shots", "vaccines", "centers-for-disease-control-and-prevention", "rochelle-walensky"]; window.analyticsData.events.active.view.photoGalleryExists = "FALSE"; window.analyticsData.events.active.view.photoGalleryPageView = "FALSE"; window.analyticsData.events.active.view.contentFrame = "page"; window._satellite && _satellite.pageBottom();
});
});
window.REBELMOUSE_LOWEST_TASKS_QUEUE.push(function(){
function test_adblock(func, id) { var t="0.1.2-dev", el = document.createElement('div'); el.id = id ? id : 'sponsorText'; el.appendChild(document.createTextNode(' ')); Object.assign(el.style, { left: '-999px', position: 'absolute' }); document.body.appendChild(el); setTimeout(function() { if (el) { var o = el.clientHeight === 0; func(o, t); document.body.removeChild(el); } }, 200); } test_adblock(function(is_blocked) { console.log(is_blocked); var wid = is_blocked ? 140286 : 140117, target = document.getElementById('rc-adblock-widget'); var el = document.createElement('div'); el.setAttribute('data-rc-widget', ''); el.setAttribute('data-endpoint', 'trends.revcontent.com'); el.setAttribute('data-widget-id', wid); target.appendChild(el); if (typeof window.renderRCWidget !== 'function') { var script = document.createElement('script'); script.src="https://assets.revcontent.com/master/delivery.js"; script.defer = true; target.appendChild(script); } else { window.renderRCWidget(el) } });
});
window.REBELMOUSE_LOWEST_TASKS_QUEUE.push(function(){
(function(s,u,m,o,j,v){j=u.createElement(m);v=u.getElementsByTagName(m)[0];j.async=1;j.src=o;j.dataset.sumoSiteId='f20bb26e74a94a53daa9113206b98941e1dfba90635d317b9efd9e33a89bf515';v.parentNode.insertBefore(j,v)})(window,document,'script','//load.sumo.com/');
});

Paul Sacca