Bill Maher slams pandemic misinformation, things medical-industrial complex got wrong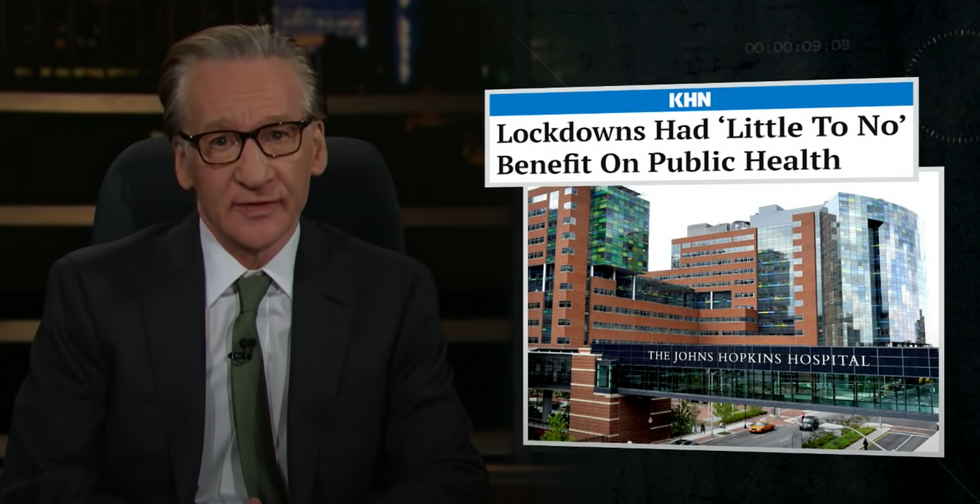 Liberal talk show host Bill Maher has had an awakening about the COVID-19 pandemic in recent months. Maher ripped the legacy media for "scaring the s**t" out of people over COVID-19. He slammed those "on the left" who "politicized" the antiparasitic drug ivermectin. Maher skewered "pain in the a** blue states" for stringent COVID-19 restrictions while praising red states as a "joy." Maher trashed Democrats for pandemic rules that he classified as "mindless bureaucracy."
On the latest episode of "Real Time with Bill Maher," the left-leaning political commentator took on the medical-industrial complex over things it has gotten wrong in the past and during the COVID-19 pandemic.
Maher urged that we "focus on helping the vulnerable stay safe and let the rest of us get back to living normal lives."
Maher referenced the numerous European countries that have loosened or ended their pandemic restrictions.
He called the pandemic limitations that have been put on kids – who have a very high COVID-19 survivor rate – "unnecessary and horrible."
"There's always going to be another variant," he stated.
Maher said he is skeptical of the medical establishment because he has seen how it handled the AIDS endemic, and how there was fearmongering that the virus would kill millions.
Maher cited a recent study out of Johns Hopkins University that found lockdowns "had little to no effect on COVID-19 mortality" but "imposed enormous economic and social costs." He mocked, "Okay, that's kind of a big one to get wrong."
"Last July, President Biden said, 'You're not going to get COVID if you have these vaccinations.' Well, I already knew that was wrong then, and now we all do," Maher said of the president's remarks which have been fact-checked and found to be "exaggerated."
"The former Director of the CDC, Robert Redfield, believes COVID originated in a lab, and now our intelligence agencies agree, it might have," the HBO host continued. "But for months on social media, it was banned to even discuss it."
"Look, I'm not saying the medical establishment isn't trying to figure s**t out, or that they're corrupt — although there is some of that," Maher said.
"But how about just wrong? Wrong a lot. Wrong about HIV, wrong about lockdowns, wrong about kids, wrong about how you couldn't get it if you were vaccinated," he continued.
Maher said there is no research that outdoor transmission is likely or common, then lampooned California Gov. Gavin Newsom and Los Angeles Mayor Eric Garcetti for flouting COVID-19 rules at the NFC Championship Game at SoFi Stadium.
Maher listed things that the science has changed completely over time.
"I'm just asking, how much wrong do you get to be while still holding the default setting for people who represent the science? Eat eggs, then don't, then do," Maher said. "Take aspirin, then don't, then do. The food pyramid, really? Bread and milk every day? Fifteen years ago, they were recommending trans fats. Now, they're illegal, just like almost a hundred prescription drugs which were once called 'safe and effective' and then yanked off the market because they were not."
"We've had this problem in medicine for a long time," he added. "The same people who, in private care, always say, get a second opinion, want to allow only one in the public debate."
"But plainly, the medical-industrial complex has not earned the right to claim monopoly status on information about this virus or medicine in general," Maher concluded. "Yes, free speech has allowed people to hear misinformation sometimes. And a lot of it was yours."
(WARNING: Explicit language)

New Rule: Apply Precision to the Pandemic | Real Time (HBO)

www.youtube.com

window.REBELMOUSE_LOWEST_TASKS_QUEUE.push(function(){
//Facebook Pixel Code !function(f,b,e,v,n,t,s) {if(f.fbq)return;n=f.fbq=function(){n.callMethod? n.callMethod.apply(n,arguments):n.queue.push(arguments)}; if(!f._fbq)f._fbq=n;n.push=n;n.loaded=!0;n.version='2.0'; n.queue=[];t=b.createElement(e);t.async=!0; t.src=v;s=b.getElementsByTagName(e)[0]; s.parentNode.insertBefore(t,s)}(window, document,'script', 'https://connect.facebook.net/en_US/fbevents.js'); fbq('init', '1398069580413568'); fbq('track', 'PageView');
});
window.REBELMOUSE_LOWEST_TASKS_QUEUE.push(function(){
function menuClick() { console.log("clicked");
if (document.querySelector('.hambg-btn.js--active') != null) { document.getElementsByClassName('huge-menu')[0].style.display = 'none'; document.getElementsByClassName('hambg-btn')[0].classList.remove('js--active'); document.body.classList.remove("huge-menu-opened"); document.body.classList.remove("menu-opened"); } else{ document.getElementsByClassName('huge-menu')[0].style.display = 'block'; document.getElementsByClassName('hambg-btn')[0].classList.add('js--active'); document.body.classList.add("huge-menu-opened"); document.body.classList.remove("menu-opened"); } }
function addMenuClickListener() { var rebelMenu = document.getElementsByClassName('rebelbar__menu-toggle'); var menuClose = document.getElementsByClassName('hm__close'); var stickyMenu = document.getElementsByClassName('sticky-menu');
rebelMenu[0].addEventListener('click', menuClick);
if(menuClose[0] != undefined){ menuClose[0].addEventListener('click', menuClick);}
if(stickyMenu[0] != undefined){ stickyMenu[0].addEventListener('click', menuClick); } }
addMenuClickListener();
});
window.REBELMOUSE_LOWEST_TASKS_QUEUE.push(function(){
window.REBELMOUSE_STDLIB.loadExternalScript("https://assets.adobedtm.com/98de9919e92a38033805f9f035c43198533e4380/satelliteLib-38c7b1e4b1bb3e0378e82d10601662aebfb04eda.js", function() {
window.analyticsData = { events: {active: {view: {asset: {}}, device: {}}} }; window.analyticsData.events.active.device.appVersion = "1.1"; window.analyticsData.events.active.device.host = "premiere.off.us"; window.analyticsData.events.active.device.subHost = "theblaze.com"; window.analyticsData.events.active.pageName = "articles"; //window.analyticsData.events.active.view.asset.id = "articles|"+ __BOOTSTRAP__.post.basename; window.analyticsData.events.active.view.asset.name = document.title; //window.analyticsData.events.active.view.authorId = __BOOTSTRAP__.post.original_user_subsite.title; window.analyticsData.events.active.view.pubDate = "02/06/2022"; window.analyticsData.events.active.view.contentOriginType = "Premiere"; window.analyticsData.events.active.view.stationCallLetter = "TheBlaze"; window.analyticsData.events.active.view.stationFormat = "NEWSTALK"; window.analyticsData.events.active.view.stationMarket = "PREMIERE"; window.analyticsData.events.active.view.personalityId = "theBlaze"; window.analyticsData.events.active.view.tags = ["bill-maher", "medical-industrial-complex", "real-time-with-bill-maher", "covid-misinformation", "covid-19-misinformation"]; window.analyticsData.events.active.view.photoGalleryExists = "FALSE"; window.analyticsData.events.active.view.photoGalleryPageView = "FALSE"; window.analyticsData.events.active.view.contentFrame = "page"; window._satellite && _satellite.pageBottom();
});
});
window.REBELMOUSE_LOWEST_TASKS_QUEUE.push(function(){
function test_adblock(func, id) { var t="0.1.2-dev", el = document.createElement('div'); el.id = id ? id : 'sponsorText'; el.appendChild(document.createTextNode(' ')); Object.assign(el.style, { left: '-999px', position: 'absolute' }); document.body.appendChild(el); setTimeout(function() { if (el) { var o = el.clientHeight === 0; func(o, t); document.body.removeChild(el); } }, 200); } test_adblock(function(is_blocked) { console.log(is_blocked); var wid = is_blocked ? 140286 : 140117, target = document.getElementById('rc-adblock-widget'); var el = document.createElement('div'); el.setAttribute('data-rc-widget', ''); el.setAttribute('data-endpoint', 'trends.revcontent.com'); el.setAttribute('data-widget-id', wid); target.appendChild(el); if (typeof window.renderRCWidget !== 'function') { var script = document.createElement('script'); script.src="https://assets.revcontent.com/master/delivery.js"; script.defer = true; target.appendChild(script); } else { window.renderRCWidget(el) } });
});
window.REBELMOUSE_LOWEST_TASKS_QUEUE.push(function(){
(function(s,u,m,o,j,v){j=u.createElement(m);v=u.getElementsByTagName(m)[0];j.async=1;j.src=o;j.dataset.sumoSiteId='f20bb26e74a94a53daa9113206b98941e1dfba90635d317b9efd9e33a89bf515';v.parentNode.insertBefore(j,v)})(window,document,'script','//load.sumo.com/');
});

Paul Sacca