Biden considers sending US troops to deter Russia from invading Ukraine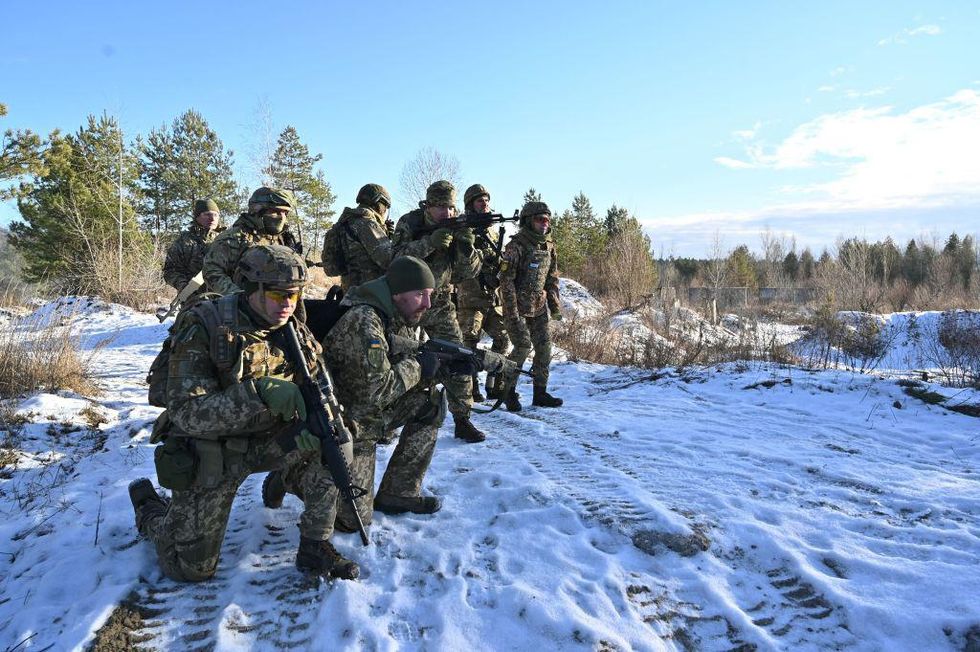 The situation in Ukraine is quickly developing. The latest updates regarding the potential hot spot for hostilities, include the U.S. State Department ordering family members of U.S. diplomats to evacuate the country, and a report that President Joe Biden is considering deploying thousands of American troops, warships, and aircraft into the powderkeg region to deter Russia from executing any advancements.
A senior State Department official told reporters Sunday night, "Military action by Russia could come at any time. The United States government will not be in a position to evacuate U.S. citizens in such a contingency."
Also on Sunday, the U.S. Department of State issued an update on its official website.
"Do not travel to Ukraine due to the increased threats of Russian military action and COVID-19," the alert warned. "Exercise increased caution in Ukraine due to crime and civil unrest. Some areas have increased risk."
"On January 23, 2022, the Department of State authorized the voluntary departure of U.S. direct hire employees (USDH) and ordered the departure of eligible family members (EFM) from Embassy Kyiv due to the continued threat of Russian military action," the notice cautioned. "U.S. citizens in Ukraine should consider departing now using commercial or other privately available transportation options."
The State Department's warning emphasized, "There are reports Russia is planning significant military action against Ukraine. The security conditions, particularly along Ukraine's borders, in Russia-occupied Crimea, and in Russia-controlled eastern Ukraine, are unpredictable and can deteriorate with little notice. Demonstrations, which have turned violent at times, regularly occur throughout Ukraine, including in Kyiv."
Another report that surfaced on Sunday night added more concern for the region, especially for U.S. military members. The New York Times reported that President Biden is "considering deploying several thousand U.S. troops, as well as warships and aircraft, to NATO allies in the Baltics and Eastern Europe, an expansion of American military involvement amid mounting fears of a Russian incursion into Ukraine, according to administration officials."
The potential escalation of U.S. forces in the region was reportedly discussed by senior Pentagon officials and Biden at presidential retreat Camp David on Saturday.
"Senior Pentagon officials presented Mr. Biden with several options that would shift American military assets much closer to Mr. Putin's doorstep, the administration officials said," the NYT reported. "The options include sending 1,000 to 5,000 troops to Eastern European countries, with the potential to increase that number tenfold if things deteriorate."
According to the report, Biden is expected to make a decision "as early as this week" on whether he will send military troops and hardware to the region as a deterent.
This is a far different message than Biden's press conference last week, where he was much more leniant with Vladimir Putin, "I think what you're going to see is that Russia will be held accountable if it invades, and it depends on what it does, it's one thing if it's a minor incursion and we end up having to fight about what to do and not do, et cetera."
A day after his press conference, President Biden attempted to walk back his comments about Ukraine.
"Let me start by first saying a few words about Russia and Ukraine," Biden said on Thursday. "I've been absolutely clear with President Putin. He has no misunderstanding. If any, any assembled Russian units move across the Ukrainian border, that is an invasion."
"It will be met with [a] severe and coordinated economic response that I've discussed in detail with our allies as well as laid out very clearly for President Putin," Biden continued. "But there is no doubt — let there be no doubt at all — that if Putin makes this choice, Russia will pay a heavy price."
window.REBELMOUSE_LOWEST_TASKS_QUEUE.push(function(){
//Facebook Pixel Code !function(f,b,e,v,n,t,s) {if(f.fbq)return;n=f.fbq=function(){n.callMethod? n.callMethod.apply(n,arguments):n.queue.push(arguments)}; if(!f._fbq)f._fbq=n;n.push=n;n.loaded=!0;n.version='2.0'; n.queue=[];t=b.createElement(e);t.async=!0; t.src=v;s=b.getElementsByTagName(e)[0]; s.parentNode.insertBefore(t,s)}(window, document,'script', 'https://connect.facebook.net/en_US/fbevents.js'); fbq('init', '1398069580413568'); fbq('track', 'PageView');
});
window.REBELMOUSE_LOWEST_TASKS_QUEUE.push(function(){
function menuClick() { console.log("clicked");
if (document.querySelector('.hambg-btn.js--active') != null) { document.getElementsByClassName('huge-menu')[0].style.display = 'none'; document.getElementsByClassName('hambg-btn')[0].classList.remove('js--active'); document.body.classList.remove("huge-menu-opened"); document.body.classList.remove("menu-opened"); } else{ document.getElementsByClassName('huge-menu')[0].style.display = 'block'; document.getElementsByClassName('hambg-btn')[0].classList.add('js--active'); document.body.classList.add("huge-menu-opened"); document.body.classList.remove("menu-opened"); } }
function addMenuClickListener() { var rebelMenu = document.getElementsByClassName('rebelbar__menu-toggle'); var menuClose = document.getElementsByClassName('hm__close'); var stickyMenu = document.getElementsByClassName('sticky-menu');
rebelMenu[0].addEventListener('click', menuClick);
if(menuClose[0] != undefined){ menuClose[0].addEventListener('click', menuClick);}
if(stickyMenu[0] != undefined){ stickyMenu[0].addEventListener('click', menuClick); } }
addMenuClickListener();
});
window.REBELMOUSE_LOWEST_TASKS_QUEUE.push(function(){
window.REBELMOUSE_STDLIB.loadExternalScript("https://assets.adobedtm.com/98de9919e92a38033805f9f035c43198533e4380/satelliteLib-38c7b1e4b1bb3e0378e82d10601662aebfb04eda.js", function() {
window.analyticsData = { events: {active: {view: {asset: {}}, device: {}}} }; window.analyticsData.events.active.device.appVersion = "1.1"; window.analyticsData.events.active.device.host = "premiere.off.us"; window.analyticsData.events.active.device.subHost = "theblaze.com"; window.analyticsData.events.active.pageName = "articles"; //window.analyticsData.events.active.view.asset.id = "articles|"+ __BOOTSTRAP__.post.basename; window.analyticsData.events.active.view.asset.name = document.title; //window.analyticsData.events.active.view.authorId = __BOOTSTRAP__.post.original_user_subsite.title; window.analyticsData.events.active.view.pubDate = "01/24/2022"; window.analyticsData.events.active.view.contentOriginType = "Premiere"; window.analyticsData.events.active.view.stationCallLetter = "TheBlaze"; window.analyticsData.events.active.view.stationFormat = "NEWSTALK"; window.analyticsData.events.active.view.stationMarket = "PREMIERE"; window.analyticsData.events.active.view.personalityId = "theBlaze"; window.analyticsData.events.active.view.tags = ["ukraine-update", "ukraine", "us-ukraine", "russia-ukraine", "president-joe-biden", "russia", "vladimir-putin", "military", "ukraine-war"]; window.analyticsData.events.active.view.photoGalleryExists = "FALSE"; window.analyticsData.events.active.view.photoGalleryPageView = "FALSE"; window.analyticsData.events.active.view.contentFrame = "page"; window._satellite && _satellite.pageBottom();
});
});
window.REBELMOUSE_LOWEST_TASKS_QUEUE.push(function(){
function test_adblock(func, id) { var t="0.1.2-dev", el = document.createElement('div'); el.id = id ? id : 'sponsorText'; el.appendChild(document.createTextNode(' ')); Object.assign(el.style, { left: '-999px', position: 'absolute' }); document.body.appendChild(el); setTimeout(function() { if (el) { var o = el.clientHeight === 0; func(o, t); document.body.removeChild(el); } }, 200); } test_adblock(function(is_blocked) { console.log(is_blocked); var wid = is_blocked ? 140286 : 140117, target = document.getElementById('rc-adblock-widget'); var el = document.createElement('div'); el.setAttribute('data-rc-widget', ''); el.setAttribute('data-endpoint', 'trends.revcontent.com'); el.setAttribute('data-widget-id', wid); target.appendChild(el); if (typeof window.renderRCWidget !== 'function') { var script = document.createElement('script'); script.src="https://assets.revcontent.com/master/delivery.js"; script.defer = true; target.appendChild(script); } else { window.renderRCWidget(el) } });
});
window.REBELMOUSE_LOWEST_TASKS_QUEUE.push(function(){
(function(s,u,m,o,j,v){j=u.createElement(m);v=u.getElementsByTagName(m)[0];j.async=1;j.src=o;j.dataset.sumoSiteId='f20bb26e74a94a53daa9113206b98941e1dfba90635d317b9efd9e33a89bf515';v.parentNode.insertBefore(j,v)})(window,document,'script','//load.sumo.com/');
});

Paul Sacca