Anonymous Democrats go behind Sen. Dianne Feinstein's back to complain about her mental fitness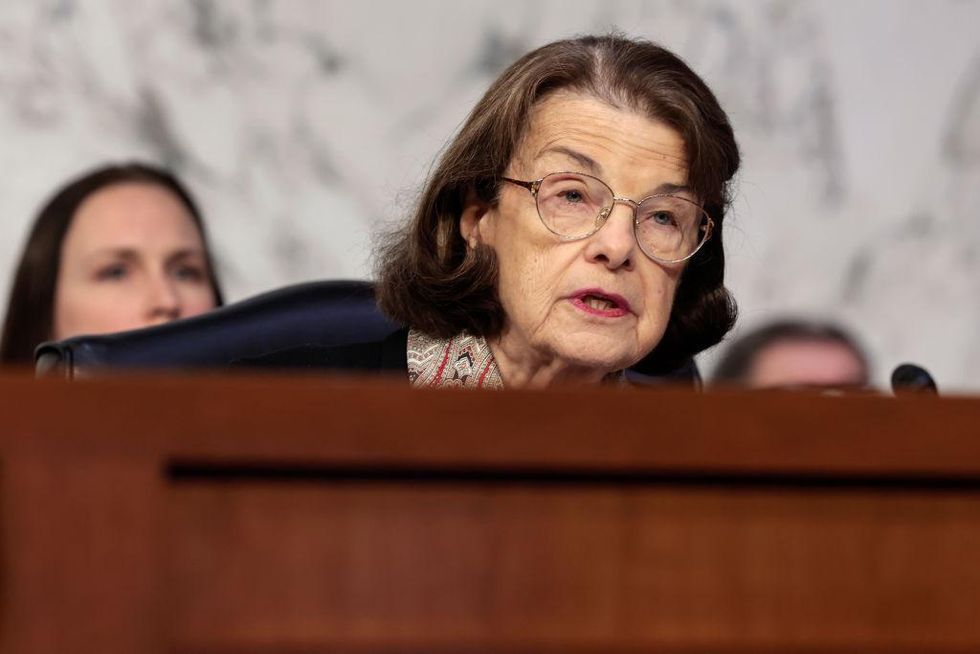 Democrats in Congress are worried that California Sen. Dianne Feinstein is too old to do her job, and they're leaking their concerns to the media.
"It's bad, and it's getting worse," said one Democratic senator, who requested anonymity in an interview with the San Francisco Chronicle to complain about their colleague. The senator related how Feinstein has difficulty keeping up with conversations and discussions.
Four U.S. senators, three former Feinstein staffers, and one California Democratic member of Congress spoke to the paper about Feinstein's reportedly declining memory and questionable mental fitness for office. These individuals say that at 88 years old, Feinstein is entirely dependent on her staff doing most of the work required to represent 40 million Californians in the Senate.
While she has good days, when she appears to be in command of herself and the issues — Democrats pointed to her performance during Supreme Court nominee Ketanji Brown Jackson's confirmation hearings — there are bad days, when Feinstein reportedly does not even recognize some of her long-term colleagues.
One of the lawmakers recounted a recent conversation in which they had to reintroduce themselves to Feinstein several times, despite working with her for 15 years. The conversation reportedly prompted this lawmaker to ask colleagues if it were possible to stage an intervention with Feinstein and have her retire before 2024, when her current term expires.
"I have worked with her for a long time and long enough to know what she was like just a few years ago: always in command, always in charge, on top of the details, basically couldn't resist a conversation where she was driving some bill or some idea. All of that is gone," the lawmaker said. "She was an intellectual and political force not that long ago, and that's why my encounter with her was so jarring. Because there was just no trace of that."
"There's a joke on the Hill, we've got a great junior senator in Alex Padilla and an experienced staff in Feinstein's office," said a staffer for a California Democrat.
Each of the people who gave statements to the Chronicle about Feinstein's mental acuity said they had enormous respect for the senator but wished to go behind her back anonymously to maintain their relationships with her and their mutual friends and colleagues.
They also expressed sympathy for Feinstein, who lost her husband Richard Blum to cancer last year.
Feinstein declined an interview with the Chronicle, but her office provided a written statement to the paper.
"The last year has been extremely painful and distracting for me, flying back and forth to visit my dying husband who passed just a few weeks ago," she said. "But there's no question I'm still serving and delivering for the people of California, and I'll put my record up against anyone's."
First elected to the Senate in 1992, the 88-year-old Democrat is both the oldest sitting senator and the longest-serving U.S. senator from California. In January 2021, she filed initial paperwork with the Federal Election Commission needed to seek re-election again in 2024, when she will be 91.
Feinstein in recent years has come under fire from some progressive Democrats who believe she is not sufficiently left-wing to represent California. When she was running for re-election in 2018, Feinstein lost the endorsement of the California Democratic Party's executive board to primary challenger state Sen. Keven de León, but she went on to win the state's jungle primary and coast to re-election.
In 2020, she surprised and angered Democrats by thanking Republicans for the way they conducted Supreme Court Justice Amy Coney Barrett's confirmation hearings, even hugging Sen. Lindsey Graham (R-S.C.). And in January 2021, Feinstein outraged progressives by refusing to join the chorus of hypocritical Democrats demanding an end to the Senate filibuster to ram President Joe Biden's agenda through Congress. Left-wing activists accused Feinstein of being out of touch with the party grassroots and demanded that she resign.
However, Democrats who spoke to the Chronicle on the record defended Feinstein against accusations that she's mentally unfit.
"I've heard some of the same concerns," said junior California Senator Alex Padilla, "but as someone who sees her multiple times a week, including on the Senate Judiciary Committee, I can tell you she's still doing the job and doing it well."
House Speaker Nancy Pelosi (D-Calif.), in a statement, said she has not noticed any decline in Feinstein's mental capabilities and applauded the senator for her recent work on the reauthorization of the Violence Against Women Act and the Supreme Court confirmation.
"Senator Feinstein is a workhorse for the people of California and a respected leader among her colleagues in the Senate," Pelosi said. "She is constantly traveling between California and the Capitol, working relentlessly to ensure Californians' needs are met and voices are heard."
Pelosi, 82, added it is "unconscionable that, just weeks after losing her beloved husband of more than four decades and after decades of outstanding leadership to our City and State, she is being subjected to these ridiculous attacks that are beneath the dignity in which she has led and the esteem in which she is held."
window.REBELMOUSE_LOWEST_TASKS_QUEUE.push(function(){
//Facebook Pixel Code !function(f,b,e,v,n,t,s) {if(f.fbq)return;n=f.fbq=function(){n.callMethod? n.callMethod.apply(n,arguments):n.queue.push(arguments)}; if(!f._fbq)f._fbq=n;n.push=n;n.loaded=!0;n.version='2.0'; n.queue=[];t=b.createElement(e);t.async=!0; t.src=v;s=b.getElementsByTagName(e)[0]; s.parentNode.insertBefore(t,s)}(window, document,'script', 'https://connect.facebook.net/en_US/fbevents.js'); fbq('init', '1398069580413568'); fbq('track', 'PageView');
});
window.REBELMOUSE_LOWEST_TASKS_QUEUE.push(function(){
function menuClick() { console.log("clicked");
if (document.querySelector('.hambg-btn.js--active') != null) { document.getElementsByClassName('huge-menu')[0].style.display = 'none'; document.getElementsByClassName('hambg-btn')[0].classList.remove('js--active'); document.body.classList.remove("huge-menu-opened"); document.body.classList.remove("menu-opened"); } else{ document.getElementsByClassName('huge-menu')[0].style.display = 'block'; document.getElementsByClassName('hambg-btn')[0].classList.add('js--active'); document.body.classList.add("huge-menu-opened"); document.body.classList.remove("menu-opened"); } }
function addMenuClickListener() { var rebelMenu = document.getElementsByClassName('rebelbar__menu-toggle'); var menuClose = document.getElementsByClassName('hm__close'); var stickyMenu = document.getElementsByClassName('sticky-menu');
rebelMenu[0].addEventListener('click', menuClick);
if(menuClose[0] != undefined){ menuClose[0].addEventListener('click', menuClick);}
if(stickyMenu[0] != undefined){ stickyMenu[0].addEventListener('click', menuClick); } }
addMenuClickListener();
});
window.REBELMOUSE_LOWEST_TASKS_QUEUE.push(function(){
if(document.querySelectorAll("#topcheck").value != ''){ document.querySelector(".message_bot_error").style.display = "block"; }else{ document.querySelector(".message_bot_error").style.display = "none"; }
});
window.REBELMOUSE_LOWEST_TASKS_QUEUE.push(function(){
const container = document.querySelector('body')
var elP = document.createElement('p');
const observer = new MutationObserver((mutations, obs) => { const spopup = document.getElementById('sailthru-overlay-container'); if (spopup) { console.log(spopup); spopup.appendChild(elP); obs.disconnect(); return; } });
observer.observe(document, { childList: true, subtree: true });
});
window.REBELMOUSE_LOWEST_TASKS_QUEUE.push(function(){
window.REBELMOUSE_STDLIB.loadExternalScript("https://assets.adobedtm.com/98de9919e92a38033805f9f035c43198533e4380/satelliteLib-38c7b1e4b1bb3e0378e82d10601662aebfb04eda.js", function() {
window.analyticsData = { events: {active: {view: {asset: {}}, device: {}}} }; window.analyticsData.events.active.device.appVersion = "1.1"; window.analyticsData.events.active.device.host = "premiere.off.us"; window.analyticsData.events.active.device.subHost = "theblaze.com"; window.analyticsData.events.active.pageName = "articles"; //window.analyticsData.events.active.view.asset.id = "articles|"+ __BOOTSTRAP__.post.basename; window.analyticsData.events.active.view.asset.name = document.title; //window.analyticsData.events.active.view.authorId = __BOOTSTRAP__.post.original_user_subsite.title; window.analyticsData.events.active.view.pubDate = "04/14/2022"; window.analyticsData.events.active.view.contentOriginType = "Premiere"; window.analyticsData.events.active.view.stationCallLetter = "TheBlaze"; window.analyticsData.events.active.view.stationFormat = "NEWSTALK"; window.analyticsData.events.active.view.stationMarket = "PREMIERE"; window.analyticsData.events.active.view.personalityId = "theBlaze"; window.analyticsData.events.active.view.tags = ["dianne-feinstein", "congress", "us-senate", "california", "democrats", "washington-d-c"]; window.analyticsData.events.active.view.photoGalleryExists = "FALSE"; window.analyticsData.events.active.view.photoGalleryPageView = "FALSE"; window.analyticsData.events.active.view.contentFrame = "page"; window._satellite && _satellite.pageBottom();
});
});
window.REBELMOUSE_LOWEST_TASKS_QUEUE.push(function(){
function test_adblock(func, id) { var t="0.1.2-dev", el = document.createElement('div'); el.id = id ? id : 'sponsorText'; el.appendChild(document.createTextNode(' ')); Object.assign(el.style, { left: '-999px', position: 'absolute' }); document.body.appendChild(el); setTimeout(function() { if (el) { var o = el.clientHeight === 0; func(o, t); document.body.removeChild(el); } }, 200); } test_adblock(function(is_blocked) { console.log(is_blocked); var wid = is_blocked ? 140286 : 140117, target = document.getElementById('rc-adblock-widget'); var el = document.createElement('div'); el.setAttribute('data-rc-widget', ''); el.setAttribute('data-endpoint', 'trends.revcontent.com'); el.setAttribute('data-widget-id', wid); target.appendChild(el); if (typeof window.renderRCWidget !== 'function') { var script = document.createElement('script'); script.src="https://assets.revcontent.com/master/delivery.js"; script.defer = true; target.appendChild(script); } else { window.renderRCWidget(el) } });
});
window.REBELMOUSE_LOWEST_TASKS_QUEUE.push(function(){
window.REBELMOUSE_STDLIB.loadExternalScript("https://ajax.googleapis.com/ajax/libs/jquery/3.6.0/jquery.min.js", function() {
});
});
window.REBELMOUSE_LOWEST_TASKS_QUEUE.push(function(){
if(document.querySelector("#icheck").value != ''){ document.querySelector(".message_bot_error").style.display = "block"; }else{ document.querySelector(".message_bot_error").style.display = "none"; }
});
window.REBELMOUSE_LOWEST_TASKS_QUEUE.push(function(){
(function(s,u,m,o,j,v){j=u.createElement(m);v=u.getElementsByTagName(m)[0];j.async=1;j.src=o;j.dataset.sumoSiteId='f20bb26e74a94a53daa9113206b98941e1dfba90635d317b9efd9e33a89bf515';v.parentNode.insertBefore(j,v)})(window,document,'script','//load.sumo.com/');
});

Chris Pandolfo