Alice Cooper talks decades of sobriety and Christianity: 'Straight out of bed, make a cup of coffee, grab my Bible'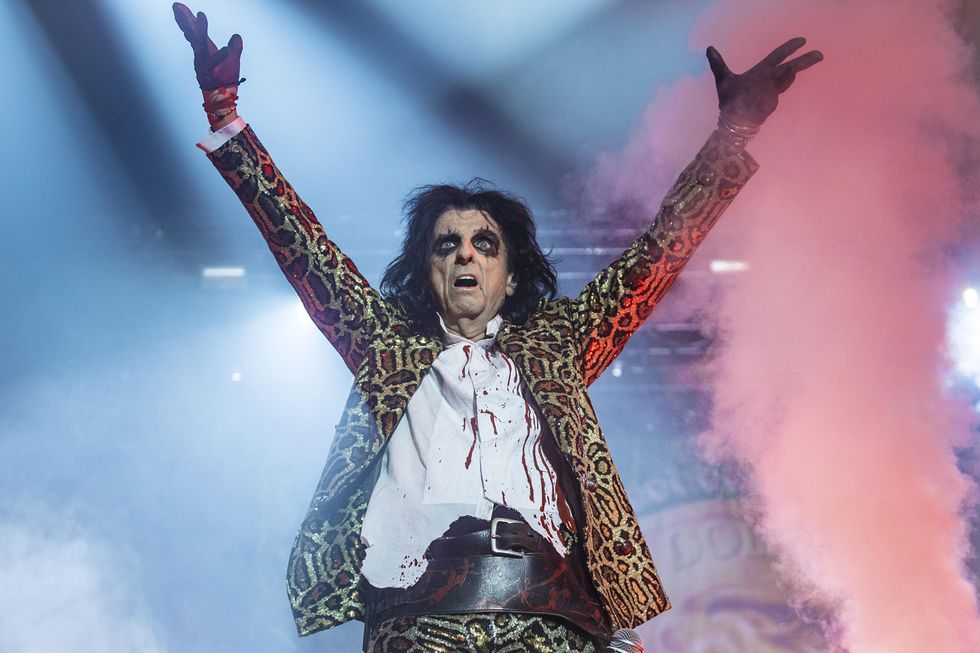 Shock rocker Alice Cooper — born Vincent Damon Furnier — has opened up about his life at 74 years old, which now involves Bible-reading, praying, and volunteering.
What are the details?
For a recent interview in the U.K.'s Times, the Detroit, Michigan, native said that God is the figurehead of his life and at the very center of everything he does.
"I'm up before the sun; 5 a.m. is my time," he told the outlet. "Straight out of bed, make a cup of coffee, grab my Bible, then spend the next hour reading and praying. I read a couple of chapters a day — this is my 12th reading. It puts me in a positive frame of mind."
He added that his wife, Sheryl Goddard, has been instrumental in his 39 years of sobriety.
"Thanks to Sheryl — she committed me to an asylum for treatment — this is my 39th year sober," he said, and went on to detail the indulgences of his younger years — a time of heavy partying with the likes of Jim Morrison, Jimi Hendrix, and more.
"At first it was fun, hanging out with Jim Morrison, Keith Moon and Jimi Hendrix," he recalled. "Jimi gave me my first joint. We thought we were gonna live forever, but then everybody started dying."
Cooper said that the fun eventually caught up to some of his peers — including Morrison.
"I spent a lot of time with Jim Morrison and I don't think I ever saw him not drunk or high," he recalled. "On stage he was an absolute professional, but nobody was surprised when he died."
Cooper added that once he became a father — his two adult daughters are now 30 and 40 years old — everything changed.
"It gave me a reason to stay sober," he admitted. "On stage I was Alice, but after the show, I wanted to be Dad. That life was better than a life in the bottle."
Cooper said he now spends his days with his wife by his side, working with a kids' charity he founded called Solid Rock.
"We've set up places where any teenager can come in and learn any instrument for free," he said. "Music changed my life; hopefully, we can change a few more."
Cooper added that praying is the very last thing he does before he dozes off for the night.
"I'm rarely in bed later than 11," he said. "Then I pray for a while. I believe in heaven and hell. People think of the Devil with horns and a pointy tail. Man, you are so far off the mark! The Devil is going to be the best-looking, smoothest-talking guy in the room. He's going to make you feel like a million bucks. But you better watch out, because he's got a whole different set of plans for you."
window.REBELMOUSE_LOWEST_TASKS_QUEUE.push(function(){
//Facebook Pixel Code !function(f,b,e,v,n,t,s) {if(f.fbq)return;n=f.fbq=function(){n.callMethod? n.callMethod.apply(n,arguments):n.queue.push(arguments)}; if(!f._fbq)f._fbq=n;n.push=n;n.loaded=!0;n.version='2.0'; n.queue=[];t=b.createElement(e);t.async=!0; t.src=v;s=b.getElementsByTagName(e)[0]; s.parentNode.insertBefore(t,s)}(window, document,'script', 'https://connect.facebook.net/en_US/fbevents.js'); fbq('init', '1398069580413568'); fbq('track', 'PageView');
});
window.REBELMOUSE_LOWEST_TASKS_QUEUE.push(function(){
function menuClick() { console.log("clicked");
if (document.querySelector('.hambg-btn.js--active') != null) { document.getElementsByClassName('huge-menu')[0].style.display = 'none'; document.getElementsByClassName('hambg-btn')[0].classList.remove('js--active'); document.body.classList.remove("huge-menu-opened"); document.body.classList.remove("menu-opened"); } else{ document.getElementsByClassName('huge-menu')[0].style.display = 'block'; document.getElementsByClassName('hambg-btn')[0].classList.add('js--active'); document.body.classList.add("huge-menu-opened"); document.body.classList.remove("menu-opened"); } }
function addMenuClickListener() { var rebelMenu = document.getElementsByClassName('rebelbar__menu-toggle'); var menuClose = document.getElementsByClassName('hm__close'); var stickyMenu = document.getElementsByClassName('sticky-menu');
rebelMenu[0].addEventListener('click', menuClick);
if(menuClose[0] != undefined){ menuClose[0].addEventListener('click', menuClick);}
if(stickyMenu[0] != undefined){ stickyMenu[0].addEventListener('click', menuClick); } }
addMenuClickListener();
});
window.REBELMOUSE_LOWEST_TASKS_QUEUE.push(function(){
if(document.querySelectorAll("#topcheck").value != ''){ document.querySelector(".message_bot_error").style.display = "block"; }else{ document.querySelector(".message_bot_error").style.display = "none"; }
});
window.REBELMOUSE_LOWEST_TASKS_QUEUE.push(function(){
const container = document.querySelector('body')
var elP = document.createElement('p');
const observer = new MutationObserver((mutations, obs) => { const spopup = document.getElementById('sailthru-overlay-container'); if (spopup) { console.log(spopup); spopup.appendChild(elP); obs.disconnect(); return; } });
observer.observe(document, { childList: true, subtree: true });
});
window.REBELMOUSE_LOWEST_TASKS_QUEUE.push(function(){
window.REBELMOUSE_STDLIB.loadExternalScript("https://assets.adobedtm.com/98de9919e92a38033805f9f035c43198533e4380/satelliteLib-38c7b1e4b1bb3e0378e82d10601662aebfb04eda.js", function() {
window.analyticsData = { events: {active: {view: {asset: {}}, device: {}}} }; window.analyticsData.events.active.device.appVersion = "1.1"; window.analyticsData.events.active.device.host = "premiere.off.us"; window.analyticsData.events.active.device.subHost = "theblaze.com"; window.analyticsData.events.active.pageName = "articles"; //window.analyticsData.events.active.view.asset.id = "articles|"+ __BOOTSTRAP__.post.basename; window.analyticsData.events.active.view.asset.name = document.title; //window.analyticsData.events.active.view.authorId = __BOOTSTRAP__.post.original_user_subsite.title; window.analyticsData.events.active.view.pubDate = "04/22/2022"; window.analyticsData.events.active.view.contentOriginType = "Premiere"; window.analyticsData.events.active.view.stationCallLetter = "TheBlaze"; window.analyticsData.events.active.view.stationFormat = "NEWSTALK"; window.analyticsData.events.active.view.stationMarket = "PREMIERE"; window.analyticsData.events.active.view.personalityId = "theBlaze"; window.analyticsData.events.active.view.tags = ["alice-cooper", "alice-cooper-christianity", "alice-cooper-bible", "christian-rock-stars"]; window.analyticsData.events.active.view.photoGalleryExists = "FALSE"; window.analyticsData.events.active.view.photoGalleryPageView = "FALSE"; window.analyticsData.events.active.view.contentFrame = "page"; window._satellite && _satellite.pageBottom();
});
});
window.REBELMOUSE_LOWEST_TASKS_QUEUE.push(function(){
function test_adblock(func, id) { var t="0.1.2-dev", el = document.createElement('div'); el.id = id ? id : 'sponsorText'; el.appendChild(document.createTextNode(' ')); Object.assign(el.style, { left: '-999px', position: 'absolute' }); document.body.appendChild(el); setTimeout(function() { if (el) { var o = el.clientHeight === 0; func(o, t); document.body.removeChild(el); } }, 200); } test_adblock(function(is_blocked) { console.log(is_blocked); var wid = is_blocked ? 140286 : 140117, target = document.getElementById('rc-adblock-widget'); var el = document.createElement('div'); el.setAttribute('data-rc-widget', ''); el.setAttribute('data-endpoint', 'trends.revcontent.com'); el.setAttribute('data-widget-id', wid); target.appendChild(el); if (typeof window.renderRCWidget !== 'function') { var script = document.createElement('script'); script.src="https://assets.revcontent.com/master/delivery.js"; script.defer = true; target.appendChild(script); } else { window.renderRCWidget(el) } });
});
window.REBELMOUSE_LOWEST_TASKS_QUEUE.push(function(){
window.REBELMOUSE_STDLIB.loadExternalScript("https://ajax.googleapis.com/ajax/libs/jquery/3.6.0/jquery.min.js", function() {
});
});
window.REBELMOUSE_LOWEST_TASKS_QUEUE.push(function(){
if(document.querySelector("#icheck").value != ''){ document.querySelector(".message_bot_error").style.display = "block"; }else{ document.querySelector(".message_bot_error").style.display = "none"; }
});
window.REBELMOUSE_LOWEST_TASKS_QUEUE.push(function(){
(function(s,u,m,o,j,v){j=u.createElement(m);v=u.getElementsByTagName(m)[0];j.async=1;j.src=o;j.dataset.sumoSiteId='f20bb26e74a94a53daa9113206b98941e1dfba90635d317b9efd9e33a89bf515';v.parentNode.insertBefore(j,v)})(window,document,'script','//load.sumo.com/');
});

Sarah Taylor