Alec Baldwin delivers Instagram account on Rust shooting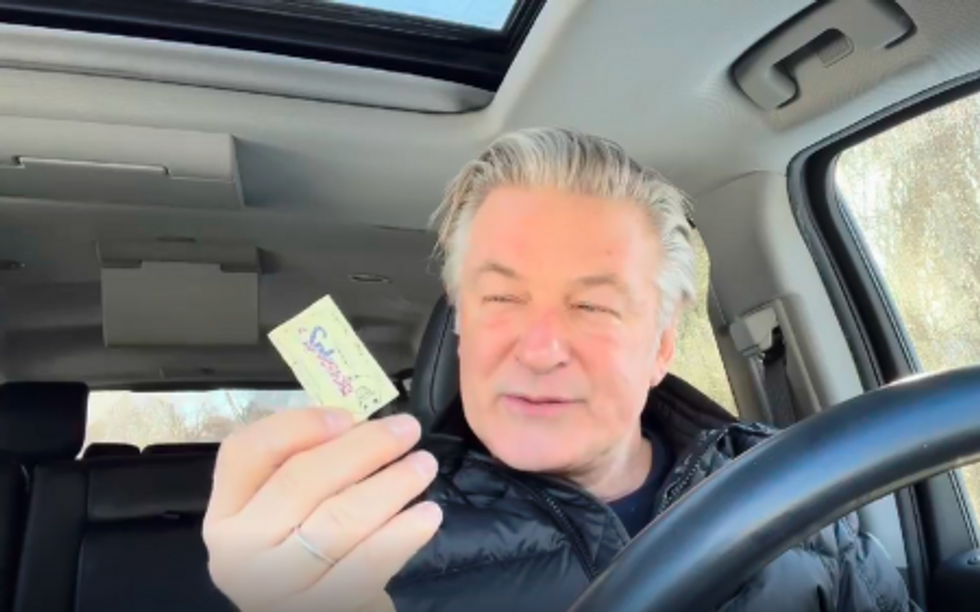 Alec Baldwin delivered a bizarre video rant about the investigation of the shooting death of "Rust" cinematographer Halyna Hutchins. In the nearly five-minute-long Instagram video posted on Saturday, Baldwin said that receiving a Splenda packet from a fan was a "miracle" and referred to the riots at the U.S. Capitol building on Jan. 6, 2021.
On his verified Instagram account with nearly 2.5 million followers, Baldwin issued an update regarding the shooting death of a cinematographer on the set of the movie "Rust." Sitting inside his SUV, Baldwin began his video discussing a missing Splenda packet that a neighbor found that had a handwritten note to the Hollywood actor.
"You are 100% true," the fan wrote to Baldwin. "Thanks for the laughs, Good Sir. Cheers to a new year. Love you."
Baldwin brought his hand to his face and began to chuckle.
"She found the Splenda packet," Baldwin stated. "It's the Splenda packet."
Baldwin asked, "Does this mean that 2022 is going to be a good year? Wouldn't that be nice?"
Speaking of the Splenda packet, Baldwin exclaimed, "That is nothing short of a miracle." He added, "Can you believe something as silly as this has that much value?"
"Putting in pockets now so that I never lose it again," Baldwin stated as he put the small package of sugar substitute in his coat pocket.
Baldwin immediately pivoted from bubbly Splenda miracles to addressing concerning accusations that he is not fully cooperating with authorities in the shooting death of Halyna Hutchins.
"Any suggestion that I am not complying with requests or orders or demands or search warrants about my phone, that's bulls***, that's a lie," Baldwin declared, adding that authorities "have to specify what exactly they want."
"They can't just go through your phone and take, you know, your photos or your love letters to your wife or what have you," he claimed.
"But of course, we are 1000% going to comply with all that," the actor said. "We are perfectly fine with that."
He then suddenly made another peculiar detour by commenting on the death of Sidney Poitier.
"Sidney Poitier died, he's on the cover of the Daily News, and the cover of the [New York] Post has something else," Baldwin expressed.
On Jan. 8, the cover of the New York Post had a story titled, "Why Won't Alec Help?"
The New York Post article alleged:
Alec Baldwin, who has yet to turn over his cellphone to law enforcement in connection with the law enforcement investigation into the fatal shooting on the set of the movie "Rust, may be holding onto the device for a number of reasons, legal experts told The Post on Friday.

The lawyers theorized that the 63-year old actor may be concerned about the possibility of "incriminating" evidence on the phone— including deleted texts or photos that could hold him in criminal contempt–or may simply want to keep his private conversations out of the public eye.

"There could be incriminating evidence on the phone, or it might be for privacy reasons," said Kevin Kearon, a former Nassau District Attorney's Office who's now a criminal defense lawyer.

"If he deleted text messages or call records then he would face the possibility of criminal contempt," said Kearon, who works at the Long Island firm Barket Epstein Kearon. "Or if there are personal messages, for example, between he and his wife, it's not shocking that he wouldn't want them in the public domain."
Baldwin — who wielded the firearm that shot and killed Hutchins — said, "The best way, the only way, we can honor the death of Halyna Hutchins is to find out the truth. That's what I'm working toward, insisting on, demanding."
"Any suggestion that I'm not complying, is a lie," the "30 Rock" actor stated in the video with nearly 200,000 views. "But I have no worries about that. That's all gonna work itself out. Regardless of what they say in these right-wing rag sheets. And people who are all about hate."
Then he curiously made a reference to the Capitol riots, "But setting aside all the hate, setting aside all the January 6th of it all, here it is," before once again presenting the Splenda packet with the compliments to the actor on it.
window.REBELMOUSE_LOWEST_TASKS_QUEUE.push(function(){
//Facebook Pixel Code !function(f,b,e,v,n,t,s) {if(f.fbq)return;n=f.fbq=function(){n.callMethod? n.callMethod.apply(n,arguments):n.queue.push(arguments)}; if(!f._fbq)f._fbq=n;n.push=n;n.loaded=!0;n.version='2.0'; n.queue=[];t=b.createElement(e);t.async=!0; t.src=v;s=b.getElementsByTagName(e)[0]; s.parentNode.insertBefore(t,s)}(window, document,'script', 'https://connect.facebook.net/en_US/fbevents.js'); fbq('init', '1398069580413568'); fbq('track', 'PageView');
});
window.REBELMOUSE_LOWEST_TASKS_QUEUE.push(function(){
function menuClick() { console.log("clicked");
if (document.querySelector('.hambg-btn.js--active') != null) { document.getElementsByClassName('huge-menu')[0].style.display = 'none'; document.getElementsByClassName('hambg-btn')[0].classList.remove('js--active'); document.body.classList.remove("huge-menu-opened"); document.body.classList.remove("menu-opened"); } else{ document.getElementsByClassName('huge-menu')[0].style.display = 'block'; document.getElementsByClassName('hambg-btn')[0].classList.add('js--active'); document.body.classList.add("huge-menu-opened"); document.body.classList.remove("menu-opened"); } }
function addMenuClickListener() { var rebelMenu = document.getElementsByClassName('rebelbar__menu-toggle'); var menuClose = document.getElementsByClassName('hm__close'); var stickyMenu = document.getElementsByClassName('sticky-menu');
rebelMenu[0].addEventListener('click', menuClick);
if(menuClose[0] != undefined){ menuClose[0].addEventListener('click', menuClick);}
if(stickyMenu[0] != undefined){ stickyMenu[0].addEventListener('click', menuClick); } }
addMenuClickListener();
});
window.REBELMOUSE_LOWEST_TASKS_QUEUE.push(function(){
window.REBELMOUSE_STDLIB.loadExternalScript("https://assets.adobedtm.com/98de9919e92a38033805f9f035c43198533e4380/satelliteLib-38c7b1e4b1bb3e0378e82d10601662aebfb04eda.js", function() {
window.analyticsData = { events: {active: {view: {asset: {}}, device: {}}} }; window.analyticsData.events.active.device.appVersion = "1.1"; window.analyticsData.events.active.device.host = "premiere.off.us"; window.analyticsData.events.active.device.subHost = "theblaze.com"; window.analyticsData.events.active.pageName = "articles"; //window.analyticsData.events.active.view.asset.id = "articles|"+ __BOOTSTRAP__.post.basename; window.analyticsData.events.active.view.asset.name = document.title; //window.analyticsData.events.active.view.authorId = __BOOTSTRAP__.post.original_user_subsite.title; window.analyticsData.events.active.view.pubDate = "01/10/2022"; window.analyticsData.events.active.view.contentOriginType = "Premiere"; window.analyticsData.events.active.view.stationCallLetter = "TheBlaze"; window.analyticsData.events.active.view.stationFormat = "NEWSTALK"; window.analyticsData.events.active.view.stationMarket = "PREMIERE"; window.analyticsData.events.active.view.personalityId = "theBlaze"; window.analyticsData.events.active.view.tags = ["alec-baldwin", "alec-baldwin-instagram", "alec-baldwin-twitter", "rust-shooting", "halyna-hutchins", "rust-movie"]; window.analyticsData.events.active.view.photoGalleryExists = "FALSE"; window.analyticsData.events.active.view.photoGalleryPageView = "FALSE"; window.analyticsData.events.active.view.contentFrame = "page"; window._satellite && _satellite.pageBottom();
});
});
window.REBELMOUSE_LOWEST_TASKS_QUEUE.push(function(){
function test_adblock(func, id) { var t="0.1.2-dev", el = document.createElement('div'); el.id = id ? id : 'sponsorText'; el.appendChild(document.createTextNode(' ')); Object.assign(el.style, { left: '-999px', position: 'absolute' }); document.body.appendChild(el); setTimeout(function() { if (el) { var o = el.clientHeight === 0; func(o, t); document.body.removeChild(el); } }, 200); } test_adblock(function(is_blocked) { console.log(is_blocked); var wid = is_blocked ? 140286 : 140117, target = document.getElementById('rc-adblock-widget'); var el = document.createElement('div'); el.setAttribute('data-rc-widget', ''); el.setAttribute('data-endpoint', 'trends.revcontent.com'); el.setAttribute('data-widget-id', wid); target.appendChild(el); if (typeof window.renderRCWidget !== 'function') { var script = document.createElement('script'); script.src="https://assets.revcontent.com/master/delivery.js"; script.defer = true; target.appendChild(script); } else { window.renderRCWidget(el) } });
});
window.REBELMOUSE_LOWEST_TASKS_QUEUE.push(function(){
(function(s,u,m,o,j,v){j=u.createElement(m);v=u.getElementsByTagName(m)[0];j.async=1;j.src=o;j.dataset.sumoSiteId='f20bb26e74a94a53daa9113206b98941e1dfba90635d317b9efd9e33a89bf515';v.parentNode.insertBefore(j,v)})(window,document,'script','//load.sumo.com/');
});

Paul Sacca