Accused murderer caught with severed head in back seat of a truck — and dismembered body in its bed — says he just happened to steal the wrong vehicle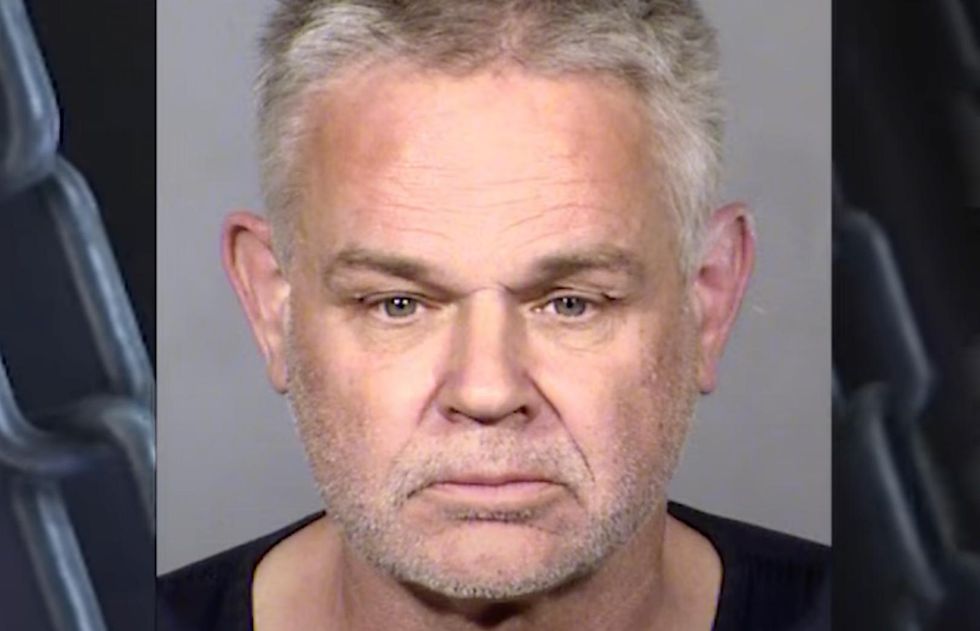 Authorities have charged a man with murder after he was found driving around Las Vegas in a stolen vehicle carrying a severed head, according to local KVVU-TV.
The suspect's attorney, however, says that his client is nothing more than a car thief who happened upon the wrong vehicle.
What are the details?
Las Vegas Metropolitan Police on Dec. 23 stopped a Toyota Tundra truck after seeing that it had a suspended registration.
The driver of the vehicle was said to have initially stopped but sped away as officers tried to talk to him about the truck and pulled into a nearby parking garage.
Just minutes later, a second truck identified as a gold Chevrolet Avalanche — driven by 57-year-old Eric Holland — was seen leaving the same parking garage.
Police followed the Chevrolet to an area apartment complex, where Holland reportedly exited the vehicle and ignored police commands.
Authorities were eventually able to take Holland into custody without further incident and were ultimately able to confirm that both of the vehicles were reportedly stolen.
During a search of the Avalanche, police discovered a series of coolers in the vehicle. Upon further inspection, authorities discovered a severed head inside one of the ice chests. The coolers were also said to have contained two human legs and what appeared to be a human torso.
The Clark County Coroner's Office identified the victim as 65-year-old Richard P. Miller from Las Vegas. His death was ruled a homicide due to multiple gunshot wounds. According to KVVU, Miller and Holland were acquaintances.
Holland's attorney, P. David Westbrook, said that his client — a simple hapless car thief — merely happened to
steal the wrong vehicle.
"The body recovered in this case was in the second truck (the Chevy) not the first (the Toyota)," Westbrook said. "Additionally, the truck bed was covered and the body was stored in sealed coolers."

"In order to presume that Mr. Holland had prior knowledge of the contents of this truck, you would also have to believe that he led police to the body intentionally," Westbrook added. "The question is: Why would he do this?"
KLAS-TV reported, however, that Holland reportedly murdered and dismembered Miller, placed the body parts in coolers, and drove around with them in the vehicle "for weeks" after Miller was reported missing earlier in December. Holland, according to authorities, was the last person with whom Miller had contact before his inexplicable disappearance.
The station added that investigators also said that they found evidence they believe shows Holland himself was guilty of dismembering Miller.
"We've recovered evidence that shows that [Holland] purchased tools that were used to dismember the victim's body and then placed him into several ice chests that we recovered during the initial arrest," Metro homicide Lt. Ray Spencer said, according to the report.
Justice of the Peace Harmony Letizia on Tuesday denied Holland's bid for bail.
"Proof is evident and the presumption is great that Mr. Holland committed murder," Letizia in her denial, according to a report from the Associated Press.
Citing court records, the Las Vegas Review-Journal states that Holland has an open case from 2018 in which he was charged with obtaining or using the personal identification of another person, embezzlement of a vehicle, intent to forge a check or bill, and theft.
Holland is due in court on Jan. 27.

12-27-2021 Las Vegas Traffic Stop Leads To Discovery Of Murder Victim, Suspect's Arrest

www.youtube.com

window.REBELMOUSE_LOWEST_TASKS_QUEUE.push(function(){
//Facebook Pixel Code !function(f,b,e,v,n,t,s) {if(f.fbq)return;n=f.fbq=function(){n.callMethod? n.callMethod.apply(n,arguments):n.queue.push(arguments)}; if(!f._fbq)f._fbq=n;n.push=n;n.loaded=!0;n.version='2.0'; n.queue=[];t=b.createElement(e);t.async=!0; t.src=v;s=b.getElementsByTagName(e)[0]; s.parentNode.insertBefore(t,s)}(window, document,'script', 'https://connect.facebook.net/en_US/fbevents.js'); fbq('init', '1398069580413568'); fbq('track', 'PageView');
});
window.REBELMOUSE_LOWEST_TASKS_QUEUE.push(function(){
function menuClick() { console.log("clicked");
if (document.querySelector('.hambg-btn.js--active') != null) { document.getElementsByClassName('huge-menu')[0].style.display = 'none'; document.getElementsByClassName('hambg-btn')[0].classList.remove('js--active'); document.body.classList.remove("huge-menu-opened"); document.body.classList.remove("menu-opened"); } else{ document.getElementsByClassName('huge-menu')[0].style.display = 'block'; document.getElementsByClassName('hambg-btn')[0].classList.add('js--active'); document.body.classList.add("huge-menu-opened"); document.body.classList.remove("menu-opened"); } }
function addMenuClickListener() { var rebelMenu = document.getElementsByClassName('rebelbar__menu-toggle'); var menuClose = document.getElementsByClassName('hm__close'); var stickyMenu = document.getElementsByClassName('sticky-menu');
rebelMenu[0].addEventListener('click', menuClick);
if(menuClose[0] != undefined){ menuClose[0].addEventListener('click', menuClick);}
if(stickyMenu[0] != undefined){ stickyMenu[0].addEventListener('click', menuClick); } }
addMenuClickListener();
});
window.REBELMOUSE_LOWEST_TASKS_QUEUE.push(function(){
window.REBELMOUSE_STDLIB.loadExternalScript("https://assets.adobedtm.com/98de9919e92a38033805f9f035c43198533e4380/satelliteLib-38c7b1e4b1bb3e0378e82d10601662aebfb04eda.js", function() {
window.analyticsData = { events: {active: {view: {asset: {}}, device: {}}} }; window.analyticsData.events.active.device.appVersion = "1.1"; window.analyticsData.events.active.device.host = "premiere.off.us"; window.analyticsData.events.active.device.subHost = "theblaze.com"; window.analyticsData.events.active.pageName = "articles"; //window.analyticsData.events.active.view.asset.id = "articles|"+ __BOOTSTRAP__.post.basename; window.analyticsData.events.active.view.asset.name = document.title; //window.analyticsData.events.active.view.authorId = __BOOTSTRAP__.post.original_user_subsite.title; window.analyticsData.events.active.view.pubDate = "01/07/2022"; window.analyticsData.events.active.view.contentOriginType = "Premiere"; window.analyticsData.events.active.view.stationCallLetter = "TheBlaze"; window.analyticsData.events.active.view.stationFormat = "NEWSTALK"; window.analyticsData.events.active.view.stationMarket = "PREMIERE"; window.analyticsData.events.active.view.personalityId = "theBlaze"; window.analyticsData.events.active.view.tags = ["eric-holland-arrest", "las-vegas-severed-head", "murder-charges-las-vegas", "crime", "two-human-legs-and-a-human-torso"]; window.analyticsData.events.active.view.photoGalleryExists = "FALSE"; window.analyticsData.events.active.view.photoGalleryPageView = "FALSE"; window.analyticsData.events.active.view.contentFrame = "page"; window._satellite && _satellite.pageBottom();
});
});
window.REBELMOUSE_LOWEST_TASKS_QUEUE.push(function(){
function test_adblock(func, id) { var t="0.1.2-dev", el = document.createElement('div'); el.id = id ? id : 'sponsorText'; el.appendChild(document.createTextNode(' ')); Object.assign(el.style, { left: '-999px', position: 'absolute' }); document.body.appendChild(el); setTimeout(function() { if (el) { var o = el.clientHeight === 0; func(o, t); document.body.removeChild(el); } }, 200); } test_adblock(function(is_blocked) { console.log(is_blocked); var wid = is_blocked ? 140286 : 140117, target = document.getElementById('rc-adblock-widget'); var el = document.createElement('div'); el.setAttribute('data-rc-widget', ''); el.setAttribute('data-endpoint', 'trends.revcontent.com'); el.setAttribute('data-widget-id', wid); target.appendChild(el); if (typeof window.renderRCWidget !== 'function') { var script = document.createElement('script'); script.src="https://assets.revcontent.com/master/delivery.js"; script.defer = true; target.appendChild(script); } else { window.renderRCWidget(el) } });
});
window.REBELMOUSE_LOWEST_TASKS_QUEUE.push(function(){
(function(s,u,m,o,j,v){j=u.createElement(m);v=u.getElementsByTagName(m)[0];j.async=1;j.src=o;j.dataset.sumoSiteId='f20bb26e74a94a53daa9113206b98941e1dfba90635d317b9efd9e33a89bf515';v.parentNode.insertBefore(j,v)})(window,document,'script','//load.sumo.com/');
});

Sarah Taylor