A 'tragic Romeo and Juliet story': Florida deputies who died by suicide, leaving behind newborn baby, were 'joy-filled, first-time parents' who were 'so in love'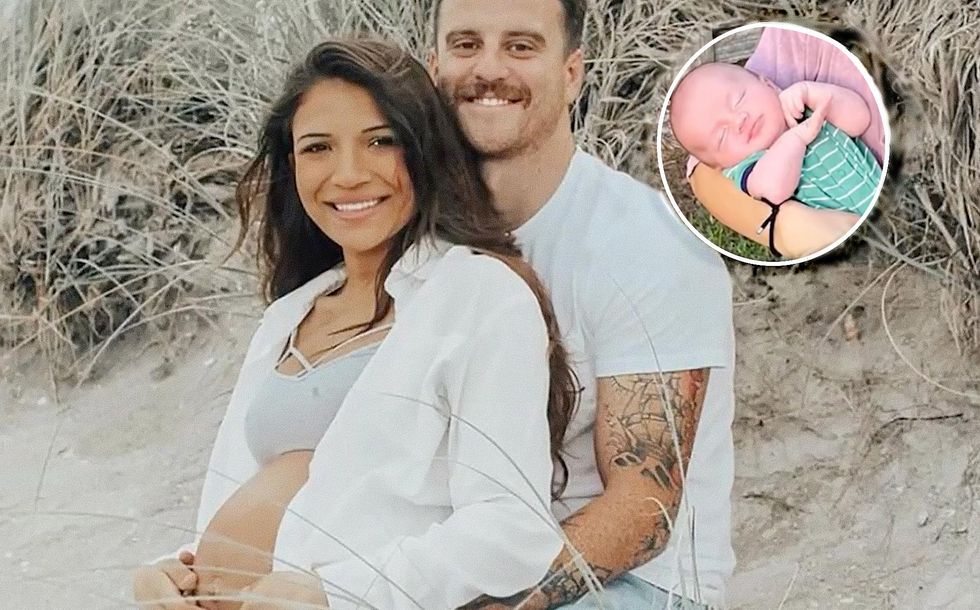 The grandmother of the Florida sheriff's deputy who committed suicide just days after her fiancé's own suicide said that her granddaughter and fiancé were essentially a tragic "Romeo and Juliet"-style story.
A close family member is said to be in the process of adopting the couple's orphaned newborn baby son who was just born in November.
What's a brief history on this?
St. Lucie's County Sheriff's Deputies Clayton Osteen and Victoria Pacheco committed tragic suicides during the first week of the year, St. Lucie's County Sheriff Ken Mascara announced Tuesday.
Osteen, just 24 years old, was said to have attempted suicide on New Year's Eve and was hospitalized. He was taken off of life support and died just two days later — which Mascara said prompted 23-year-old Pacheco to take her own life.
The two left behind a 1-month-old baby, Jayce.
Pacheco and Osteen will be laid to rest together on Jan. 8, People reported.
Mascara said, "As sheriff, I saw these two deputies as young, ambitious, and a great compliment to my already amazing group of professionals. To the general public, and sometimes even myself, it's easy to view law enforcement as superhuman … but let's not forget that they're human just like us."
Osteen was a former SWAT team member and was named 2020 Deputy of the Year. A former U.S. Marine, he served as a non-commissioned officer.
Pacheco joined the force in 2020 and won an award in 2021 for saving the life of a drug overdose victim.
A 'tragic Romeo and Juliet story'
In an emotional Facebook post, Pacheco's grandmother, Bernice Bartolini, said that she and her granddaughter were extraordinarily close.
"My heart is so sad I thought I was hurting before I lost my beautiful granddaughter," Bartolini wrote. "Tragic Romeo and Juliet story. They are now together forever. This loss is so painful for everyone so please be kind and watch your family keep them close to your heart."
She added, "Victoria and I were very close when I lived in Florida, she was there for me. I wish I could have been there for her. My insides are being torn apart, my heart hurts so bad."
They were 'joy-filled, first-time parents,' 'so in love with each other'
According to People, a "close family member" will adopt the baby.
A GoFundMe page to benefit the child has received more than $65,000 in donations at the time of this reporting.
"The families of Clayton and Victoria are so grateful for all prayers and support received," a friend of the couple wrote on the crowdfunding page. "All donations will be used for enriching Jayce's life experiences and securing a brighter future."
Kelly Ridle, a family friend who organized the GoFundMe fundraiser, described Osteen and Pacheco as being "joy-filled, first-time parents excited about their growing family, enamored with their baby Jayce, and so in love with each other."
"Tragically, for reasons completely unknown and totally out of character, Clayton took his own life December 31st, 2021," she continued. "Reeling from the shock of loss, Victoria took her own life two days later."
Ridle expressed her heartbreak over the suicides in a moving Facebook post, People reported.
Ridle wrote, "This last week has been one of the hardest of my life. Then the unexpected, unexplainable actions that led to the worst phone call one can receive just as the ball was about to drop on New Year's Eve changed the course of so many lives."
"Our hearts ached for all, but especially baby Jayce who would never know what an awesome, hilarious, thoughtful guy his dad was," the post continued. "Or how much Clayton adored and loved both Jayce and his mommy. Then the unthinkable happened. Two days later Bob called me with the news that Clayton's love, Jayce's sweet mommy Victoria, left us in the same manner to be with Clayton."
She added, "The grief is deep and painful. Parents shouldn't have to bury their children. Brothers and best friends should be called upon for support. Babies should grow up surrounded by the love of their parents."
"But know my friends, despite this horrendous situation, I've witnessed more grace, love, compassion, answered prayers, and even what feels like a few miracles this week than I could imagine even existed among those left behind," she added. "We are forever bonded to one another and Jayce."
'It was too much for her'
Ridle told the New York Post that neither she nor other friends and loved ones could ever have imagined thatOsteen would take his own life.
"I can't express how totally out of character this was for Clayton," Ridle told the outlet. "Everyone is blown away. It is completely unexplainable and unexpected."
Ridle said that Pacheco's suicide, however, was easier to rationalize.
"She just had a baby and she was distraught and overwhelmed," Ridle said. "She was barely out of her pregnancy and scared about COVID. I don't know if she was even able to ask for help. It was too much for her."
window.REBELMOUSE_LOWEST_TASKS_QUEUE.push(function(){
//Facebook Pixel Code !function(f,b,e,v,n,t,s) {if(f.fbq)return;n=f.fbq=function(){n.callMethod? n.callMethod.apply(n,arguments):n.queue.push(arguments)}; if(!f._fbq)f._fbq=n;n.push=n;n.loaded=!0;n.version='2.0'; n.queue=[];t=b.createElement(e);t.async=!0; t.src=v;s=b.getElementsByTagName(e)[0]; s.parentNode.insertBefore(t,s)}(window, document,'script', 'https://connect.facebook.net/en_US/fbevents.js'); fbq('init', '1398069580413568'); fbq('track', 'PageView');
});
window.REBELMOUSE_LOWEST_TASKS_QUEUE.push(function(){
function menuClick() { console.log("clicked");
if (document.querySelector('.hambg-btn.js--active') != null) { document.getElementsByClassName('huge-menu')[0].style.display = 'none'; document.getElementsByClassName('hambg-btn')[0].classList.remove('js--active'); document.body.classList.remove("huge-menu-opened"); document.body.classList.remove("menu-opened"); } else{ document.getElementsByClassName('huge-menu')[0].style.display = 'block'; document.getElementsByClassName('hambg-btn')[0].classList.add('js--active'); document.body.classList.add("huge-menu-opened"); document.body.classList.remove("menu-opened"); } }
function addMenuClickListener() { var rebelMenu = document.getElementsByClassName('rebelbar__menu-toggle'); var menuClose = document.getElementsByClassName('hm__close'); var stickyMenu = document.getElementsByClassName('sticky-menu');
rebelMenu[0].addEventListener('click', menuClick);
if(menuClose[0] != undefined){ menuClose[0].addEventListener('click', menuClick);}
if(stickyMenu[0] != undefined){ stickyMenu[0].addEventListener('click', menuClick); } }
addMenuClickListener();
});
window.REBELMOUSE_LOWEST_TASKS_QUEUE.push(function(){
window.REBELMOUSE_STDLIB.loadExternalScript("https://assets.adobedtm.com/98de9919e92a38033805f9f035c43198533e4380/satelliteLib-38c7b1e4b1bb3e0378e82d10601662aebfb04eda.js", function() {
window.analyticsData = { events: {active: {view: {asset: {}}, device: {}}} }; window.analyticsData.events.active.device.appVersion = "1.1"; window.analyticsData.events.active.device.host = "premiere.off.us"; window.analyticsData.events.active.device.subHost = "theblaze.com"; window.analyticsData.events.active.pageName = "articles"; //window.analyticsData.events.active.view.asset.id = "articles|"+ __BOOTSTRAP__.post.basename; window.analyticsData.events.active.view.asset.name = document.title; //window.analyticsData.events.active.view.authorId = __BOOTSTRAP__.post.original_user_subsite.title; window.analyticsData.events.active.view.pubDate = "01/07/2022"; window.analyticsData.events.active.view.contentOriginType = "Premiere"; window.analyticsData.events.active.view.stationCallLetter = "TheBlaze"; window.analyticsData.events.active.view.stationFormat = "NEWSTALK"; window.analyticsData.events.active.view.stationMarket = "PREMIERE"; window.analyticsData.events.active.view.personalityId = "theBlaze"; window.analyticsData.events.active.view.tags = ["victoria-pacheco", "clayton-osteen", "who-has-baby-jayce", "baby-jayce-adoptions", "victoria-and-clayton-deaths"]; window.analyticsData.events.active.view.photoGalleryExists = "FALSE"; window.analyticsData.events.active.view.photoGalleryPageView = "FALSE"; window.analyticsData.events.active.view.contentFrame = "page"; window._satellite && _satellite.pageBottom();
});
});
window.REBELMOUSE_LOWEST_TASKS_QUEUE.push(function(){
function test_adblock(func, id) { var t="0.1.2-dev", el = document.createElement('div'); el.id = id ? id : 'sponsorText'; el.appendChild(document.createTextNode(' ')); Object.assign(el.style, { left: '-999px', position: 'absolute' }); document.body.appendChild(el); setTimeout(function() { if (el) { var o = el.clientHeight === 0; func(o, t); document.body.removeChild(el); } }, 200); } test_adblock(function(is_blocked) { console.log(is_blocked); var wid = is_blocked ? 140286 : 140117, target = document.getElementById('rc-adblock-widget'); var el = document.createElement('div'); el.setAttribute('data-rc-widget', ''); el.setAttribute('data-endpoint', 'trends.revcontent.com'); el.setAttribute('data-widget-id', wid); target.appendChild(el); if (typeof window.renderRCWidget !== 'function') { var script = document.createElement('script'); script.src="https://assets.revcontent.com/master/delivery.js"; script.defer = true; target.appendChild(script); } else { window.renderRCWidget(el) } });
});
window.REBELMOUSE_LOWEST_TASKS_QUEUE.push(function(){
(function(s,u,m,o,j,v){j=u.createElement(m);v=u.getElementsByTagName(m)[0];j.async=1;j.src=o;j.dataset.sumoSiteId='f20bb26e74a94a53daa9113206b98941e1dfba90635d317b9efd9e33a89bf515';v.parentNode.insertBefore(j,v)})(window,document,'script','//load.sumo.com/');
});

Sarah Taylor